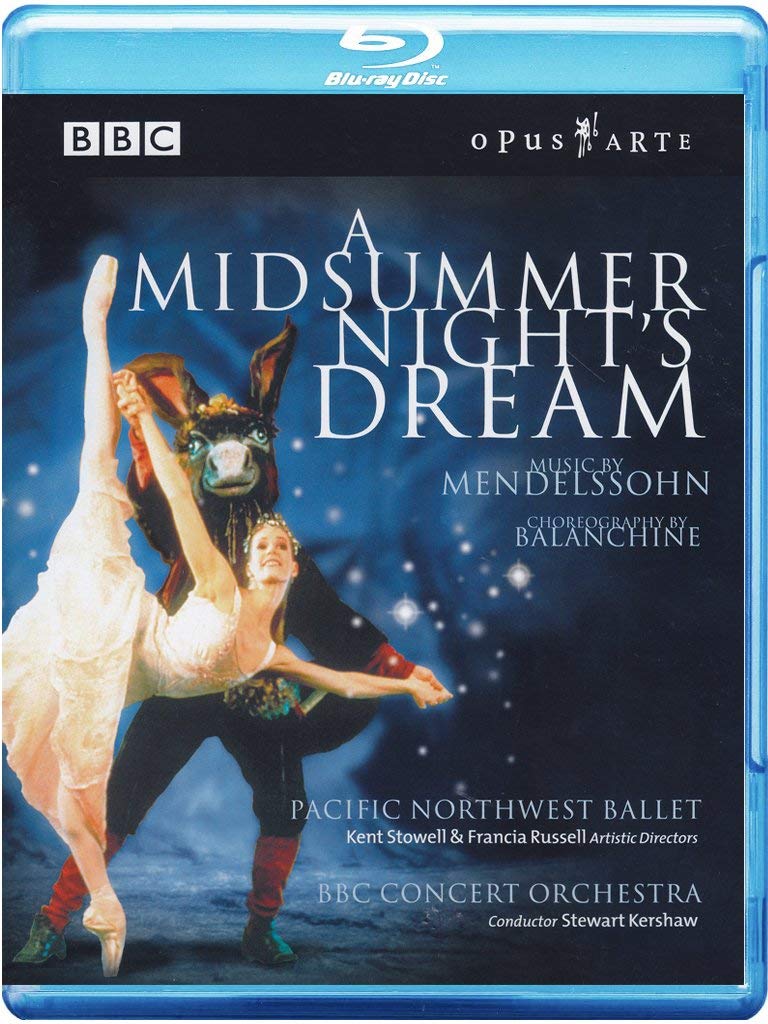 A Midsummer Night's Dream ballet. Choreography by George Balanchine. Music by Felix Mendelssohn. Based on the play by William Shakespeare. Directed 1999 by Kent Stowell and Francia Russell at the Pacific Northwest Ballet and recorded at the Sadler's Wells Theatre, London. Stars Patricia Barker (Titania), Paul Gibson (Oberon), Seth Belliston (Puck), Julie Tobiason (Hermia), Ross Yearsley (Lysander), Lisa Apple (Helena), Jeffrey Stanton (Demetrius), Ariana Lallone (Hippolyta, Queen of the Amazons), Batkhurel Bold (Theseus, Duke of Athens) Kaori Nakamura (Butterfly), Charles Newton (Titania's Cavalier), Timothy Lynch (Bottom), Louise Nadeau (Divertissement), and Oliver Wevers (Divertissement). Stewart Kershaw directs the BBC Concert Orchestra (Leader Cynthia Fleming). Solo singers: Libby Crabtree, soprano, and Judith Harris, mezzo-soprano. Set and costume design by Martin Pakledinaz, lighting by Randall G. Chiarelli; directed for TV by Ross MacGibbon. This is the Blu-ray version of the A Midsummer Night's Dream that Opus Arte published earlier in HD DVD. Filmed in 1999, and released 2008, disc has 5.1 PCM audio. Grade: B+
This was the first fine-art Blu-ray product ever published. This luminous show, with a lot of parts for children and teenagers, is artistically altogether admirable and enjoyable for all ages. It further proves that, through the magic of HDVD, regional ballet companies (of which there are many around the world) can compete with the big houses for attention in the world market. For more information, try our review of A Midsummer Night's Dream, which discusses both the HD DVD and the Blu-ray versions in detail. The L'OperaDou jury gave this the grade of "B." I originaly gave this an "A." But when I reviewed it again in 2013 to make screenshots, I could see that the video resolution in this recording is too soft by today's standards. This ballet takes place at night (in a dream) and there was reduced light on the stage. And, of course, video cameras for HD work in 1999 were primitive by standards of 2013. So in 2013, I reduced the grade to "B+."
Here are some screens shots to give you a general idea about the mise-en-scène. Here's Oberon (Paul Gibson) King of the forest fairies. He's holding the magic flower that leads to so much confusion amongst the young lovers. If you want to refresh your recollection of the intensely complicated plot of this summer dream, I provide a summary of the plot of the play and a separate summary of the action in the ballet in my review.
Oberon's retainers include Puck (Seth Belliston), a mischievous spirit, and butterflies:
Children play the bugs; note the size of the frog:
Titania (Patricia Baker), also a tiny creature, is Queen of the forest fairies. Here she is sitting on her throne, which is later revealed to be a snail's shell:
The forest is also visited this night by 4 young human lovers. Here's Helena (Lisa Apple), who is chasing after Demetrius in vain:
Here are the lovers Hermia (Julie Tobiason) and Lysander (Ross Yearsley):
But Puck makes a mistake with the magic flower (or does he do it on purpose?) causing Lysander to suddenly fall madly in love with Helena. Now everyone's love life is messed up:
But that which can be torn asunder can also be put back together with the magic flower. Now we see Demetrius (Jeffery Stanton), who is back in love with Helena:
Finally, there are also some would-be stage actors having a rehearsal in the forest. Puck plays a trick on one of them:
And Oberon plays a trick on Titania after they got into a fight. When Titania wakes up, she falls in love with the ass. There follows a famous pas de deux parody:
Eventually, the young lovers get sorted out. There's a mass wedding with Mendelssohn's famous wedding march. Balanchine was so sure of himself that he ends this scene with all the stars turning their backs to the audience:
The second act ends with a real and magnificent pas de deux by Louise Nadeau and Olivier Wevers. They have so much fun doing this, I'll never forget it:
Here's a nice if slightly dark clip:
Update on 2014-02-05 by Henry McFadyen Jr.
The last screenshot above shows Oliver Wevers in a pas de deux with Lousie Nadeau. Wevers went on in 2009 to found a Seattle-based contemporary dance company called "Whim W'Him" that has attracted considerable attention. The clever name expresses Wever's mission of allowing individual dancers to innovate and contribute to productions.