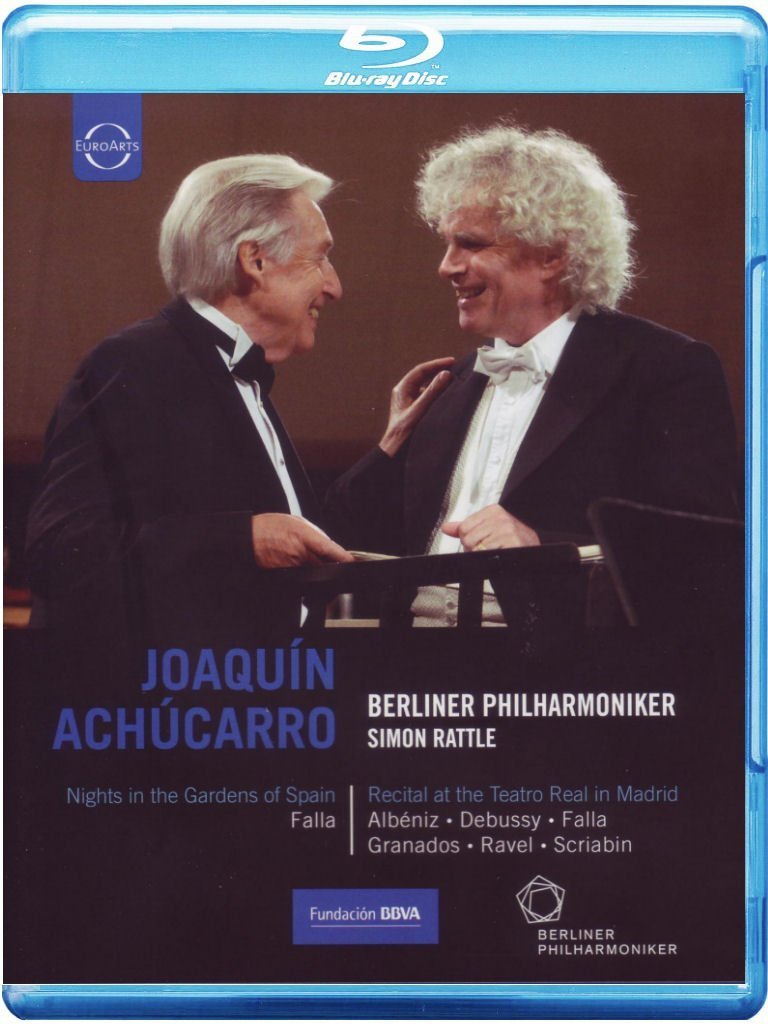 Achúcarro - Piano Selections (our name). This title consists of 2 unrelated segments. In the first segment, Joaquín Achúcarro for 27 minutes plays Falla Nights in the Gardens of Spain (Noches en los jardines de España) with Simon Rattle conducting the Berliner Philharmoniker.
The second segment is a 75-minute solo recital in Madrid with the following pieces:
Albéniz Navarra

Debussy La Puerta del Vino

Debussy La Soirée dans Grenade

Falla Hommage-"Pour le tombeau de Claude Debussy"

Falla Fantasía baetica

Granados Quejas ó La maja y el ruiseñor

Ravel Gaspard de la nuit

Ravel Valses nobles et sentimentales

Scriabin Nocturne

Released in 2011, disc has 5.1 dts-HD Master Audio sound. Grade: F
Joaquín Achúcarro was long ago a minor figure on the recording scene with some records to his credit. He is highly respected as a person and master piano teacher, has continued to play in public (often with respected orchestras), and it is claimed he is the best Spanish piano player. But his towering achievement would appear to be in the field of public relations and schmoozing, witness the two Blu-ray discs he has published now sitting on our shelf. (The other Achúcarro disc is the Opus Arte Brahms Piano Concerto No. 2 that came out in 2009.)
Achúcarro - Piano Selections is one of the oddest fine-art HDVD titles to come on the market. It opens with the astonishing spectacle of the Berliner Philharmoniker (it seems most of the top players are right there) in their home venue dressed in white tie, but with no audience, in support of a performance that lasts 27 minutes! This makes Sir Simon Rattle look to me like an organ grinder with 75 or so monkeys on his chain---and the monkeys do not look happy about it. A suggestion arises that Fundación BBVA paid well enough for this to happen and that things are pretty tough out there during the current economic downturn for even the most elite arts organizations.
The piano sounds tinny, and the orchestra sound is at the level of an ordinary CD. The video recording is atrocious. It looks like student work with bad adjustment to the available lighting, motion artifacts, DVD-level picture, slightly washed-out color, and plastic-looking skin. The performance by Achúcarro is not too bad, but near the end he has that slack-jawed, mouth-agape look of one on the cusp of dotage. He seems quite relieved at the end that he can still do it.
Now that Achúcarro has managed to associate himself with the Berliner Philharmoniker brand, we move to the rest of the show---a recital in Madrid. At this point we finally get to see Achúcarro working before a live audience. To me the recital program seems haltingly played by a man who, due to the vicissitudes of age, is struggling to keep things under control and avoid wrong notes. I compared his Valses nobles et sentimentales to the performance of this by Volodos on HDVD. Compared to Volodos, Achúcarro sounds like a semi-pro.
At least this time the video and sound recording are OK. At the end, half the audience is seen in stampede for the exit while the rest are giving a standing ovation.
The surround sound on this disc works in an odd way. If you use the audio toggle switch on your remote, the surround sound will switch to stereo at 00:33, 12:15, 17:23, and 26:54 in the orchestra number and at the beginning of each piece in the recital. To avoid this you must select surround thru the audio drop-down menu bar: then the surround sound will persist through the disc.
For this we are asked by Euroarts to pay full price. Compare this to the recent title published by Accentus with the Chopin Concerto No. 1 and Concerto No. 2 by Demidenko and Kissen recorded live with the Warsaw Philharmonic or the Volodas recording mentioned above. Those are the kind of discs that are now setting the standard for fine-arts concert HDVDs. This Achúcarro title falls far short of this level.
We hear no music on this disc of much value to one who is not already a personal friend or fan of Achúcarro, We suspect this title is something of a vanity disc. With these strikes against this title, we feel compelled to grade it F.
Here's a YouTube clip of material from this disc:
We were not impressed with this title, but watching this disc will not harm you. Here's how you can buy it: