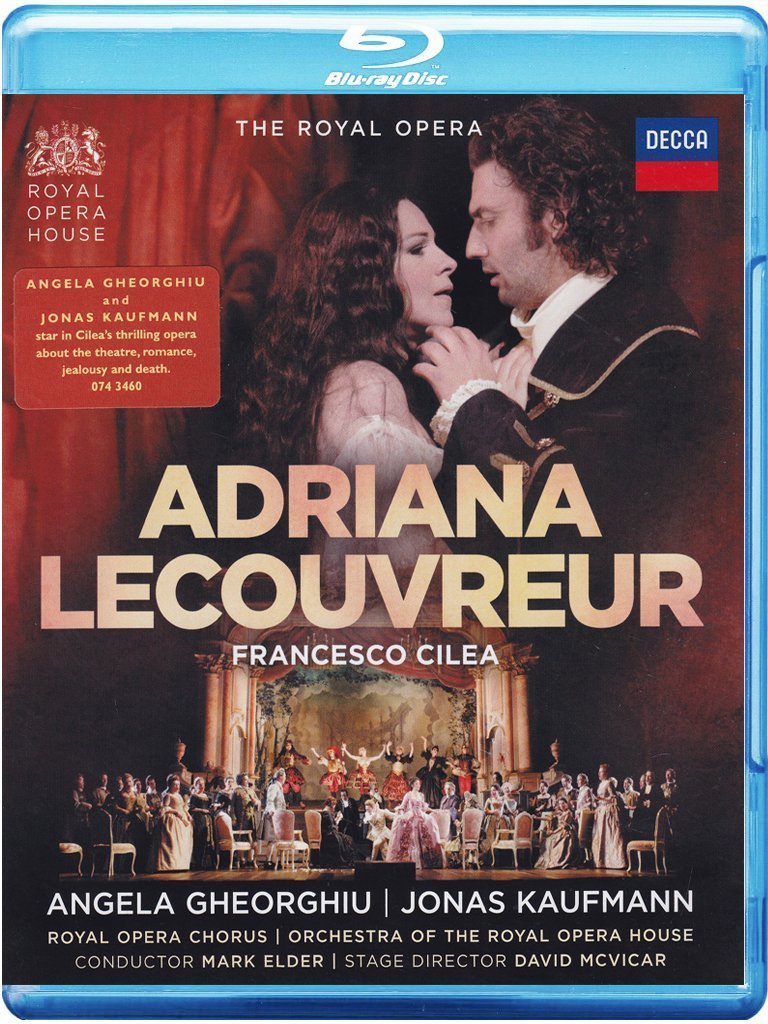 Francesco Cilea Adriana Lecouvreur opera to libretto by Arturo Colautti. Directed 2010 by David McVicar at the Royal Opera House. Stars Angela Gheorghiu (Adriana Lecouvreur), Jonas Kaufmann (Maurizio, Count of Saxony), Olga Borodina (Princese de Bouillon), Alessandro Corbelli (MIchonnet, stage director of the Comédie Française), Iain Paton (Poisson), David Soar (Quinault), Janis Kelly (Mlle Jouvenot), Sarah Castle (Mlle Dangeville), Maurizio Muraro (Prince de Bouillon), Bonaventura Bottone (Abbé de Chazeuil), Barbara Rhodes (Mlle Duclos/Juno), Abramo Ciullo (Majordomo), Keiko Hewitt-Teale (Chambermaid/Shepherdess), Kenneth Bryers (Pantalone), Adam Pudney (Paris), Nadia Sadiq (Shepherdess), Paul Wood (Mercury), Trevor Goldstein (Jupiter), Rachel Maybank (Venus), Lucy Burns (Minerva), and Irene Hardy (Discord). Sir Mark Elder conducts the Orchestra of the Royal Opera House (Concert Master Peter Manning) and Chorus (Chorus Director Renato Balsadonna). Set design by Charles Edwards; costume design by Brigitte Reiffenstuel; lighting design by Adam Silverman; choreography and movement by Andrew George. Directed for TV and produced by François Roussillon; director of photography was Cécile Trelluyer; video editor was Phillipe Leclaire; sound supervisor was Jean Chatauret; executive producer was Toni Hajal. Sung in Italian. Released in 2012, disc has 5.1 dts-HD Master Audio sound. Grade: A
The Royal Opera House went all out to make this new revival a hit with a great cast and top-notch artists in every production department. For us video lovers, the clincher was the appointment of François Roussillon as TV director. If there is any name in fine-arts video that amounts to a seal of approval, it would be Roussillon, a chap who apparently just doesn't work on something unless he knows it will be great. This title was a big hit with Wonk Gordon Smith's L'OperaDou Jury. They gave it an "A," which is rare accolade from that august, passionate, and ever-so-demanding group. Gordon, the judge who gives the jury their charges, gleefully approved the verdict.
According to The Grove Book of Operas, Adriana Lecouvreur stays in the repertory "mainly due to the opportunities it affords to an experienced prima donna who has already passed her prime." How does that strike you for faint praise? It would seem that this opera is immune to updating and has always been produced as a lavish consume orgy rooted in pre-revolutionary France. (I do not intend here to suggest that Gheorghiu has aged out.)
But Adriana Lecouvreur is in fact a 20th-century work. It was born 1904 between Tosca (1900) and Madama Butterfly (1906) and offers a more modern style than you might expect. Eric Myers, writing in the August 2012 Opera News (page 59) says that this ROH Adriana Lecouvreur "makes the best possible case for Cilea's frequently maligned opera." And in the January, 2013 Opera News (page 59) this Adriana Lecouvreur was praised as a "2012 Favorite" title.
This is a relatively obscure work that few opera fans alive today have probably seen live or even enjoyed via recordings. But thru the magic of HDVD, the ROH now shows us how good this opera can be. They have a chance to reach an audience larger than anything the opera promoters of the past could have dreamed of. Has there ever been a better time than now to be an opera lover?
Alas, I found no YT clip worthy of showing you here.