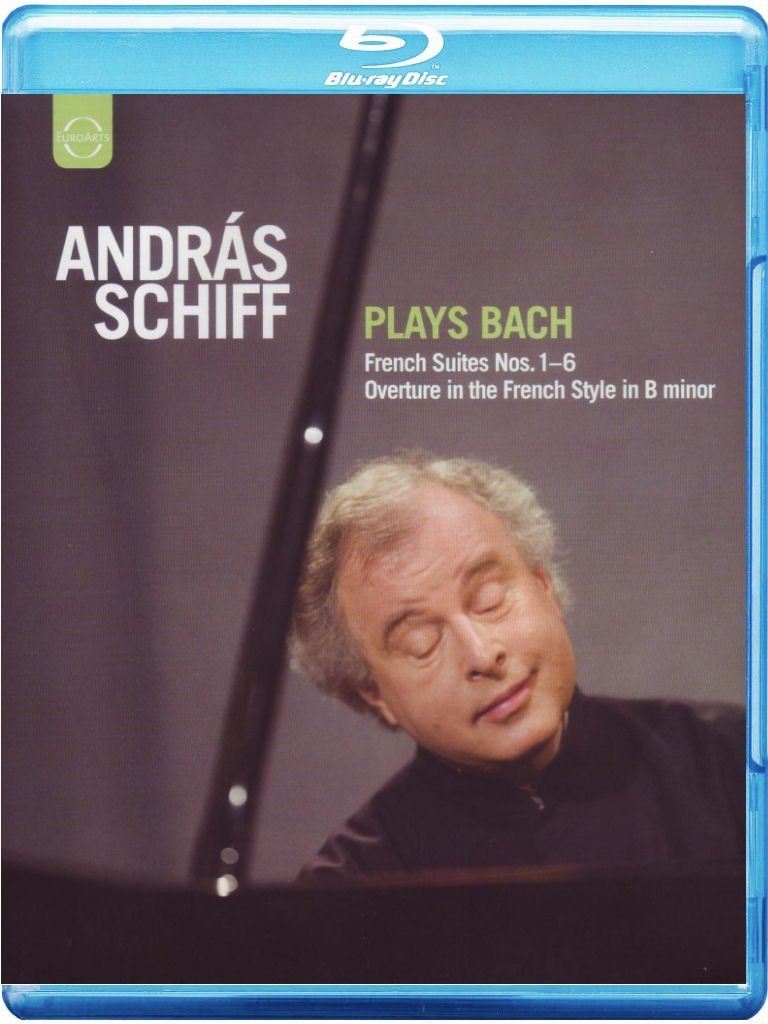 András Schiff plays from J.S. Bach:
French Suites 1-6

Overture in the French Style in B minor

Italian Concerto in F major
This was recorded 2010 in a church in Leipzig. Directed for TV by János Darvas; produced by Isabel Iturriagagoitia Bueno. Has a nice bonus interview with Schiff. Released in 2011, disc has 5.1 dts-HD Master Audio sound. Grade: A
András Schiff, a famous pianist and conductor, plays the six French Suites, the Overture in the French Style, and the Italian Concerto as an encore. You get your money's worth here with 2 and 1/4 hours of music plus a nice bonus visit with the soloist.
It's an article of faith on this website that seeing a performance is always better than just hearing it. Schiff is a self-effacing performer, and makes absolutely no attempt to "add value" thru his manner or personality. These Bach pieces tend to be quiet and not musically "spectacular." So does seeing this on a 65" TV screen add much? Well, not being a Bach fan, I find that the video helps me "hang in" with J.S. And I see that the audience is grimly determined to stick it out with nobody even once yawning or nodding off to sleep----they know they are on camera!
The great thing about a home theater is I can watch Bach for 45 minutes, and then switch to something else. Or if I just want some background music, there's no harm in listening to this with the video off. Now if you happen to be a Bach fan who enjoys listening to 8 complete piano suites in a row, I think the video will add extra delight! Or you can always close your eyes from time to time. Or read some magazines while the title plays out.
SQ and PQ are both excellent throughout (the pictures in the HT are much nicer than the screenshots below). There are generally 4 types of shots that are cycled throughout the recording. Each shot is on average 10-15 seconds long, though there are outliers. The first below is a side view with a glimpse of the audience (you can see details like the audience quite well in the HT):
Below is a close up of Schiff's hands as he plays. This is the most common of the shots. Student Bach players might pick up fingering tips from this:
Another of the shots used is a close up of Schiff's face.
The final shot is directly over the piano:
I've enjoyed a lot of piano music live, in audio records, and in video. Even though I'm not a Bach fan, I don't think anyone could play this music better than Schiff. Now for a grade. Start with A+. Both SQ and PQ are excellent. But this is not an audiophile recording. 48kHz/24-bit sound sampling was used, so I drop the grade to A for lack of 96kHz/24-bit sampling. If you are a Bach fan or aspire to be, this a good value at regular price.
Here is a Youtube trailer: