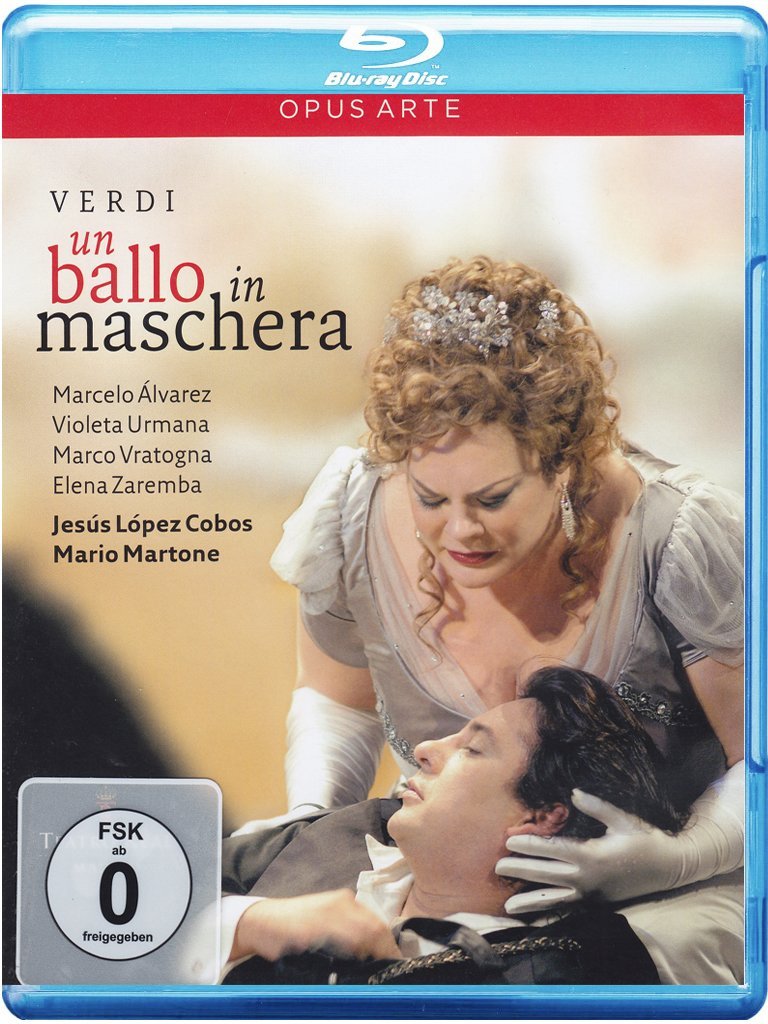 Giuseppi Verdi Un ballo in maschera opera to libretto by Antonio Somma. Directed 2008 by Mario Martone at the Teatro Real de Madrid. Stars Marcelo Álvarez (Riccardo), Marco Vratogna (Renato), Violeta Urmana (Amelia), Elena Zaremba (Ulrica), Alessandra Marianelli (Oscar), Borja Quiza (Silvano), Miguel Sola (Samuel, enemy of Riccardo), Scott Wilde (Tom, enemy of Riccardo), Orlando Niz (A Judge), and César San Martín (Amelia's servant). Jesús López Cobos conducts the Madrid Symphony Orchestra and Chorus (Chorus Master Peter Burian). Set design by Sergio Tramonti; costume design by Bruno Schwengl; choreography by Duncan Macfarland; lighting design by David Harney; film direction by Ángel Luis Ramírez. Released 2010, disc has 5.1 PCM sound. Grade: C+
I recently reviewed an Un ballo in maschera from the Leipzig Opera, with Chailly conducting, which features modern designs from Arnaldo Pomodoro and a "movie-like" video from opera director Ermanno Olmi and videographer Don Kent. But the set and costumes designs in the Leipzig video have been the target of ridicule from critics who were used to traditional versions of Ballo. Here we review a traditional Ballo production from the Madrid Teatro Real. The screenshots we show below track generally the streenshots we used in our Leipzig Ballo story. By comparing these two sets of screenshots, you can make a better decisions which "flavor" of Ballo you might prefer: traditional or updated.
Here's the opening scene in Madrid with "period" costumes and decor. Verdi was forced by Italian censors to set Ballo in pre-revolutionary Boston (in America), where the libretto makes no historical sense. But we do get a traditional look below complete with a Betsy Ross-inspired flag sewing party. Never mind that Betsy Ross is a myth. Also never mind that the flag the Madrid props department came up is wrong: before the American revolution of 1776, flags had the Union Jack in the upper left position, not white stars on a blue field. Please don't think I'm being snide about the poor props manager; I think the scene below is pretty. But it's not history, and neither is Ballo. This is an opera about human foibles, sacrifice, redemption, and forgiveness. Set it anywhere, any time, including a dream world that never existed:
The Madrid theater is rather compact. But the singers strive to be sure every nuance of feeling is clear all the way to the cheapest seat in the sixth level---that's an opera tradition. Here Marcelo Álvarez emotes mightily as Riccardo sharing a secret thought:
Marco Vratogna as Renato warning his friend Riccardo:
Below we have Elena Zaremba as the witch Ulrica. She's telling the sailor (Borja Quiza) his fortune. With this starburst pattern on the stage there's no doubt---even from the furthest seat---who is delivering the line:
Not a bad near-shot of Ulrica contending with Riccardo. But does Ulrica's costume and make-up look real to you?
Hedging his bets, Riccardo waits for his friend Renato to arrive before shaking a hand. This is the most dramatic line in the opera since Riccardo, now in love with Renato's wife, is the man who is no longer a friend. The next two shots leave no doubt what you are watching---a video recording of a live performance of a traditional opera in an opera house:
From Act 2, here are two shots of pure melodrama. This is what it takes to fill up the volume of a six-tier opera barn. But is this a bit too much in a home theater?
Renato decides to kill his friend rather than his wife. It's quite clear he's standing by himself on the stage:
Below is a traditional masquerade ball. But the big mirror is quite confusing from the position of the camera far from the stage. From here you can only see back half of the floor, and that from the reflection above. There's a stage band playing back there, but we never see this band directly. When you go to the theater in person, what you see of the action depends on where your seat is. This drawback is something we can correct when making a video for the home theater:
I don't think the costumes and the masks in this production are very impressive. The contumes look alike and the flimsy masks would not conceal anything. Well, next below is a shot of the intense conversation between Renato and Oscar over what disguise Riccardo is wearing at the ball. In the theater, probably only an opera expert would be able to track what is happening on the stage. So the videographer has to go in closer than half-stage for this to work in a home theater:
And now below Riccardo tries to make right the difficulties he has created by losing control of himself:
I know I have shown a bias in my comments above against our Ballo from Madrid. With a decent seat, I would have been very happy to see this live. But I'm not likely to ever see any production of Ballo live. I'm interested in what kind of video was made for viewing in the HT. From this perspective, I find the Madrid Ballo a bit hapless. The star singers are not quite in the same league with the stars on the stage in Leipzig. The Madrid orchestra is decent, but they don't have the eland of the Gewandhaus forces. The mostly long-range shots are often as distracting as helpful. The short-range shots are often blotched by histrionics of the singers shouting to the ceiling. PQ in Madrid with its dark stage is only OK. In Leipzig, the director was an expert in making movies, so it was second nature to him to insure that there was always light available for the videographer to get good images. SQ was also better in Leipzig. But above all, director Olmi and Don Kent saw to it that the show would look good both on the stage and in the video.
Way back when subject title first came out, confrère Gordon Smith in Nîmes showed it to his friends. An OperaDou jury of 28 fans thought well of the singers. But they were not pleased by what they deemed "stodgy staging", and their final grade was a "C+." I'm content to let that verdict stand.