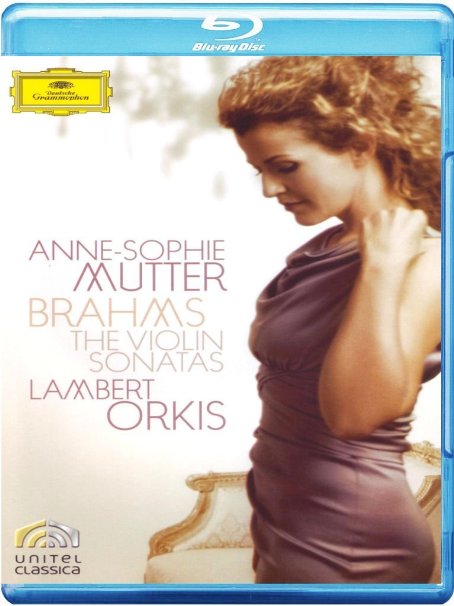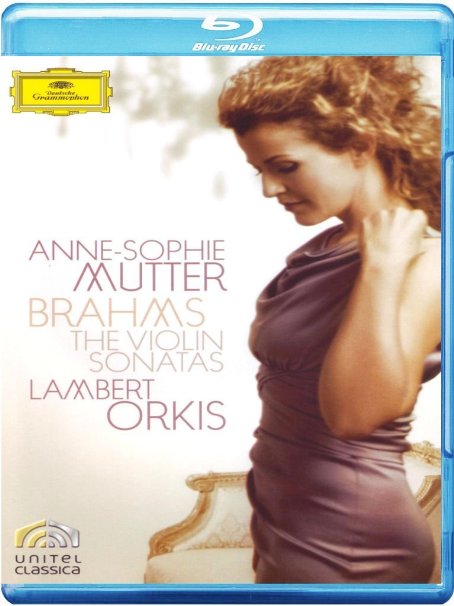 Brahms The Violin Sonatas concert. In 2009, Anne-Sophie Mutter plays all 3 of Brahms' sonatas for violin and piano with Lambert Orkis as accompanist. The venue was the splendid Library Hall at the Polling Abbey located in Polling, Germany (about 30 miles SW of Munich). Released in 2010, this disc has 5.0 dts-HD Master Audio sound. Grade: A
Mutter, the essence of patrician elegance and grace, is completely convincing. PQ and SQ are superb. A critic knocked Orkis, complaining that these sonatas should be treated like duets for violin and piano and that the piano part should be handled by an A-list solo piano player. The role of the piano here is like that of the full orchestra in a violin concerto with a sharing of responsibility and glory. It did look to us that Orkis sometimes might be struggling with his part, although it didn't sound like he was having difficulty. Well, Orkis has been the close musical companion for Mutter for decades, and probably nobody else could work more effectively with her on this than he.
A critic also pointed out that the show we see is made of many spliced-together excerpts from two different performances. Of course you can't tell exactly where the splices are. But that splices have been made can be demonstrated easily by observing the two different audiences. Each audience is divided into two groups: in front of the stage is a group of about 250 folks and behind the stage is a group of about 20 in two rows of chairs. At 5:31 you get a clear shot of the front row of "Audience 1." This front row has no men with neckties. Behind the Audience 1 stage to the viewer's left is a lady we call "Topknot." At 20:38 you get a clear shot of "Audience 2." Seated on the front row are two gents wearing neckties. Facing Audience 2 on the front row and to the viewer's left is a man we call "The Priest."
Even in the first minute of the show, we see Audience 1/Topknot disappear at 00.36. Audience 2/Priest appears 2 seconds later at .38, but only to disappear in about 4 seconds at .43 so that Audience 1/Topknot may return. For another example, check out the transitions at 25:25, 25:37, and 26:10. There are many other similar changes throughout the disc.
Why do we bring up the subject of splicing together segments of several performances? Well, this illustrates the proposition that what you see in an HDVD is often more than just a record. The creation of an HDVD is itself as full of artistic choices as is the case with an opera or ballet. Often what you see is not what happened at a particular time, but rather is itself a fresh work of art created by the TV director and his crew. This is fine so long as the TV director faithfully gets over what the performers are trying to do. It gets more problematical if the TV director tries to create a new work of art in the way he handles the recording and editing. We didn't find the editing of the digital file here to be obtrusive.
Here is a nice clip: