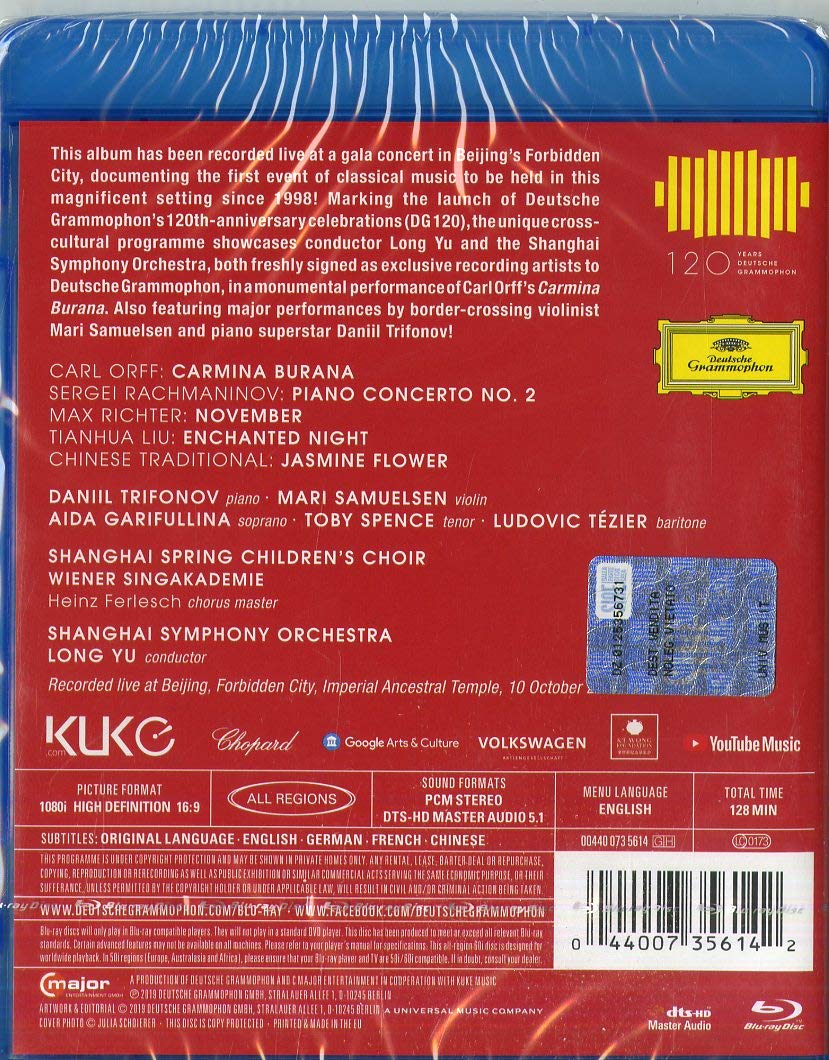 Carl Orff Carmina Burana cantata and Rachmaninov Piano Concerto No. 2 concert. Recorded October 10, 2018 at the Imperial Ancestral Temple in the Forbidden City, Beijing. Features soloists Aida Garifullina (soprano), Toby Spence (tenor), Ludovic Tézier (baritone), Daniil Trifonov (piano), and Mari Samuelsen (violin). Long Yu conducts the Shanghai Symphony Orchestra, the Shanghai Spring Children's Choir, and the Wiener Singakademie (Chorus Master Heinz Ferlesch). Disc contains the following works:
Carl Orff Carmina Burana (soloists Aida Garifullina, Toby Spence, and Ludovic Tézier)

Rachmaninov Piano Concerto No. 2 (Daniil Trifonov)

Max Richter November (Mari Samuelsen)

Tianhua Liu Enchanted Night

Jasmine Flower, a traditional Chinese folk song.
Directed for TV by Tiziano Mancini. Released 2019, disc has 5.1 dts-HD Master Audio sound. Grade: C+
The Scene
We usually exclude titles made in large outdoor spaces where it's so hard to get good sound and video recordings. We made an exception for this concert because it was in such an extraordinary place. And it was the 120th Anniversary Concert for DG, who viewed this as a "bridge-building" project. Wonk Bryan Balmer bought and viewed the disc and provided screenshots, Wonk Worksheet statistics, and our grade. We also watched a lot of YouTube clips about this event.
This must have been a nightmarishly tricky production for DG and videographer Tiziano Mancini with performers assembled from all over the world to appear in a space created many hundreds of years before electricity was invented. This was recorded in October, and everyone was freezing! From the YouTube clips and the next screen shot below we were shocked to see how small the famous temple area really is and that it only seats about 1200 spectators. (Other parts of the Imperial City do include vast open parade grounds. ) There was one rehearsal on October 8. On October 9 there was a dress rehearsal with Aida Garifullina wearing the red stapless gown you see on the cover of the keepcase. The cold was way too intense for bare shoulders; for the actual performance on October 10, Aida wore a huge white fur coat. So for the Carmina Burana there was only one take.
The performances of both Orff's Carmina Burana and Rachmaninov's Piano Concerto No. 2 are highly enjoyable and everything one could hope for musically, especially under the trying circumstances. The Rachmaninov piano concerto provides grand, sweeping moments, while Carmina Burana has plenty of excitement, especially soprano Aida Garifullina. The three shorter works on the program were all impressive and beautiful.
The audio has been mixed to better highlight the soloists. The piano is in the fore of the mix, allowing for all the detail to be heard. It is possible that Tézier in Carmina Burana is mixed louder than the other soloists. The sound also has more reverb than would be expected of an outdoor venue, possibly resulting from bounce-back of the surrounding buildings.
Alas, the video content disc suffers from DVDitis and poor editing. Here is the wonk worksheet. Both performances start with an A, but lose a full grade for the too-fast DVDitis pace. While both works have a decent number of supershots and conductor shots, there are far too many non-realistic solo shots. This drops the grade down to a B-. Further concerns with audio, combined with a complete lack of proper whole-orchestra shots and excessive instrument-only views, drop the final scores to a C+ for both works. This disappointing grade is consistent, of course, with the many low grades we have given on this website to symphony recordings made by most of the major brands publishing in Blu-ray. Sooner or later we hope the industry will start making videos optimized for high-definition TVs. Now to screenshots illustrating and supporting our conclusions.
In the screenshot below we see that the yard at the Imperial Temple was designed for persons of privilege only. This was the entire live audience for the actual event. Out of a population of 1,400,000,000, one has to assume that we see here only the super-elite of the privileged group running China today:
Next below is the closest thing to a whole-orchestra shot for the Rachmaninov Concerto. We consider this an architectural shot (not whole-orchestra). A whole-orchestra shot should be made as close as possible to the orchestra while showing all the players. If the whole orchestra is playing, we want to see just that with as much detail as the cameras can provide:
There are too many non-realistic soloist shots. But this is a dramatic image: we never saw a pianist wearing gloves before:
Realistic soloist shots are much preferable:
Below we have an instrument-only shot and a small-scale shot. The small scale provides more visual context:
There were cameras capable of recording a larger, part-orchestra view:
Unfortunately too many of the shots were low-value, such as the following:
Here is a shot showing projected images of the flutist so that the audience could see. While these projections were doubtless important for the live audience, there is no need for this shot in an HDVD:
Seeing the real thing is much more enjoyable:
Even better than close-ups are small-scale shots:
Following are several nice shots of the choirs:
Here we have the adult choir and a decent portion of the orchestra:
Strangely, there were close-up shots of members of the choir who were not even performing at the time!
Finally, we see a good mix of soloist shots (here Ludovic Tézier):
Wow! Two beautiful shots of Aida:
Now you've seen the good and the bad. In addition to the other issues mentioned, you can see that the color in these screen shots is a bit off somehow. A reader has already suggested that our C+ grade is too "kind." Well, all the music here is new to this website. DG probably spent a ton of coin on this so we don't want to burn their bridge. And poor Tiziano Mancini was probably hanging on for dear life throughout this really ambitious project.
Here's a clip of Mari Samuelsen playing November. She stayed with the bare shoulders, but she was only on stage 4 minutes or so:
Here are official trailers from DG: