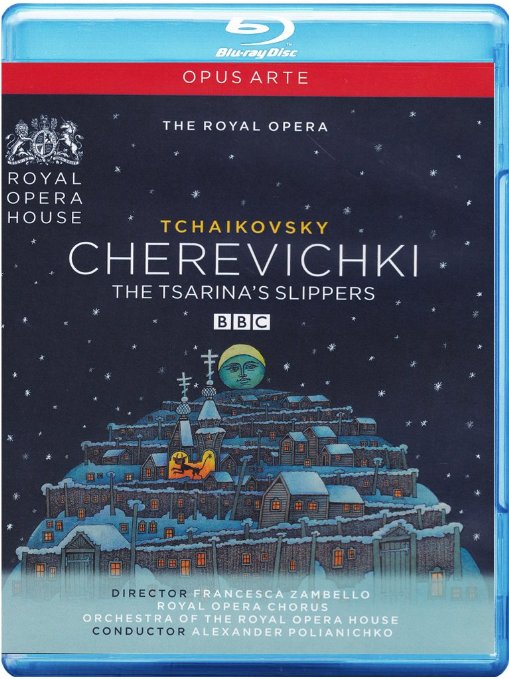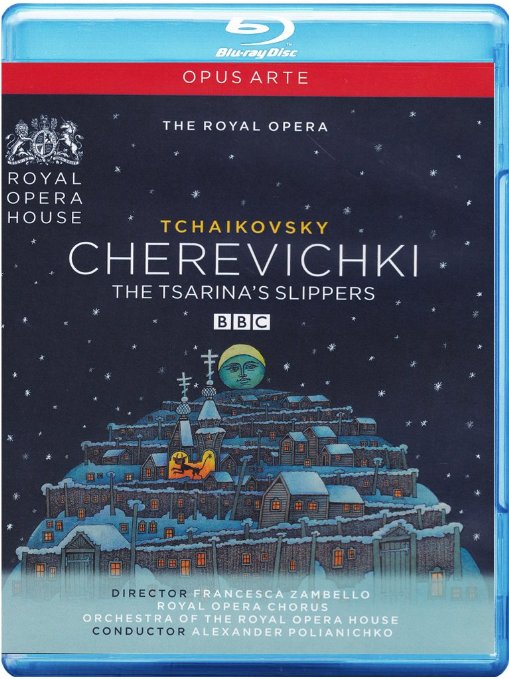 Tchaikovsky Cherevichki opera to a libretto by Yakov Polonsky. Directed 2009 by Francesca Zambello at the Royal Opera House. Stars Olga Guryakova (Oxana), Vsevolod Grivnov (Valuka), Larissa Diadkova (Solokha), Vladimir Matorin (Chub), Maxim Mikhailov (The Devil), Viacheslav Voynarovskiy (The Schoolmaster), Alexander Vassiliev (Pan Golova), John Upperton (Panas), Sergei Leiferkus (The Highness), Jeremy White (Master of Ceremonies), Olga Sabadoch (Odarka), Changhan Lim (Wood Goblin), and Andrew Macnair (Echo). Also stars dancers Mara Galeazzi, Gary Avis, Tara-Brigitte Bhavnani, Cindy Jourdain, Kristen McNally, Pietra Mello-Pittman, Bennet Gartside, Kenta Kura, Ernst Meisner, and Johannes Stepanek. Alexander Polianichko conducts The Orchestra of the Royal Opera House (Concert Master Peter Manning) and The Royal Opera Chorus (Chorus Directors Renato Balsadonna and Stephen Westrop). Set design by Mikhail Mokrov; costume design by Tatiana Noginova; lighting by Rick Fisher; choreography by Alastair Marriott; film direction by Jonathan Haswell. Released 2010, disc has 5.1 dts-HD Master Audio. Grade: B
A sparkling, lavish, and enthusiastic production of a rare and almost unknown opera (in the West perhaps). It's hard to imagine how anyone could do a better production of Cherevichki. This is the only video available of this opera; so this title in HDVD may be the definitive recording for a long time to come.
Sorry, we think there's no useful YouTube clip for this.