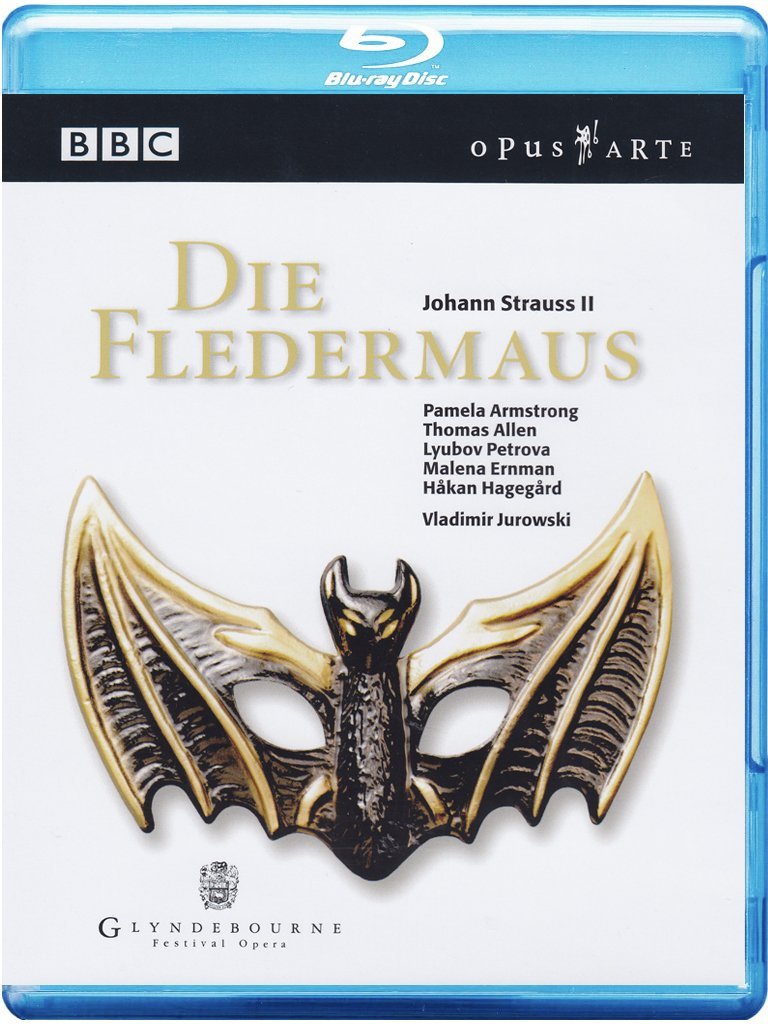 Johann Strauss II Die Fledermaus operetta to a libretto by Carl Haffner and Richard Genée. Directed 2003 by Stephan Lawless (with assistant Titus Hollweg) at Glyndebourne. Stars Pamela Armstrong (Rosalinda), Thomas Allen (Gabriel von Eisenstein), Lyubov Petrova (Adele), Malena Ernman (Prince Orlovsky), Håkan Hagegård (Dr. Falke), Pär Lindskog (Alfred), Ragnar Ulfung (Dr. Blind), Artur Korn (Frank, the gaoler or jailer), Renée Schüttengruber (Ida), and Udo Samel (Frosch, a speaking part). Vladimir Jurowski directs the London Philharmonic Orchestra (Leader Peter Shoeman) and the Glyndebourne Opera Chorus (Chorus Master Bernard McDonald). Set design by Benoit Dugardyn; costumes by Ingeborg Bernerth; lighting by Paul Pyant; choreography by Nicola Bowie; directed for TV by Francesca Kemp and produced for TV by Ross MacGibbon. Released 2008. Package says 24-bit sound was used, but infalible Zoltan Glied reports sound sampling was at 48kHz/24-bit for stereo and 48kHz/16-bit for surround. The disc has 5.0 PCM surround sound output. Grade: A+
When this was produced in 2003, HDVD was still over the horizon. But both the video and sound recordings were brilliantly handled. So this was picked by Opus Arte in 2008 as one of the best recordings available to publish early in both HD DVD and Blu-ray formats. I watched this many times in 2008, but then I set it aside as new HDVDs came out. After years of neglect, I recently pulled it off the shelf again. It hasn't aged a day.
Die Fledermaus (The Bat) is considered an operetta. But both the score and the libretto are quite sophisticated, and there isn't too much of the silliness that afflicts so many operettas. So I think of it as a comic opera.
Die Fledermaus is about a wild party which has big surprises for a lot of people who know each other. First we meet Adele (Lyubov Petrova), who gets a (bogus) invitation to the party. (Ida, the chorus girl will be there, but she didn't sent the note to her sister):
Adele works as a maid for Gabriel von Eisenstein (Thomas Allen) and his wife Rosalinda (Pamela Armstrong). Gabriel must go to jail (gaol) for eight days because of the incompetence of his lawyer, Dr. Blind (Ragnar Ulfung). Here Blind promises to do better on the appeal with a list of strategies he has already worked out:
Dr. Falke (Håkan Hagegård) invites Eisenstein to the party while he still has his freedom:
The statement below from Falke is the only true thing he tells Eisenstein. Falke is known around town as "die Fledermaus" or "Bat" because of a practical joke Eisenstein pulled on Falke. Soon Falke will get his revenge on Eisenstein:
Eisenstein and Falke leave for a dinner before the party, leaving wife Rosalinda alone, poor thing. But then Rosalinda's discarded lover, Alfred (Pär Lindskog) shows up. Alfred has a Bösendorfer piano, but the Bösendoncker mentioned here by Rosalinda is a different instrument that vibrates at a frequency below the range of human hearing:
The temptation of Rosalinda:
But suddenly the jailer (gaoler) arrives to take Eisenstein to jail. Alfred, ever gallant, agrees to take Eisenstein's place in jail to protect Rosalinda's (just newly established) good reputation:
The party is at the palace of the Russian Prince Orlofsky (Malena Ernman in trousers). The gorgeous set takes full advantage of the Glyndebourne revolving stage. Orlofsky is always bored, but you will not be:
Orlofsky will aid Falke in his practical joke on Eisenstein:
The jailer, Frank (Artur Korn) is also invited to the party. A government official can't go to a wild party, so Frank adopts the alias "Chevalier Chagrin." Orlofsky spots this deception fast and compliments Frank in French, a language our phony Chevalier doesn't understand:
So now the real Eisenstein is at the same party with the jailer who just arrested the Eisenstein imposter. The real Eisenstein is using the name Marquis de Renard (the "Fox"). Frank and the Fox, each ignorant of the identity of the other, soon become drinking brothers:
Adele, wearing Rosalinda's best party dress, is awed by the high-fashion life. She doesn't know how to deal with Prince Orlofsky. But when she suddenly encounters her boss, she manages to get the better of him:
To make the practical joke complete, all we need is to get Rosalinda to the party. Well, Falke left his (real) invitation to the party at a place where the ever-suspicious Rosalinda was sure to find it. Rosalinda crashes the party in disguise as a Hungarian Countess. Below the drunken Eisenstein tries to seduce his own wife. This is the funniest scene of all, but there are many other hilarious jokes and situations that arise with the characters you see in these screenshots. And all of this is presented with the most scintillating singing numbers and waltz music for the dancing that you could imagine:
Everybody continues to have a great time at the party except Rosalinda, who is now grimly determined to observe husband's antics to the bitter end:
And so the Bat gets his revenge. The absurd joke slowly unravels:
But Frank is sure he caught the real Eisenstein at home with his wife:
Until, finally, Alfred gets out of jail and so forth:
You can see the glory of Ross Macgibbons' video work here as well as the gorgeous somewhat-updated mise-en-scène and excellent lighting. The libretto is sophisticated, but it's harmless and funny as all the protagonists, however sorely tempted, wind up sinning no further than giving themselves huge hangovers. All the singers are good looking, sound great, and have comic chops aplenty as stage actors. The orchestra plays well, and the sound is satisfying. Even after years of shelf-life, this HDVD should be at the top of your shopping list. Grade: "A+."
Here's the best clip I could find: