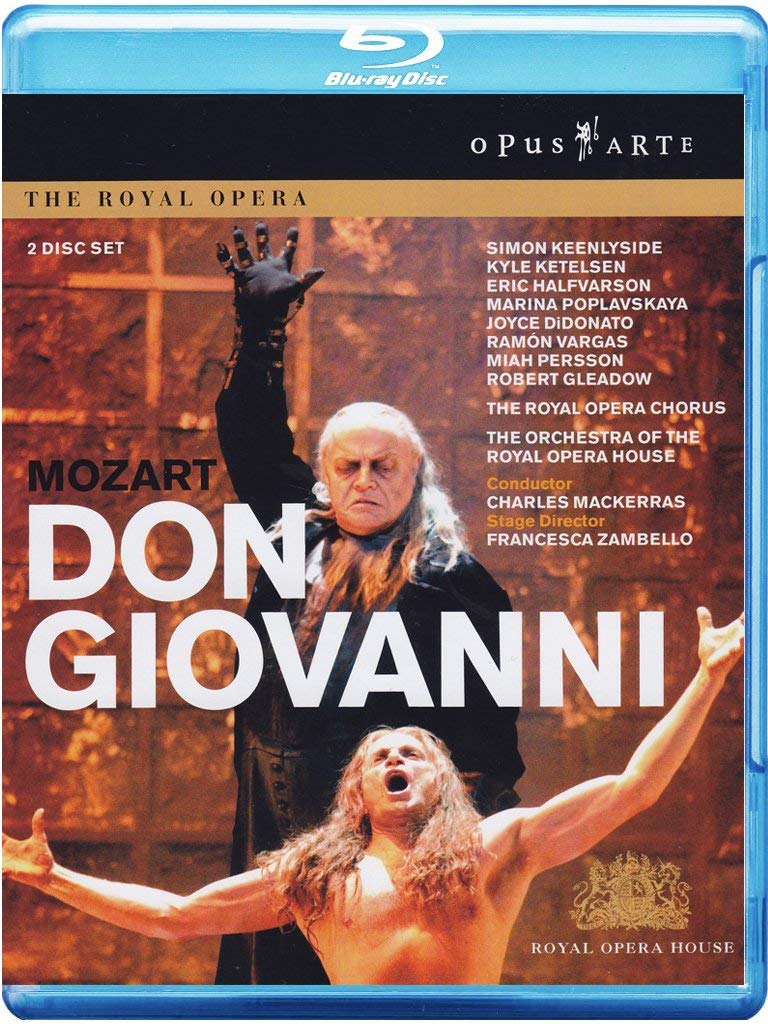 Wolfgang Amadeus Mozart Don Giovanni opera to libretto by Lorenzo Da Ponte. Directed 2008 by Francesca Zambello at the Royal Opera House. Stars Simon Keenlyside (Don Giovanni), Kyle Ketelsen (Leporello), Eric Halfvarson (Commendatore), Marina Poplavskaya (Donna Anna), Ramón Vargas (Don Ottavio), Joyce DiDonato (Donna Elvira), Miah Persson (Zerlina), and Robert Gleadow (Masetto). Charles Mackerras conducts the Orchestra of the Royal Opera House (Concert Master Vasko Vassilev) and the Royal Opera Chorus (Chorus Master Stephen Westrop). Continuo: harpsichord Andrew Griffiths; cello Christopher Vanderspar. Set and costume design by Maria Björnson; lighting by Paul Pyant; choreography by Stephen Mear; fight direction by William Hobbs; directed for TV by Robin Lough. Released 2009 on 2 discs, sound benefits from recording with 48kHz/24-bit sound sampling; has 5.1 PCM sound output. Grade: A-
This Zambello/Mackerras show has a brace of good singers including 3 of the world's tip-top sopranos. But it suffers from ugly design and a certain meanness of spirit. Leporello (Kyle Ketelsen) opens with comic lines:
But we soon see Don Giovanni (Simon Keenlyside) portrayed as a psychopath, here kissing the Commendatore (Eric Halfvarson) good-buy for good. Keenlyside is a good cast for a true-crime story, but I have trouble accepting him as a lady killer. The serial seducers I've known had a certain physical sex-appeal and charm that I don't see in Simon):
Giovanni in disguise tried to rape Donna Anna (Marina Poplavskaya), the Commendatore's daughter. Here Donna Anna is seen with her fiancé Don Ottavio (Ramón Vargas) taking a vow to revenge the assault and murder. There's no suggestion here (as in many other productions of this opera) that Donna Anna was secretly thrilled by her encounter with Giovanni:
Donna Elvira (Joyce DiDonato) is an old conquest who will never give up on Giovanni:
Leporello tries to comfort Elvira by telling her of Giovanni's countless conquests. This only inspires Elvira to try harder to save the Don and all the other females of Europe:
It the previous shots and several below, you see the main set---I can't recall one uglier. In the next shot, peasants are celebrating the wedding of Zerlina (Miah Persson) and Masetto (Robert Gleadow). Zerlina almost gives in to Giovanni, but Elvira arrives just in time to warn her. Eventually Zerlina makes peace with Masetto:
Thanks to a chance encounter with Don Giovanni on the street, Donna Anna realizes he is the murderer. Seeking new girls, Giovanni throws a party. But Elvira, Anna, Ottavio, and Zerlina team up to expose Giovanni:
Giovanni and Leporello manage to escape from the party because nobody has the nerve to pull the trigger. Giovanni explains his philosophy. With so many beautiful women in the world, to be faithful to one . . .":
Giovanni, now a hunted man, orders Leporello to swap clothes with him. Donna Elvira is the first to fall for the ruse. Here she thinks Leporello is Giovanni, who is now ready to repent and accept her love:
While Giovanni, pretending to be Leporello, confuses and then beats Masetto:
Masetto isn't hurt all that much, but it gives him a chance to get sympathy from Zerlina. Note another ugly set:
Giovanni is cornered, but he turns out to be Leporello!
Don Ottavio wants credit for his efforts to bring Giovanni to justice. He asks Donna Anna to break mourning and marry him. In the following shots, Poplavskaya displays regal beauty as she asks Ottavio to accept further postponement of the marriage:
Giovanni knows he is trapped. He splurges on a last meal. Elvira invites herself and offers the Don a last chance at true love on one condition . . . :
Giovanni's gallant reply:
Now the statute of the Commendatore arrives with an invitation of his own:
And gives Giovanni a last chance to save his soul:
In the background illuminated by the spotlight is a huge metal fist representing divine justice. The Commendatore is armed with his own version of the fist:
The orchestra sounds great and the recording is vivid. Poplavskaya , DiDonato, and Persson make this a reference recording as to how the women in this opera are supposed to sing. The men in the supporting roles also do well. But I don't like the sets, and I think the director's conception of Giovanni's character is too harsh for what is supposed to be a comic or "jolly" opera. So I wind up with a grade of "A-."
Sorry, no HD video clips for this one.