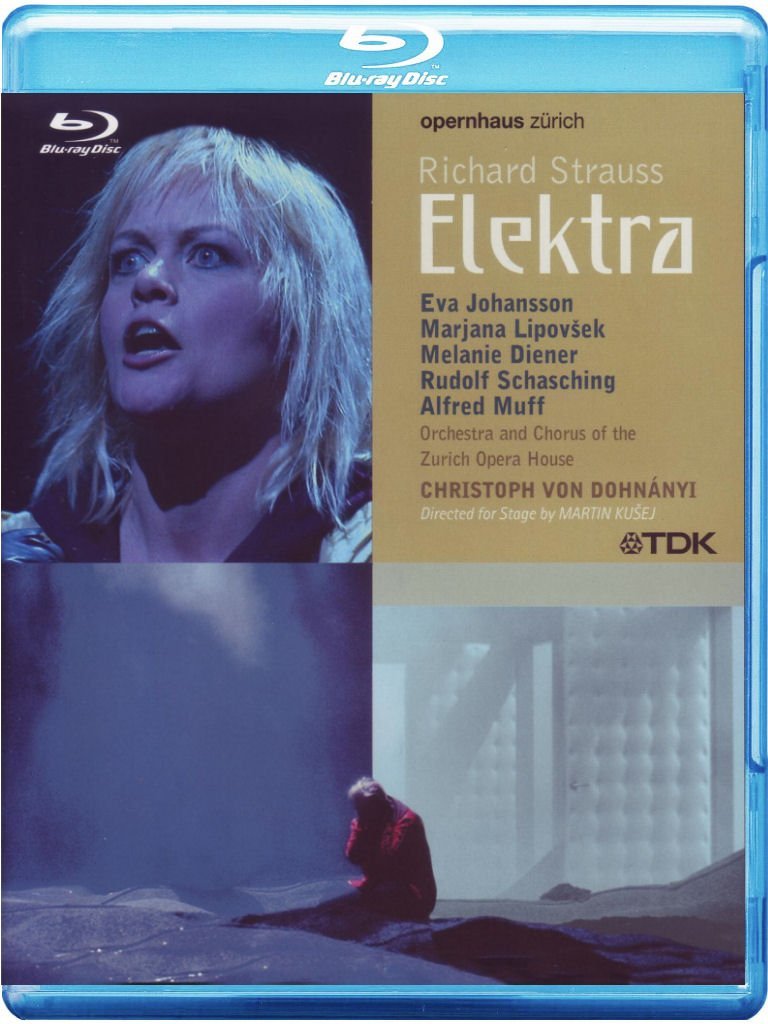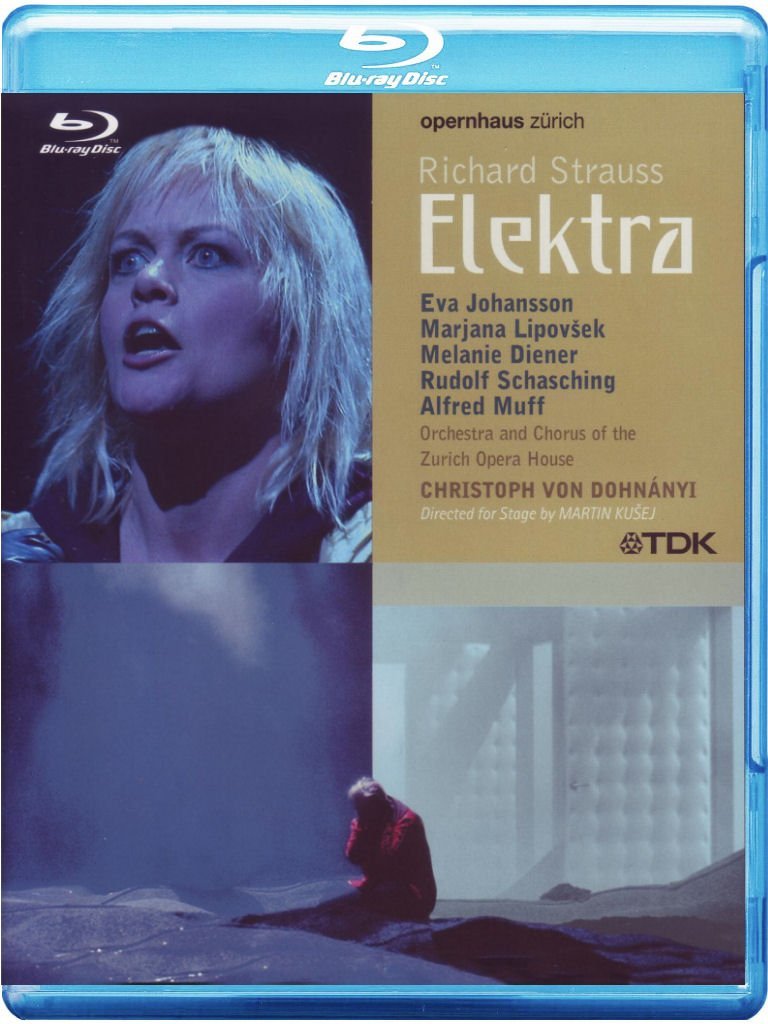 Richard Strauss Elektra opera to libretto by Hugo von Hofmannsthal. Directed 2005 by Martin Kušej at Opernhaus Zürich. Stars Eva Johansson (Elektra), Marjana Lipovšek (Klytämnestra), Melanie Diener (Chrysothemis), Rudolf Schasching (Aegisth), Aldred Muff (Orest), Reinhard Mayr (Tutor of Orest), Cassandra McConnell (The Confidant), Christine Zoller (Trainbearer), Andreas Winkler (A young servant), Morgan Moody (An old servant), Margaret Chalker (Overseer), Kismara Pessatti, Katharina Peetz, Irène Friedli, Liuba Chuchrova, and Sen Guo (5 Maids) as well as Martina Weingärtner, Thomas Bäuml, Gerhard Hänfling, and Baila Brasil Show (Movement Group). Christoph von Dohnányi conducts the Orchestra of the Zurich Opera House, the Chorus of the Zurich Opera House (Chorus Master: Ernst Raffelsberger), and the Zurich Opera House Extras Association. Sets by Rolf Glittenberg; costumes by Heidi Hackl; lighting by Jürgen Hoffmann; dramaturgy by Regula Rapp and Ronny Dietrich; directed for TV by Feliz Breisach. Released 2009, disc has 7.1 dts-HD Master Audio sound. Grade: C+
NB: This title has been rereleased by Arthaus Musik with different artwork.
This is a Martin Kušej psycho/whacko version of Elektra. Kušej stars off by building a stage within the stage, expressing, we think, the psychological repressions and constrictions explored in the Orestes myth. The decadence that has fallen on the House of Agamemnon is expressed in a goofy lumpy floor (which was a serious obstacle course for everyone onstage), numerous actors (especially girls) running around in various stages of undress, and props like handcuffs and whips. Constant frantic actions interfere with the drama and singing. Something causes the recording of the singers to be strangely muffled (maybe echoes caused by the stage within the stage); and the voices are too often drowned out by the orchestra.
Poor Eva Johansson as Electra appears as a bleached blond in with dark hair roots showing. She's directed to ceaselessly move about overacting. At one point she almost falls down on the wicked terrain. No wonder her diction starts to collapse about half way through this this baptism of fire. She makes silly faces; and when she curses Chrysothemis ("Sei verflucht!" ) she is forced to stare cross-eyed into the camera. She bravely soldiers on. Finally, her aria "Orest" (Track 20) proves how movingly she can sing when allowed to do so. The other cast members are pretty much overshadowed by the chaos of the production.
Kušej's last surprise is his happy ending. He follows the libretto by including a dance of celebration. Of course, the dancers are not ancient Greeks, but Vegas-style exhibitionists in full show-girl plumage. Alas, they have no idea what they are doing, at least not on that floor, and Strauss did not know how to write samba. Once the dancers stumble off stage, you wait for Elektra's death. But Kušej keeps her alive. This contradicts the libretto, but is probably closer to the Greek myth than the death Hofmannsthal writes for Elektra. At curtain call, Christoph von Dohnányi seems embarrassed to come on stage, but tries to be a good sport. Well, we are sure there are folks who prefer the Kušej approach; but to be fair to all our readers, we give this show a C+ grade.