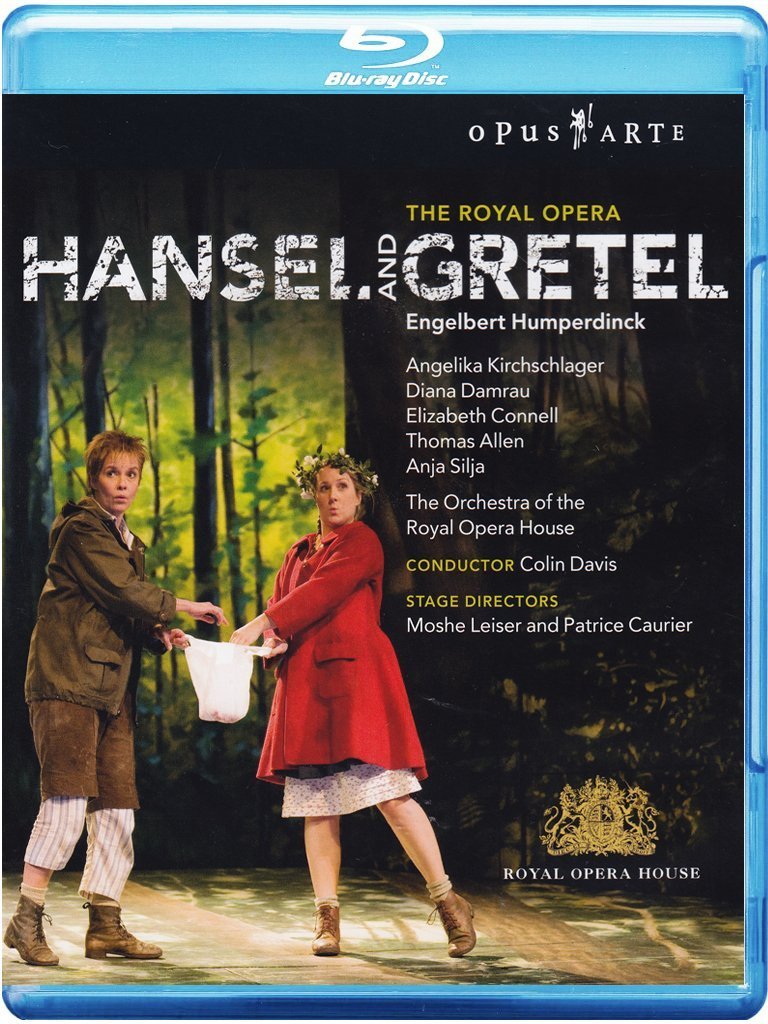 Engelbert Humperdinck Hansel and Gretel opera to libretto by Adelheid Wette (Humperdinck's sister). Directed 2008 by Moshe Leiser and Patrice Caurier at the Royal Opera House. Stars Angelika Kirchschlager (Hansel), Diana Damrau (Gretel), Elizabeth Connell (Gertrude), Thomas Allen (Peter), Anja Silja (Witch), Pumeza Matshikiza (Sandman), and Anita Watson (Dew Fairy). Colin Davis conducts the Orchestra of the Royal Opera House (Concert Master Peter Manning) and the Tiffin Boys' Choir and Children's Chorus (Director Simon Toyne). Set design by Christian Fenouillat; costumes by Agostino Cavalca; lighting by Christophe Forey. Directed for TV by Sue Judd. Released 2009, disc has 5.1 PCM sound. Grade: B+
Famous musicians, sparkling set and costumes, and clever direction produce some beautiful scenes and gets lots of laughs in a show that your kids might like. But is all this glitz missing a bit of grit? Contrast this production from Panzerkreutzer Royal Opera House to the modest HDVD Hänsel und Gretel production by the Anhaltisches Theater Dessau.
Sorry, no YouTube clip for this that comes for sure from the disc.