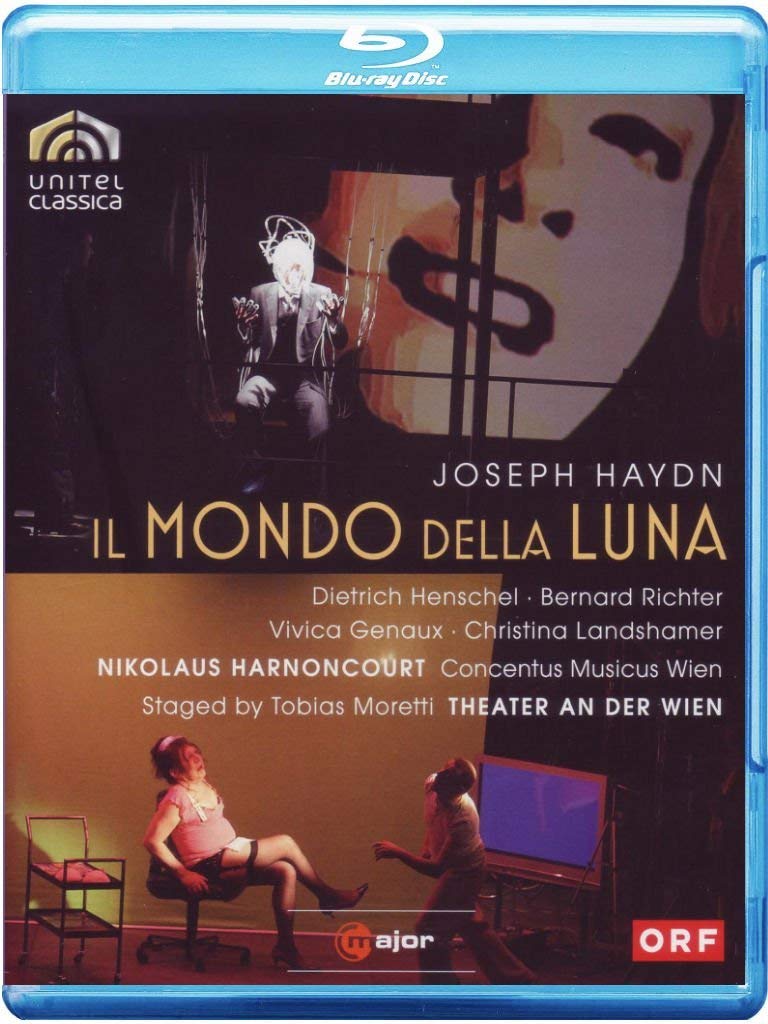 Haydn Il mondo della luna opera to libretto by Carlo Goldoni. Directed 2009 by Tobias Moretti at the Theatre an der Wien. Stars Bernard Richter, Vivica Genaux, Dietrich Henschel, Christina Landshamer, Anja Nina Bahrmann, Maite Beaumont, Markus Schäfer, Jevgenij Sitochin, Heimo Buttinger, Christoph Wutti, Boris Lichtenberger, Alejandro Gallo, Andreas Werner, Alexander Jost, Josef Fuchs, Tomasz Kufta, and Guillermo Jorge Pereyra. Nikolaus Harnoncourt conducts the Concentus Musicus Wien. Costumes by Heidi Hackl; sets by Renate Martin & Andreas Donhauser; lighting by Olaf Winter; video by Hamid Reza Tavakoli; movement coaching by Jevgenij Sitochin; dramaturgy by Sebastian Huber; directed for TV by Felix Breisach. Released in 2010, disc has 5.0 dts-HD Master Audio sound. Grade: B+
I always thought of Joseph Haydn, father of the symphony and quartet, mentor to Mozart and Beethoven, and devout Catholic, as a stern and formal guy in a white wig. Well, he also had a sense of humour, and he wrote more than a dozen comic operas, of which Il mondo della luna (The World of the Moon) is the most famous.
The central character is Buonafede, a grumpy, chauvinistic widower who wants to keep his beautiful daughters, Clarice and Flaminia, locked up and lusts for his earthy young maid, Lisetta. Ecclitico, a confidence artist posing as an astronomer, loves Clarice. He teams up with Ernesto, who loves Flaminia, and Cecco, crazy for Lisetta, to dupe Buonafede out of all the women in his house. Their plot works, and Buonafede, reconciled to the inevitable, winds up paying for 3 weddings.
Ecclitico has invented a telescope that lets earthlings see the moon close-up. "It's another world," he exclaims:
Buonafede looks in the telescope and is thrilled:
He sees a world where men lead the women around by the nose! (The telescope is made by Panasonic and Ecclitico's assistant is holding a video camera that you can't see in this view):
Now Buonafede wants to emigrate to the moon with Ecclitico's help. Ecclitico conspires with Ernesto (center) and Cecco (to your right) to take advantage of Buonafede's gullibility. Ernesto was originally a castrati role. Here Vivica Genaux as Ernesto wears trousers:
Buonafede's frustrated daughters. That's Clarice trying to climb out the window as more timid Flaminia looks on:
Lisetta. She sings, "There's no lady like me, nor ever will be one.":
Ecclitico gives Buonafede a sleeping potion to steel his nerves for the trip to the moon. This is as far as Buonafede will get, singing, "I'm going to the world on the moon.":
The moon (Ecclitico's workshop in disguise). Buonafede is still sleeping it off:
The Emperor of the Moon (Cecco) and his bodyguard (Ernesto) welcome the earthling:
Poor Buonafede is shocked and humiliated when the Emperor makes Lisetta Empress of the Moon and seats her on a throne:
The Emperor gives Flaminia to Ernesto:
And Ecclitico gets Clarice:
Dietrich Henschel as Buonefede climbs 18 feet up a pipe to earn the biggest ovation of the evening. He realises now that he was duped, and it was his own fault. Later he forgives everyone, and he pays for all the weddings. Ecclitico will scrap his "telescope" and get a respectable job.
And Lisetta (now married to Cecco) gets her job back, "I leave my throne and go back to the kitchen."
Act 1 is really funny and Act 3, while short, has sublime love music. The frantic silliness of the long Act 2 gets a bit tiresome. All the singers are good enough for the content. Richter as Eccilitico, Henschel as Buonafede, and Maite Beaumont as Lisette are especially effective as singer/actors. Vivica Genaux has a short role as Ernesto, but she provides some impressive coloratura passages. The Concentus Musicus Wein uses period instruments; the winds have a quaint sound that somehow blends in well with the wild contemporary mise-en-scène. This libretto from 1777 updates well as directed here. So I arrive at the grade of "B+" for this surprisingly interesting production.