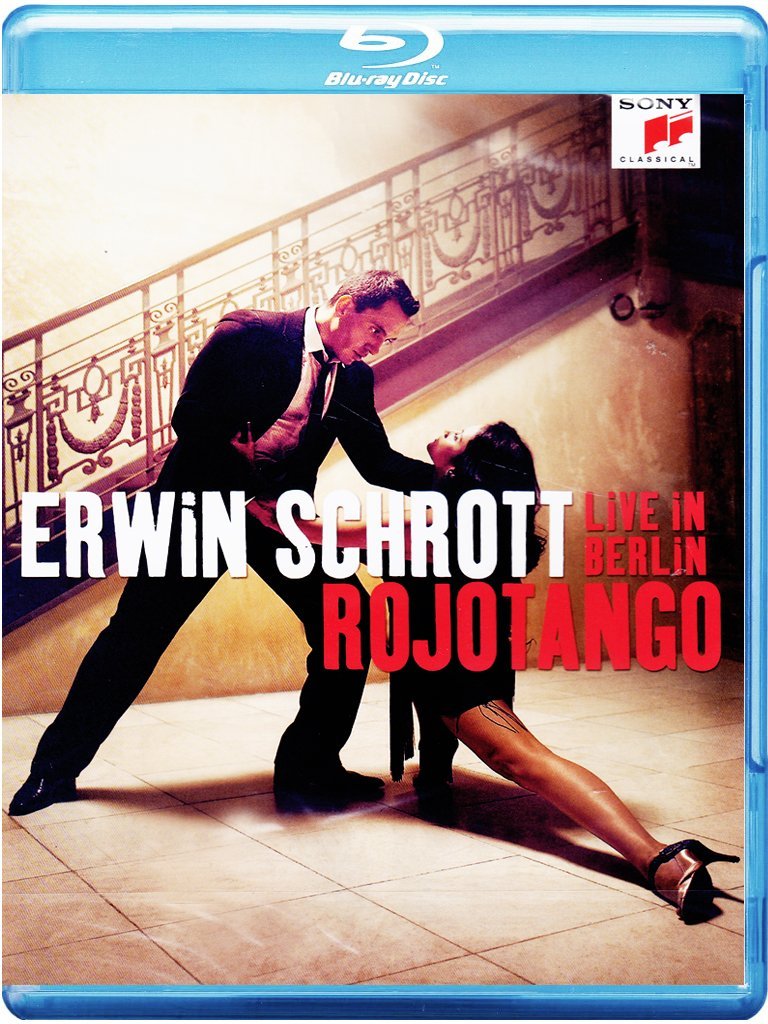 Kerberos is our vicious dog who sniffs out Blu-ray impostors, sinks his teeth in them, and drags them to our Excluded Titles section on the Navigation bar. Most of Kerb's victims are DVDs reissued in Blu-ray drag in an effort to trick customers. Kerb has been working round-the-clock lately. I thought I should give you an example of what I'm talking about.
Above you see the front cover of a Blu-ray package for the title Ervin Schrott---Live in Berlin---Rojotango. It's available in DVD also. I tried without success on the Internet to get the specs for this title. That's a red flag, of course. But I yielded to temptation. Even though Kerb was having a fit, I bought this Blu-ray.
Kerb was right. On the back cover of the keepcase, the art work says "PCM Audio." That's code for "stereo." When you put the disc in the player, the only sound track is in 48kHz/16-bit LPCM stereo. There's no surround sound. Even though this was shot in 2013, it was filmed for DVD 720x480 presentation. When repackaged in blue, you get the same old fuzzy images of yesteryears. It's a decent concert event. But if you're used to stuff recorded with 1080 resolution and high-quality surround sound, seeing this Rojotango is like watching those ancient pop concerts PBS runs with their obnoxious fund-raising drives. (For those of you outside the USA, I'll explain this better by stating that seeing this Rojotango made me slightly ill.)
How do you protect yourself from Blu-ray impostors? You can't rely on the old brand names. Also the vendors (including Amazon) have many mistakes in their postings of title for sale. Well, one way to protect yourself is to check our Excluded Titles list on the Navigation Bar. Use the "find" tool in your web browsers to speed this up! We are working hard to steer you away from Blu-ray impostors.