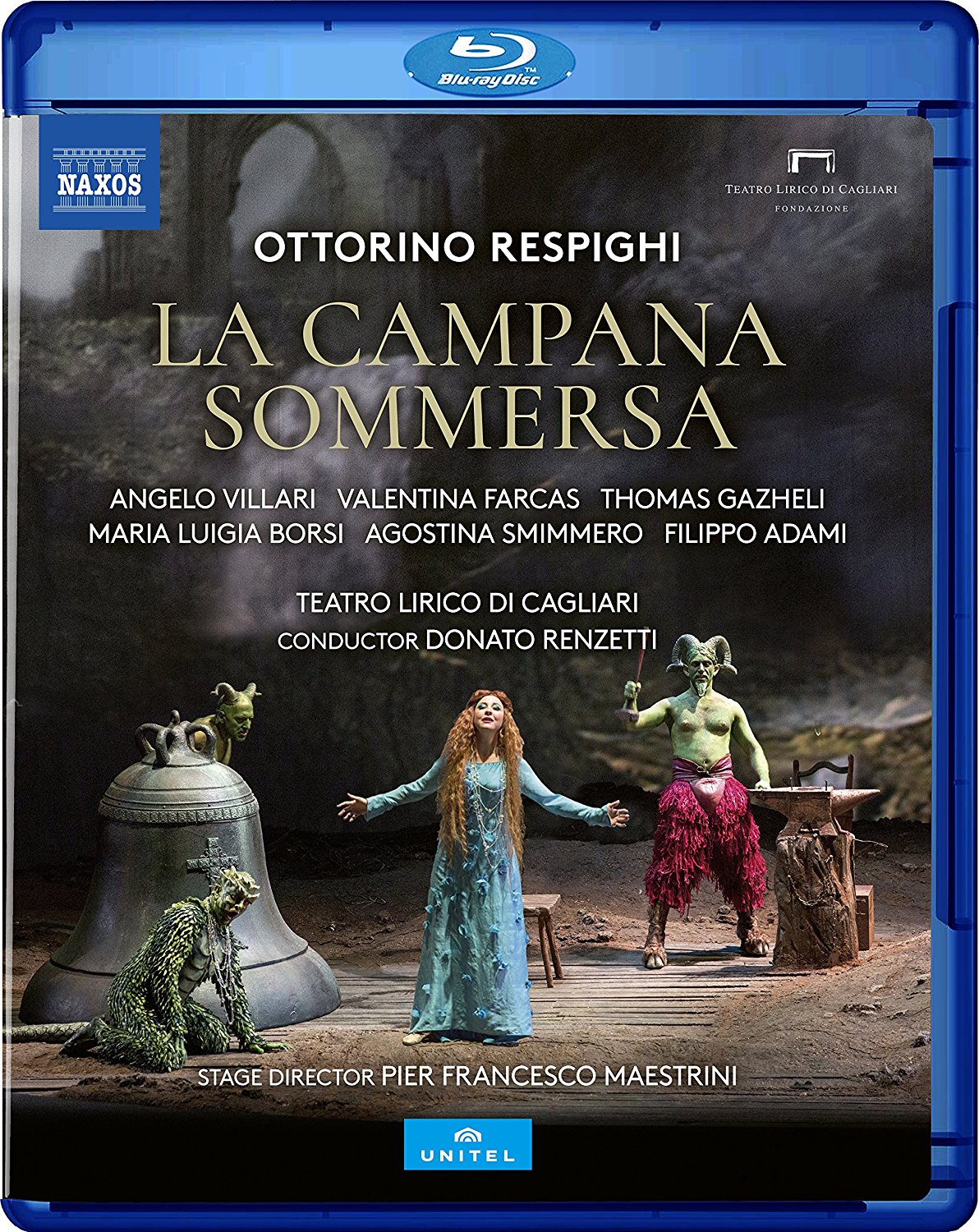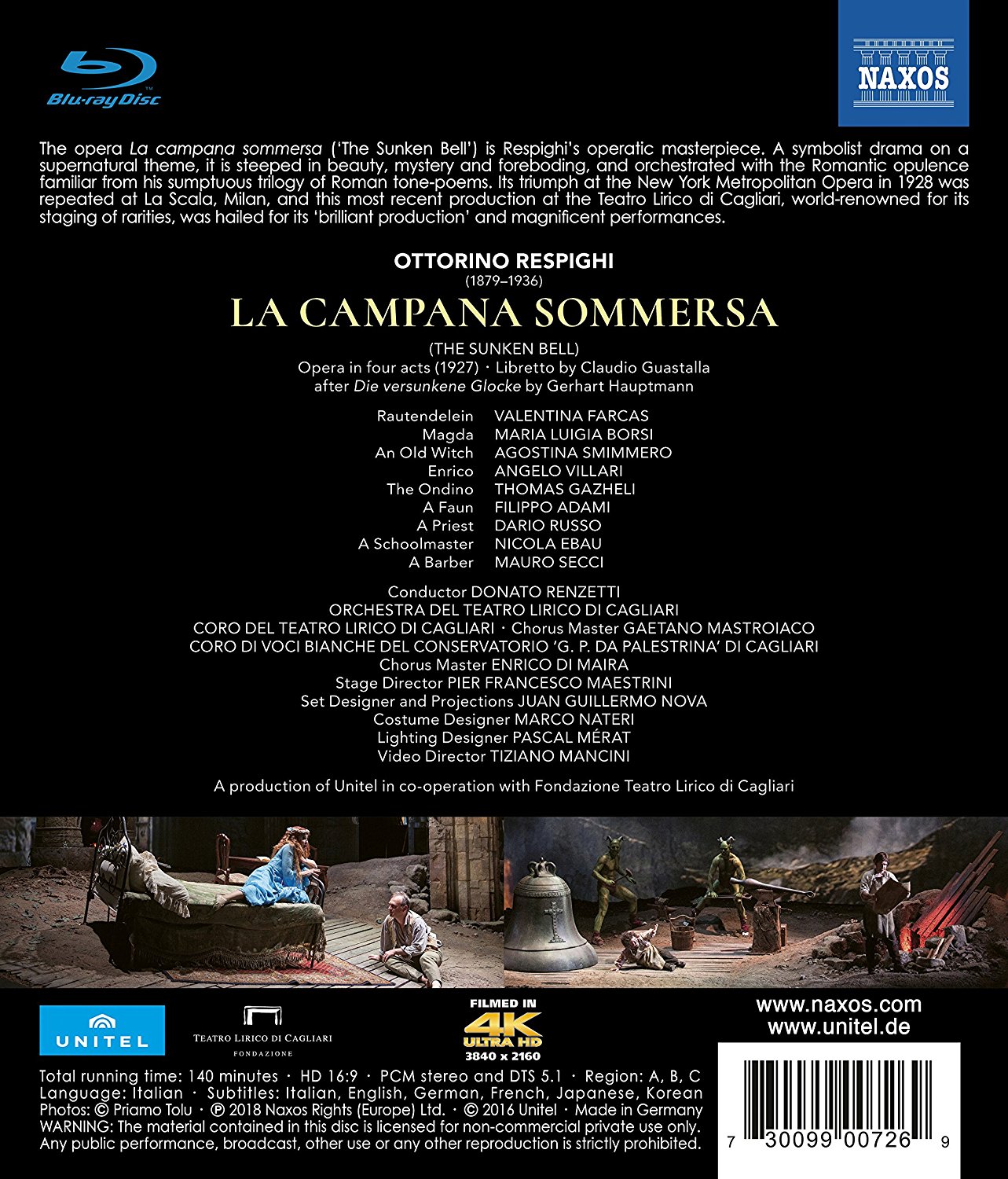 Ottorino Respighi La Campana Sommersa opera to a libretto by Claudio Guastella. Directed by Pier Francesco Maestrini in 2016 at the Teatro Lirico di Cagliari. Stars Valentina Farcas (Rautendelein), Maria Luigia Borsi (Magda), Agostina Smimmero (An Old Witch), Angelo Villari (Enrico), Thomas Gazheli (The Ondino), Filippo Adami (A Faun), Dario Russo (A Priest), Nicola Ebau (A Schoolmaster), and Mauro Secci (A Barber). Donato Renzetti conducts the Orchestra del Teatro Lirico di Cagliari, the Coro del Teatro Lirico di Cagliari (Chorus Master Gaetano Mastroiaco), and the Coro di Voci Bianche del Conservatorio 'G. P. da Palestrina' di Cagliari (Chorus Master Enrico di Maira). Set design and projections by Juan Guillermo Nova; costume design by Marco Nateri; lighting design by Pascal Mérat. Directed for TV by Tiziano Mancini. Released 2018, disc has 5.1 dts-HD Master Audio sound. Grade: NA
We note that this was filmed in 4K, but it appears the original file has been scaled down to 2K (1080 x 1920) for this product.
Respighi wrote some 10 operas between 1910 and 1035, but all of them disappeared from public consciousness like a giant church bell falling in a deep, ice-age glacier lake. Of course, opera fanatics know of old LPs and CDs with some of the Respighi opera music. But Arkivmusic says this is the only video.
Tim Ashley, writing in the September 2018 Gramophone (page 107-108) notes that the keepcase booklet doesn't have a synopsis, so he writes one in his review. Enrico, the human bell maker, is married to Magda. Rautendelein is an elf girl destined to marry Ondino, a water baron. When Enrico and Rautendelein get together, we are in for another treatment of the Ondine myth about bad things that happen when a spirit tries to cheat with a human. Try to imagine what the composer of Pines of Rome and the Fountains of Rome could do with all this. Could this be another lost opera ready to be rediscovered to great acclaim? Well, Ashley concludes, "Beautiful though it is, the score fails to rescue the libretto from the symbolic weight under which it repeatedly buckles and the characters remain ciphers with whom it is almost impossible to empathize."
Steven Jude Tietjen liked this better in his detailed discussion in the February 2019 Opera News at pages 52-53. He states that director Maestrini "makes this fantastical world almost believable. He's especially impressed with Nova's set design and projections that are "artistically exquisite and help create a bewitching world" as well as Valentian Farcas's singing of the difficult role of the elf girl Rautendelein. He concludes: " The Orchestra del Teatro Lirico di Cagliari, led by Donato Ronzetti, gives a sweeping, fearless reading of Respighi's full-throttle score, matching the passion and conviction with which Maestrini and his creative team appoached this late -verismo rarity." H'm. Still, just looking at the artwork on the cover makes us hear Sirens' voices.
Here is a poor-quality clip from Naxos: