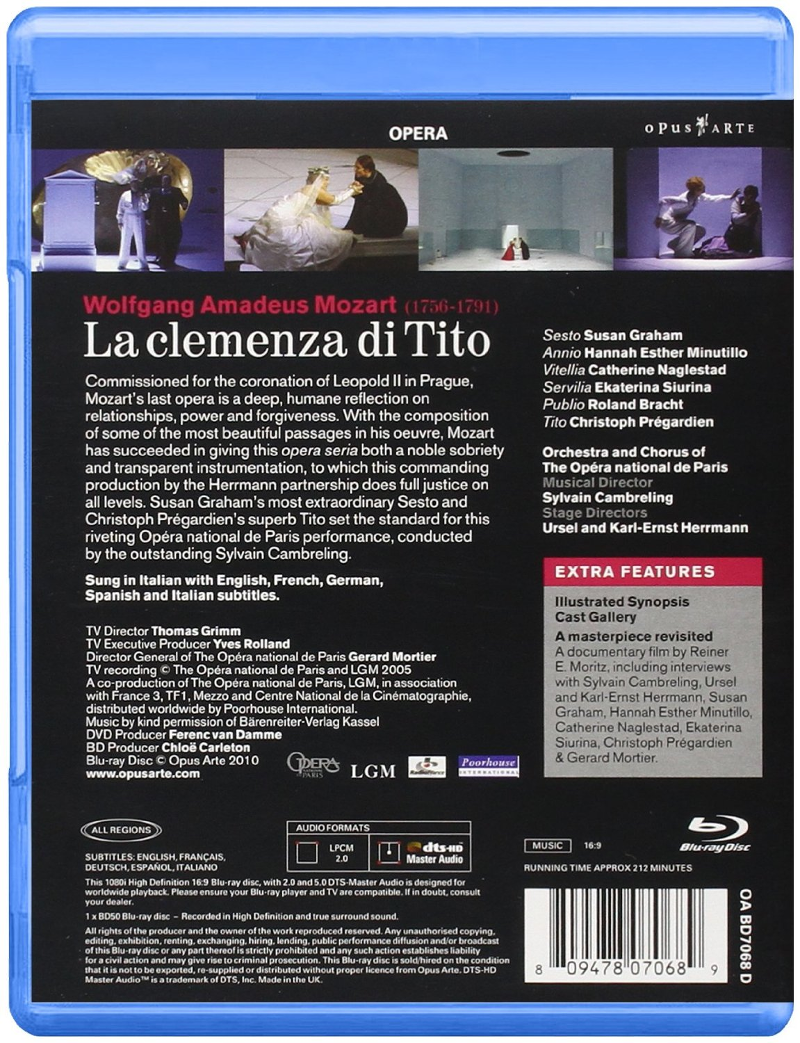 Mozart La Clemenza di Tito opera to a libretto by Pietro Metastasio adapted by Caterino Mazzolà. Directed 2005 by Ursel and Karl-Ernst Herrmann at the Palais Garnier, Paris. Stars Susan Graham (Sesto), Hannah Esther Minutillo (Annio), Catherine Naglestad (Vitellia), Ekaterina Siurina (Servilia), Roland Bracht (Publio), and Christoph Prégardien (Tito). Sylvain Cambreling conducts the Orchestra and Chorus of The Opéra national de Paris (Chorus Master Peter Burian). Set and costume design by Karl-Ernst Herrmann; lighting by Karl-Ernst Herrmann and Heinz Ilsanker. Directed for TV by Thomas Grimm. Released 2010, disc has 5.0 dts-HD Master Audio sound. Grade: B+
Here is a quote from Wonk Gordon Smith in Nîmes:
This was an excellent production in DVD, which I viewed many times. It's even better in HDVD. The rather austere staging and, at times, perhaps puzzling mixture of styles creates a rarefied atmosphere in which the tensions and emotions of the characters become larger than life. Susan Graham is at her best as Sesto, fawning to the scheming, heartless Vitellia, sung by Catherine Nagelstad, and ready to do anything---just anything for an approving glance--- even assassinate the Emperor! The Emperor himself, sung by Christoph Prégardien, is considered by some critics to be the weakest link in this production. But being both imperious and infinitely compassionate are not easy extremes to reconcile, and my feeling is that Prégardien does it very competently. Publio, the Emperor's closest aide, is superbly sung and acted by Roland Bracht, wearing the unique combination of polished breastplate and dinner jacket. In its day, this opera was one of Mozart's most popular and the first of his operatic works to be staged in London. This HDVD earns it new acclaim and may even reinstate it alongside the De Ponte masterpieces. In any event, the HDVD release gives us a fresh insight into this work. The added sharpness of the image and crystal-clear high definition sound (as contrasted with the DVD) makes it one of the gems in any collection. I give this a B+.
Here's a decent clip in SD; it appears no YT clip has been released with HD video: