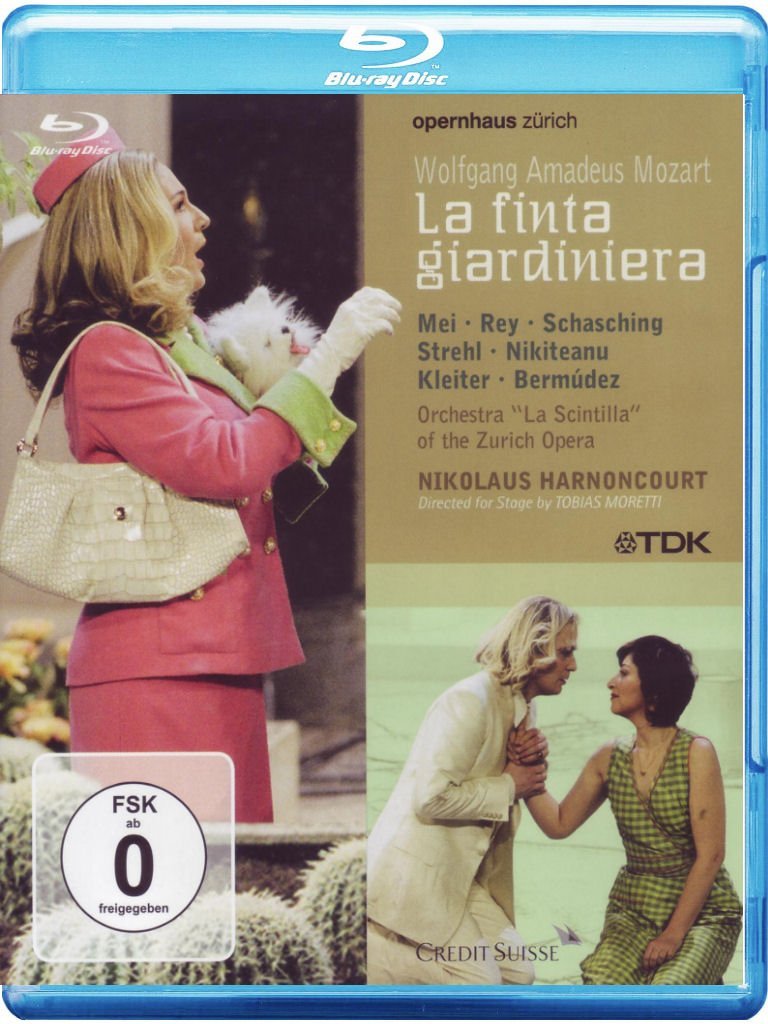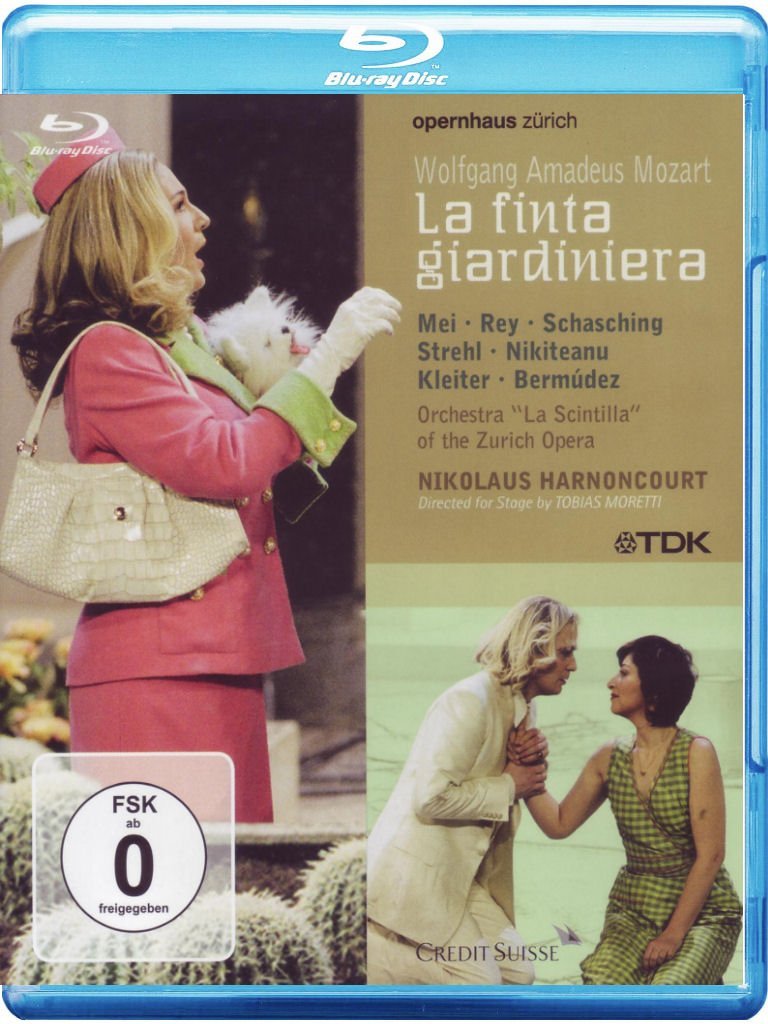 Wolfgang Amadeus Mozart La finta giardiniera opera (composed at age 18) to a libretto possibly from Giuseppe Petrosellini. Directed by Tobias Moretti at Opernhaus Zürich in 2006. Stars Eva Mei (Sandrina), Christoph Strehl (Il Contino Belfiore), Rudolf Schasching (Il Podestà Don Anchise), Isabel Rey (Arminda), Liliana Nikiteanu (Il Cavalier Ramiro), Julia Kleiter (Serpetta), and Gabriel Bermúdez (Nardo). Nikolaus Harnoncourt directs the Orchestra "La Scintilla" of the Zurich Opera. Set design by Rolf Glittenberg; costumes by Renate Martin and Andreas Donhauser; lighting by Jürgen Hoffmann. Directed for TV by Felix Breisach. Released 2009, disc has 7.1 dts-HD sound. Grade: A
NB: This title has been rereleased by Arthaus Musik with different artwork. We have included screenshots in our review of the Arthaus Musik version.
This is the Italian language version of La finta giardiniera. This title might be translated into English as "The Bogus Garden Girl." It was performed maybe three times during Mozart's life and then lost for about 175 years until a manuscript was discovered in the 1970s. Although it's considered "early" rather than "mature" Mozart, it's a complete three-hour-long work with an intriguing opera buffo libretto to keep you on your toes, interesting characters, lots of laughs, and a steady parade of arias suffused with that limpid tenderness that distinguishes Mozart from all others. Everything about this production is good to great. But the super-hero is Felix Breisach, who directed a superb video. I still can hardly believe I have something this rare, this precious, and this well-done to watch in my home theater any time I wish. And TDK provided Italian subtitles along the the other languages. There's a lot of repetition in the arias---I watch in English first and then switch over to Italian for a mini language lesson.
Sorry, we find no video clip that does justice to this excellent title.