The top of this story is about the Blu-ray version. See information on the 4K Ultra HD version at the bottom. Both entries on the Alphalist link to this story.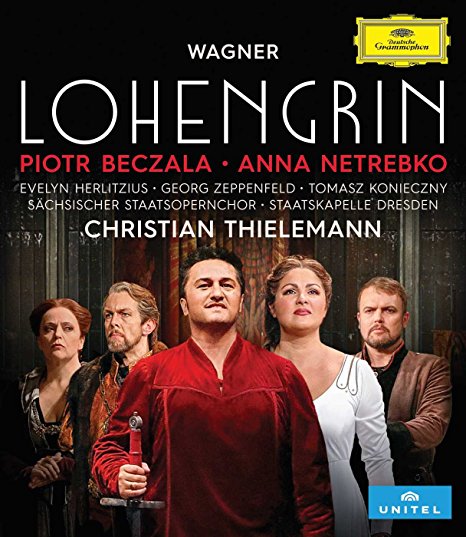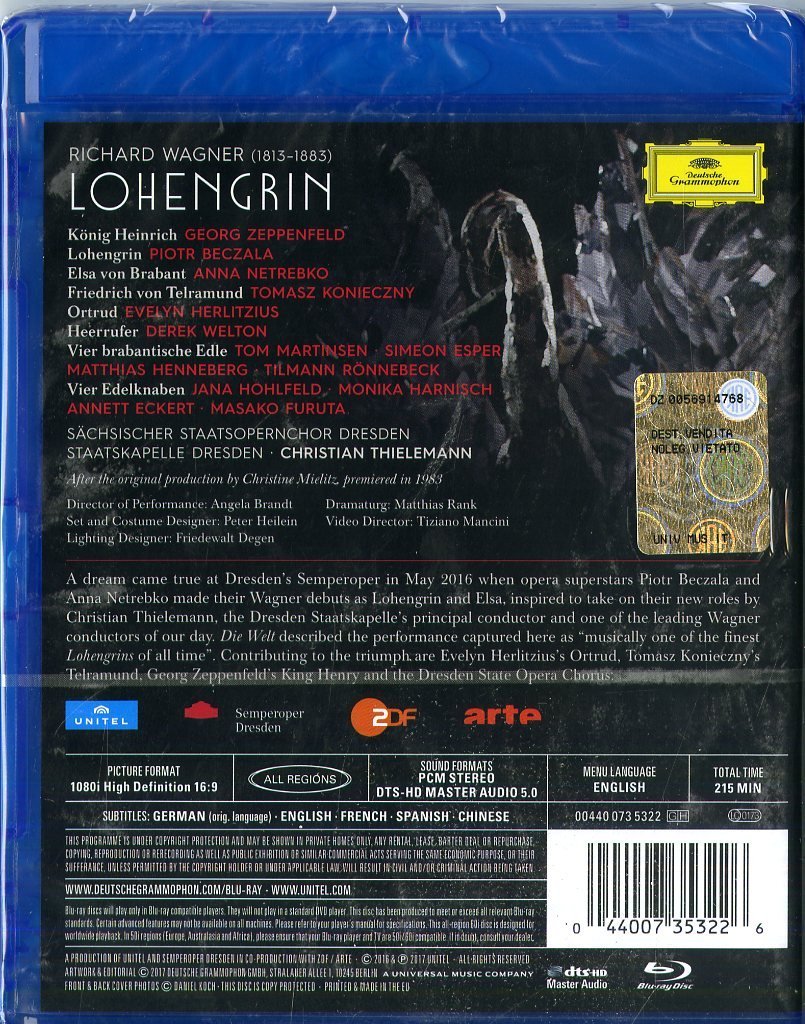 Wagner Lohengrin opera to libretto by the composer. Directed 2016 by Angela Brandt (after the 1983 production by Christine Mielitz) at at the Dresden State Opera or Semperoper. Stars Piotr Beczała (Lohengrin), Anna Netrebko (Elsa von Brabant), Tomasz Konieczny (Friedrich von Telramund), Evelyn Herlitzius (Ortrud), Georg Zeppenfeld (König Heinrich der Vogler), Derek Welton (Der Heerrufer des Königs or the King's Herald), Tom Martinsen (1st Nobleman of Brabant), Simeon Esper ( 2nd Nobleman of Brabant), Matthias Henneberg (3rd Nobleman of Brabant), Tilmann Rönnebeck (4th Nobleman of Brabant) as well as Jana Hohlfeld, Monika Harnisch, Annett Eckert, and Masako Furuta (four Pages). Christian Thielemann conducts the Staatskapelle Dresden, the Sächsischer Staatsopernchor Dresden, men of the Sinforniechor Dresden, and the Sempreoper Extra Choir (Choirmaster Jörn Andresen). Set and costume designs by Peter Heilein; lighting by Friedewalt Degen; dramaturgy by Matthias Rank. Directed for video by Tiziano Mancini with photography directed by Luca Longarini. All regions. Sound on the 4K version was recorded with 96kHz/24-bit sound sampling with Audio Engineer Peter Hecker and Audio Producer Arend Prohmann. Recording by Metisfilm Classica produced by Magdalena Herbst. Released 2017, disc has 5.0 dts-HD Master Audio surround sound. Grade: NA
Looks promising! And in the December 2017 Opera News (pages 52-53) Fred Cohn offers a ringing endorsement of this production in which the "dowdy" mise-en-scène gets out of the way to let 5 stellar leads and Thielemann in the pit put together "not just a beautiful piece of music but a tragic drama." In particular, he applauds Netrebko's "youthful lyricism . . . now scaled to truly Wagnerian dimensions."