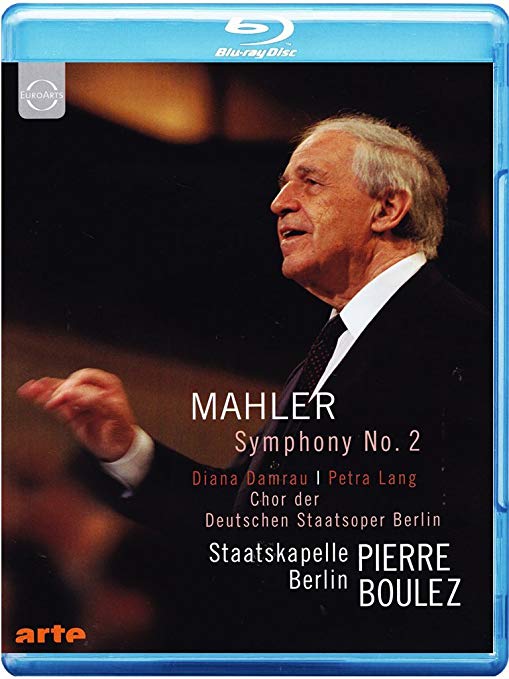 Mahler Symphony No. 2. Pierre Boulez conducts the Berlin Staatskapelle and the Chor der Deutschen Staatsoper Berlin in 2005. Soloists are Diana Damrau (soprano) and Petra Lang (mezzo-soprano). Released 2011, this disc has 5.1 dts Master Audio sound. Grade: D
This was recorded in Berlin at the home of the Berliner Philharmoniker. Pierre Boulez was guest conductor for this performance honoring his 80th birthday. If it turns out that God is a woman, then She will probably look like Petra Lang singing here. This is the Blu-ray version of the same title that came out on HD DVD back in the days when the "format war" was still going on.
This was the first symphony disc to come out in HDVD. In the early days, you could make a case that this was among the best classical music records ever made. But we watched it again in December 2017. The resolution is soft, SQ is weak with tubby base and other deficiencies in making and mixing, the performance was a bit wooden, and the Blu-ray version is missing subtitles for the singing. The worst defect, however, is a terminal case of DVDitis with a fast pace, few large-scale shots, a huge number of shots of Boulez (the birthday boy), many instrument-only shots, etc. So today this title is not competitive in any way. Except maybe one: when you see Lang and Diana Damrau singing here, you will be convinced that these gals will make to heaven for sure.
Below is a YT clip of the entire performance of this Mahler 2 donated later by a TV company. The clip is in HD, but you can see that the picture is too soft, etc. Still, we will always keep this on our shelf because it was trailblazing work (we have it in the HD DVD format also).