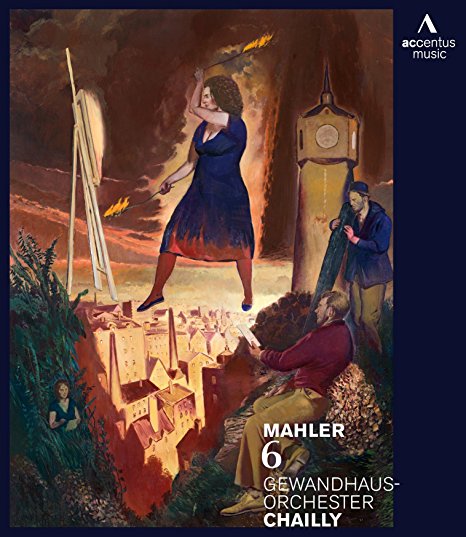 Mahler Symphony No. 6 ("Tragic"). Riccardo Chailly conducts the Gewandhausorchester Leipzig in 2012. Audio production by Sebastian Braun; directed for TV by Ute Feudel; produced by Günter Atteln and Paul Smaczny. Released 2013, disc has 5.1 dts-HD Master Audio sound. Grade: C+
The video content of this Mahler Symphony No. 6 recording directed by Ute Feudel is somewhat better than the video content of the Mahler Symphony No. 5 recording directed by Henning Kasten, both of which are part of the Gewandhaus Orchestra series covering all of Mahler's symphonies. Here for example is one of quite a few M6 whole-orchestra shots provide by Feudel:
But Feudel also produced several mostly useless anthill shots in this video such as the one next below:
Feudel can be proud the magnificent part-orchestra shot shown next below:
And next below are two excellent large-scale shots of multiple sections at work:
Alas, next below is an attempt at a multiple-section shot that went astray due to weak framing:
Feudel uses a lot of instrument only shots:
A here's a new one on us---a shot of two backs. Or is this a sheet-music shot?
Both the DVD and Blu-ray versions of his title received in February 2014 the "Diapason d'Or Arte" award. And we agree that the performance was excellent. PQ and SQ were more than adequate.
After watching the video several times, we concluded that the video content is roughly consistent throughout. To save time, we used a Wonk Worksheet to "run the numbers" on Movement 1 as a scientifically determined sample. In the 22 minutes, 17 seconds of Movement 1, there are 280 clips. This results in a pace of 4.8 seconds per clip, rather like snowboarding off K2. There were 76 conductor and conductor-over-backs shots, which devour 27% of the Movement 1 clips. Other demerits for Movement 1 would be 29 instrument-only shots (too many for an entire symphony) and a rare triple play. (Just in case you don't know, a triple play is bad here because it means the editor allowed 3 consecutive conductor shots in a row---see 4:55 through 5:07.)
However, thanks to goodly number of large-scale shots like those shown above, Movement 1 racked up 63 big boys for a 23% supershot score. If all this in unfamiliar to you, please check out our special article on how to make a good video in Blu-ray of a symphony performance.
HDVDarts.com has established the following rules-of-thumb to identify a Blu-ray with DVDitis:
A good symphony HDVD should have a slow pace with more than 10 seconds per video clip on average. 20 to 40% of the clips should be large-scale "supershots." Conductor shots should be less (way less really) than 20% of the clips in the video.
So subject title flunks the pace test and the conductor test while passing the supershot test. We conclude that Ute Feudel's video content here is modestly better than the video content of Henning Kasten in his Mahler Symphony No. 5 recording in this Chailly-at-the-Gewandhaus series.
Time for a grade. The lack of 96kHz/24-bit sound sampling takes us from A+ to A. We reduce the grade further to C for failing the pace and conductor tests. We further reduce the grade to C- for having 11% instrument-only shots. But thanks to the award this video got, we will adjust the grade up to a C+. Sorry to be so tough on these beautiful performances from Leipzig. You need to know enough to be able to ask, when you pay that premium price for the Blu-ray version of this, whether you are getting your money's worth.