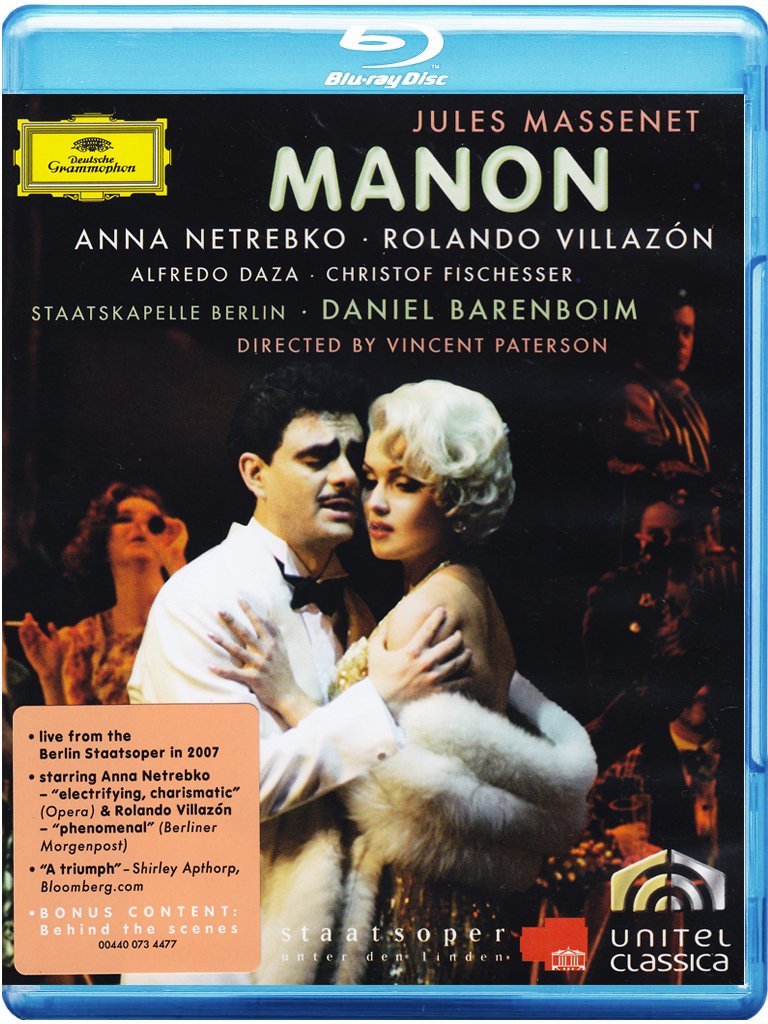 Jules Massenet Manon opera to libretto by Henri Meilhac and Philippe Gille. Directed 2007 by Vincent Paterson at the Staatsoper unter den Linden. Stars Anna Netrebko (Manon), Rolando Villazón (Le Chevalier des Grieux), Christof Fischesser (Le Comte des Grieux), Alfredo Daza (Lescaut), Rémy Corazza (Guillot de Morfontaine), Arttu Kataja (Brétigny, a nobelman), Hanan Alattar (Poussette, an actress), Gal James (Javotte, an actress), Silvia de la Muela (Rosette, an actress), and Matthias Vieweg (Inkeeper). Daniel Barenboim conducts the Staatskapelle Berlin and the Staatsopernchor (Chorus Master Eberhard Friedrich). Stage design by Johannes Leiacker; costumes by Susan Hilferty; lighting by Duane Schuler; choreography by Vincent Paterson; directed for TV by Andreas Morell; produced by Bernhard Fleischer. Released 2008, music was recorded with 48kHz/24-bit specs, and disc has 5.1 dts-HD Master Audio and 5.1 PCM sound. Grade: A
Antoine-François Prévost d'Exiles (Abbé Prévost) wrote his book L'Histoire du chevalier des Grieux et de Manon Lescaut in 1731. It inspired a number of opera and ballet works including this Massenet opera finished in 1884. Manon has probably been the most popular French opera after Faust and Carmen. (In 1893, Puccini wrote an opera based on the same book; for copyright reasons he called it Manon Lescaut.)
Manon is a comic opera, but the libretto, probing human nature on many points, contains a drama laced with considerable anguish leading to a sad death. It's rich entertainment (not designed to make you cry), but it also gives you things to think about.
Manon (Anna Netrebko) is 15 and too interested in material things, so her family is sending her to a convent. I read Anna was already an outstanding singer as a teenager, and I think someone advised her to remember how girls act at that age. So here she is convincing, at the actual age of 36, in playing the role of 15-year old. Her cousin Lescaut (Alfredo Daza) meets her at the train station. Daza is the best sergeant in opera; see him also as Belcore in L'elisir d'amore:
Lescaut cautions Manon to behave (while he and some army pals gamble in a back room at the station):
The young man on the left below is Brétigny (Arttu Kataja), a poor nobleman of scant honor. The man on the right is Guillot de Morfontaine (Rémy Corazza) a rich lecher with good political connections. He has three groupies, whom I will try to ID (loving to live dangerously) as (from your left to right): Javotte (Gal James), Rosette (Silvia de la Muela), and Poussette (Hanan Alattar). We will see these characters again. Guillot tried to enter into a conversation with Manon, but his groupies restrain him:
Manon is resigned to her fate as a nun:
Until she meets Le Chevalier des Grieux (Rolando Villazón) another stranger in the station. For both it's love at first plight; and in about 90 seconds, they run away to Paris:
The Chevalier is a student dependent on a modest allowance from his wealthy father, Count Grieux. The Chevalier and Manon don't have much cash flow, but they do have this striking apartment, which obviously is in a building that belongs to the Count:
The Chevalier writes to his father about how he loves Manon and to ask for enough money get married now that she has turned 16:
The Count has given orders to break up the love nest by snatching the Chevalier. Brétigny has been enlisted to take care of Manon with a huge bribe if she will not oppose the abduction:
Manon feels sorry for the Chevalier, but she elects to go for the money. She sings a famous good-by song to their little table. She sings about place-settings, but the image below suggests she has something else on her mind:
Is surprisingly introspective:
And satisfied with her grand life---until she happens to meet Count Grieux on the street. Then she learns what happened to the Chevalier after the abduction:
And what happened to his passion for Manon?
Now the Chevalier is a Priest giving sermons to the ladies all atwitter at the church:
There follows The Temptation of Saint Chevalier. And what is the outcome of this blasphemy?
Well, now the scene shifts from the Seminary of St. Sulpice to The Hôtel Transylvanie:
Manon and the Chevalier are almost broke, but Manon believes in good luck:
So now Manon and her guy are back where they started. The same friends:
And the same craving for action:
And while Manon works the pole, the Chevalier tries his luck:
The screenshots above just give you the highlights of the libretto up to the middle of Act 4. And there's more to come before you finally learn the story of Manon. The cast is fabulous. Barenboim was the world's most accomplished musician/conductor in 2007 (still is), and the Berlin Staatkapelle is his core orchestra. This was made at the historic opera house just before the mammoth renovations got started. Everything about the production is top-notch. In particular, I'll praise director Paterson and lighting designer Duane Schuler for supporting Andreas Morell in making his gorgeous video (right at the dawn of the Age of HDVD). Since then, Morrell has gone on to make at least 26 outstanding HDVDs including some of my personal favorites like (in alphabetical order) Alonso King LINES Ballet, Brandenburg Concertos 1-6, Caravaggio, C(H)ŒURS, and Elektra. The sound is also good with state-of-the-art recording specs for 2007.
Subject title is the only Manon in HD. (There's also only one DVD, a costume drama in stereo sound from 2001 with Reneé Flemming as Manon.) So with my grade of "A," this is probably the only game in town for you.