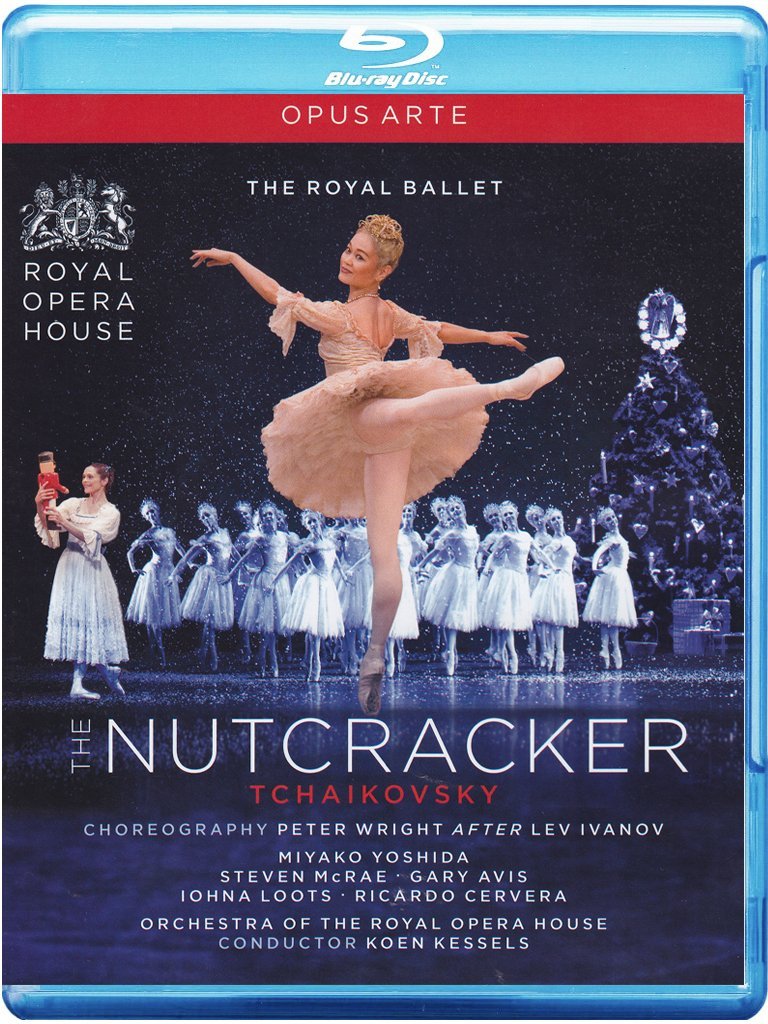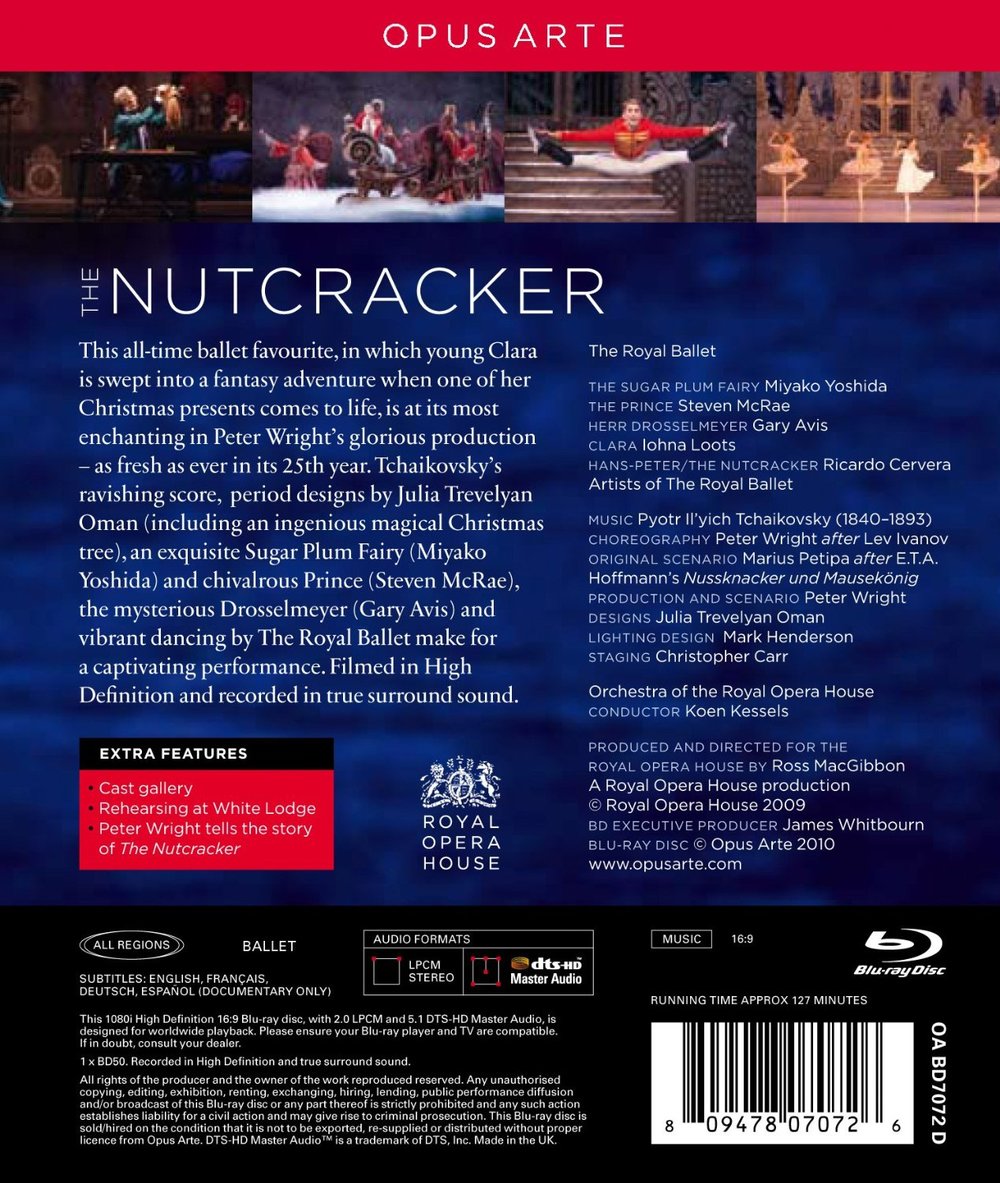 Nutcracker ballet. Music by Peter Ilich Tchaikovsky. Choreographed by Peter Wright after Lev Ivanov. Directed 2009 by Peter Wright at the Royal Opera House. Stars Gary Avis (Drosselmeyer), Iohna Loots (Clara), Ricardo Cervera (Hans-Peter/Nutcracker), Jonathan Howells (Drosselmeyer's Helper), Caroline Jennings (Maiden Aunt), Susan Nye (Maiden Aunt), Romayne Grigorova (Housekeeper), Christopher Saunders (Clara's Father), Elizabeth McGorian (Clara's Mother), Thomas Bedford (Fritz), Paul Kay (Clara's Partner), Vanessa Fenton (Grandmother), Alastair Marriott (Grandfather), Genesia Rosato (Dancing Mistress), David Pickering (Captain), Brian Maloney (Harlequin), Bethany Keating (Columbine), Kenta Kura (Soldier), Helen Crawford (Vinandière), Kevin Emerton (St Nicholas), Miyako Yoshida (The Sugar Plum Fairy), Steven McRae (The Prince), Kristen McNally, Jonathan Howells, Sian Murphy, Erico Montes, Cindy Jourdain, Thomas Whitehead (Spanish Dance), Laura McCulloch, Ryoichi Hirano, Fernando Montaño, Johannes Stepanek (Arabian Dance), Liam Scarlett, Andrej Uspenski, Jonathan Watkins, James Wilkie (Chinese Dance), Paul Kay, Michael Stojko (Russian Dance), Elizabeth Harrod, Bethany Keating, Emma Maguire, Akane Takada (Danece of the Mirlitons), Laura Morena (Waltz of the Flowers Rose Fairy), Kinta Kura, Ernst Meisner, Sergei Polunin, Brian Maloney (Rose Fairy Escorts), Yuhui Choe, Helen Crawford, Hikaru Kobayashi, Samantha Raine (Leading Flowers) as well as other Artists of the Royal Ballet and Studets of the Royal Ballet Schools. Koen Kessels conducts the Orchestra of the Royal Opera House (Concert Master Peter Manning) and the London Oratory Junior Choir (Director Charles Cole). Designs by Julia Trevelyan Oman; lighting by Mark Henderson; production consultation by Roland John Wiley; staging by Christopher Carr; directed for TV by Ross MacGibbon. Released 2010, all music was recorded with 48kHz/24-bit specs and disc has 5.1 dts-HD Master Audio sound output. Grade: B
The Royal Opera House Nutcracker is set sometime between George and Victoria in a grand house. As lovingly explained by Peter Wright himself in a valuable extra, this show tells the story from the point of view of the Nutcracker. He is Hans Peter, Drosselmeyer's nephew, who has been turned into a nutcracker doll by the evil Mouse Queen. Drosselmeyer hopes that Clara, his niece (or goddaughter maybe), can help free Hans Peter. Here we see Clara (Iohna Loots) dancing with the boy next door (Paul Kay) at the Christmas party:
Clara's parents are seen in the upper left (Christopher Saunders and Elizabeth McGorian). Clara's grandfather (Alastair Marriott) and grandmother (Vanessa Fenton) have just arrived. In this shot you can see that the video has a faded look which we will see many times:
Gary Avis does a magnificent job as Drosselmeyer, an inventor, impresario, and magician. Here he presents the living dolls Harlequin (Brian Maloney) and Columbine (Bethany Keating):
All manner of illusions occur, which must be a real challenge to produce in real time in the theater:
To free Hans Peter of the spell, Clara must first love the ugly doll, which she does (another test later):
The next test for Hans-Peter is to kill the Mouse King. This he does with the the help of Clara, who whacks the Mouse King on the head with her shoe!
Hans Peter is free! Now he and Clara are great friends. (There is no romance in this production for Clara, and this might be disappointing to older girls in your audience.)
Clara and Hans Peter visit the Land of Snow. Different from many Nutcracker productions, Clara and Hans Peter will dance at every opportunity with the characters who appear to entertain them:
Next our heroes are conveyed by Christmas Angels to the Kingdom of Sweets:
The Sugar Plum Fairy (Miyaco Yoshida) and her corps (the image is faded and/or bleached out):
The Sugar Plum Fairy and her Prince (Steven McRae). Even at this range the set doesn't look very good. In a number of closer shots the set is revealed to be pure kitsch and tinsel---OK for VHS and DVD, but too crude for HD video:
Oh, dear: they cast Laura McCulloch in the Arabian dance. Usually, the slinkiest girl in the company dances this as suggestively as the management will allow. It's a special treat for the Daddies (real and sugar) in the audience who pay for the tickets. Laura is not the vamp type. She looks like a farm girl with her powerful legs, and she's the only slightly chubby ballerina I know about. Her special genius is for comedy, not for stirring the sex-pot. But the show goes on:
The Russian Dance (Paul Kay again and Michael Stojko):
The great supporting dancer Laura Morera is the Rose Fairy in the Waltz of the Flowers. Most of Act 2 is done in pastel hues which soon seem too bland:
Clara wakes up in a state of confusion. To clear her mind, she steps out into the cold winter night. A young man asks for directions to Herr Drosselmeyer's house, which Clara cheerfully gives. He leaves and Clara begins to realize that the dream was real!
I love the Peter Wright libretto and choreography in this production. The Royal Opera House orchestra always plays well, and recording of the music on this disc is warm and wonderfully detailed in surround sound.
I liked the Christmas party and the battle scene. But beginning with the Land of Snow, the rest of Act 1 and all of Act 2 is dated. The corps dances raggedly in the Waltz of the Snowflakes, and their white dresses look worn out. The set in Act 2 is tacky. The main stars and Laura Morera as the Rose Fairy are fine. But otherwise, much of the Act 2 dancing seems uninspired. The divertissement country dances are dull compared to, for example, similar numbers performed by the San Francisco Ballet.
Subject title has fallen behind and now gets a "B" grade. But the Peter Wright production could be competitive again if the Royal Ballet would revive it with new sets and costumes, drill the female corps more thoroughly, write new county dances, and make a clean, bright video.