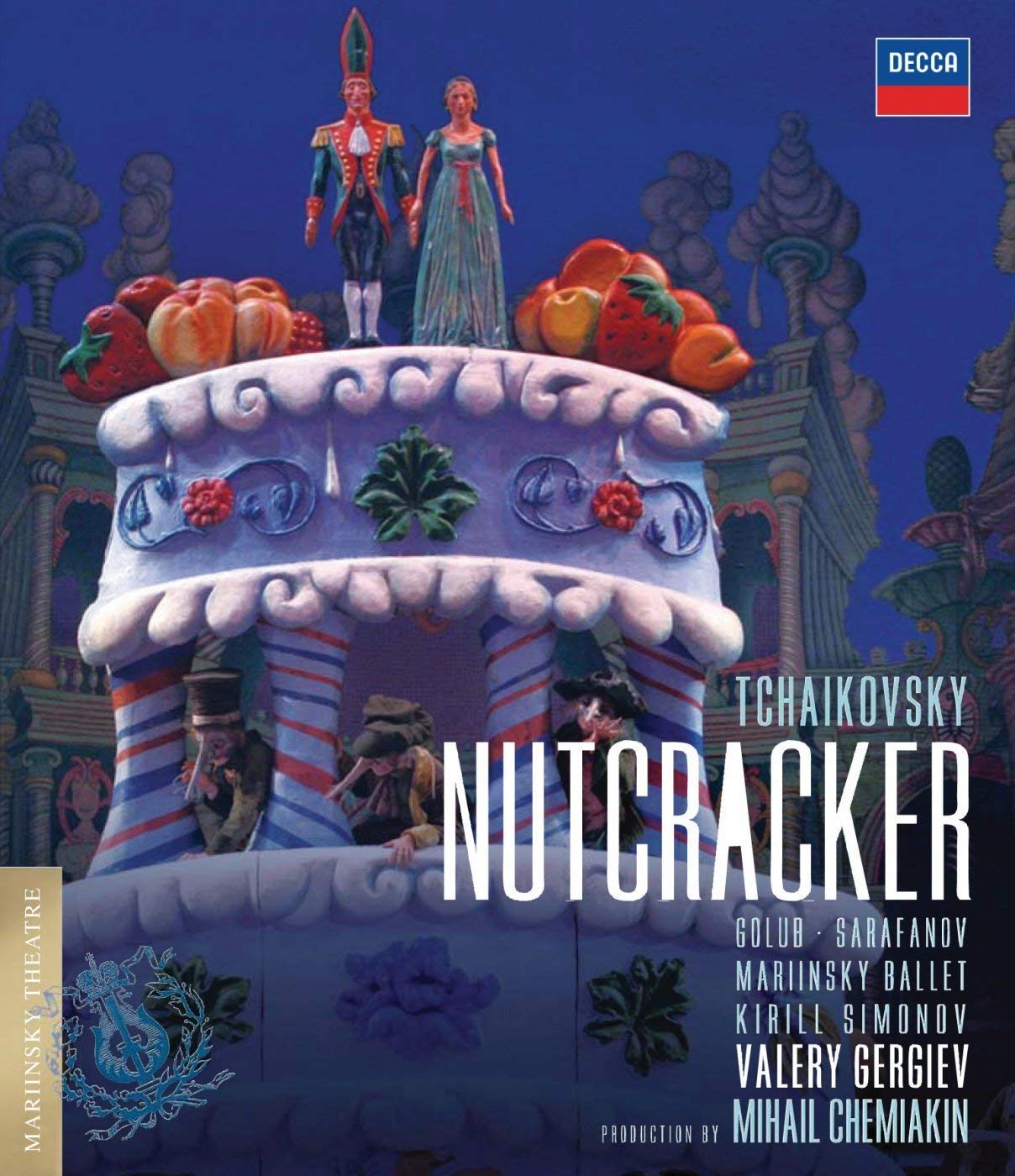 Nutcracker ballet. Music by Pyotr Ilyich Tchaikovsky to libretto of Marius Petipa. Adapted by Mihail Chemiakin with new choreography by Kirill Simonov. Performed 2007 at the Mariinsky Theatre in St Peterburg. Stars Irina Golub (Masha), Leonid Sarafanov (Nutcracker Prince), Vladimir Ponomarev (Stahlbaum/Rat Emperor), Elena Bazhenova (Frau Stahlbaum/Rat Empress), Anton Adasinsky (Drosselmeyer), Anton Lukovkin (Fritz/Rat Commander), Alexander Kulikov (Nutcracker), Natalia Sveshnikova (Nanny), Igor Petrov (Cook), Tatiana Goryunova (Kitchen Maid), Ilmira Bagautdinova (Kitchen Maid), Eduard Gusev (Fly Person), Andrei Yakoviev (Kryselieu, the Rat Cardinal), Ekaterina Kondaurova (Queen of the Snowflakes), Olga Balinskaya (Sugar Plum Fairy) as well as Elena Adrosova, Daria Vasnetsova, Ekaterina Petina, and Daria Sukhorukova (Nutcracker's Sisters) and other artists of the Mariinsky Ballet plus students of the Academy of Russian Ballet. Valery Gergiev conducts the Orchestra of the Mariinsky Theatre. Sets, costumes, and production design by Mihail Chemiakin; directed for TV by Denis Caïozzi. Although most of this show was shot in high-definition, the pictures of the theater interior and all the shots showing the whole stage were shot in standard definition. (Maybe I should have excluded this title for SD images. But most of the video is excellent.) Released 2008, all music was recorded with 48kHz/24-bit specs and disc has 5.1 dts-HD Master Audio sound output. Grade: C+
There is no "standard" Nutcracker. Anybody can paint what he will on the canvas of Tchaikovsky's score. Just about every ballet company in the West has to do one every year, so there are hundreds of versions around, including about 12 from major houses that are well known to ballet fans from live performances and recordings. Most of the well-known versions are more or less conservative. But there are quite a few that are wildly idiosyncratic. Well, this Chemiakin version is one from that group, and it seems to be aimed at the anarchists, deranged psychologists, paranoid schizophenics, and serial killers in the audience.
Mihail Chemiakin is an iconoclastic Russian painter and designer who stood up to Soviet power when doing that was dangerous and keeps standing up to everything that came later. He appears at the curtain call in this video in his trademark black hat and garb. His style is 51% folk primitive mixed with 49% surrealism. His work tends to be interesting sometimes, but always ugly. Nevertheless he is highly regarded, and the Mariinsky appears to have given him carte blanche for the design and libretto here.
And what a glorious mess Chemiakin made! Masha (the Russian name for Clara), played by Irina Golub, is the neglected and desperately unhappy daughter of a lecherous father (Vladimir Ponomarev) and vain mom (Elena Bazhenova):
Masha is a pre-slut---one of those pretty, clueless girls who start to ooze sexuality and have no one to protect them. At age 14 you see trouble coming; when you see them next at age 17, the damage has been done. Drosselmeyer is Masha's uncle (Anton Adasinsky), a spastic ghoul figure from the silent movies. He is a sexual predator who first recognizes Masha's fresh appeal and vulnerability:
To get better access to Masha, Drosselmeyer tries to ingratiate himself with her at the drunken party at her home. He gives her a nutcracker Prince doll:
Masha is overwhelmed when the Prince doll (Alexander Kulikov) is nice to her. And the Prince likes Masha too when she dances for him:
Drosselmeyer gloats---or does he perceive that the doll is suddenly a rival?
Rats attack, and handsome soldiers appear to fight them. Masha instinctively knows how to take advantage of that:
The Prince wins the battle with the rats. Masha does a wild, provocative thank-you dance. This includes, to some of Tchaikovsky's most sonorous and elevated music, the most shocking incident in any ballet I've seen. She wallows on her back before the Prince, spreads her legs wide, and flashes her crotch directly at him---a move that has for all time been universally taboo for girls and women. This wins the Prince over and away they go in a shoe.
Next up is the snowstorm. Chemiakin dresses the female corps in all black. They bump, grind, and wallow on their backs to display black petticoats and panties, and otherwise dance up a storm.
This shot, a bit out of order, is the best I could get of the Land of Sweets, or here, the candy store. There are plenty of full-screen shots of the stage at this point, but they were made with that SD camera:
This show is full of insects. Here is the queen bee of the party at the candy store:
More Chemiakin designs at the candy store. The serpent dance is terrific:
Masha kisses the doll and the real Prince is revealed. With both straps of her dress hanging off her shoulders, Masha dances enticingly in a pas de deux full of youthful enthusiasm and passion. But strangely, the Prince exceeds expectations. He dances properly and chastely as any decent, handsome Prince is want to do. And right away there follows a grand wedding march and Masha has got her guy! Why is this little chick so lucky?
H'm. I don't think Petipa would approve of this:
Suddenly we have a traditional corps dancing the Waltz of the Flowers:
Drosselmeyer wasn't invited to the wedding party. But he has more tricks to bestow on the bride and groom:
Uncle D turns the bride and groom into candy figures on top of the wedding cake. And the rats are already eating away:
So what's going on here? My guess: The Prince was so nice because he's a fraud! Masha, who only wanted security and love, has been transformed into a token of conspicuous consumption. She will see the trappings of wealth. But the Prince will beat her every day; and she will be his slave until the rats have finished the cake, when he will discard her. (If you don't like this interpretation, make up your own, which will doubtlessly be better.)
As problematical as this production is, several things are clear. Irina Golub as Masha is an excellent dancer who is fun to watch. Also, the music on this disc is played and recorded exceptionally well in loss-less sound. This Nutcracker is not for children. And if you watch this show, be prepared to decide if it is reprehensible rubbish, trenchant social satire, or something else. My praise for this production is faint---but if this review appeals to you, I'm sure you will like the show. That gets the "C+" grade on this website.