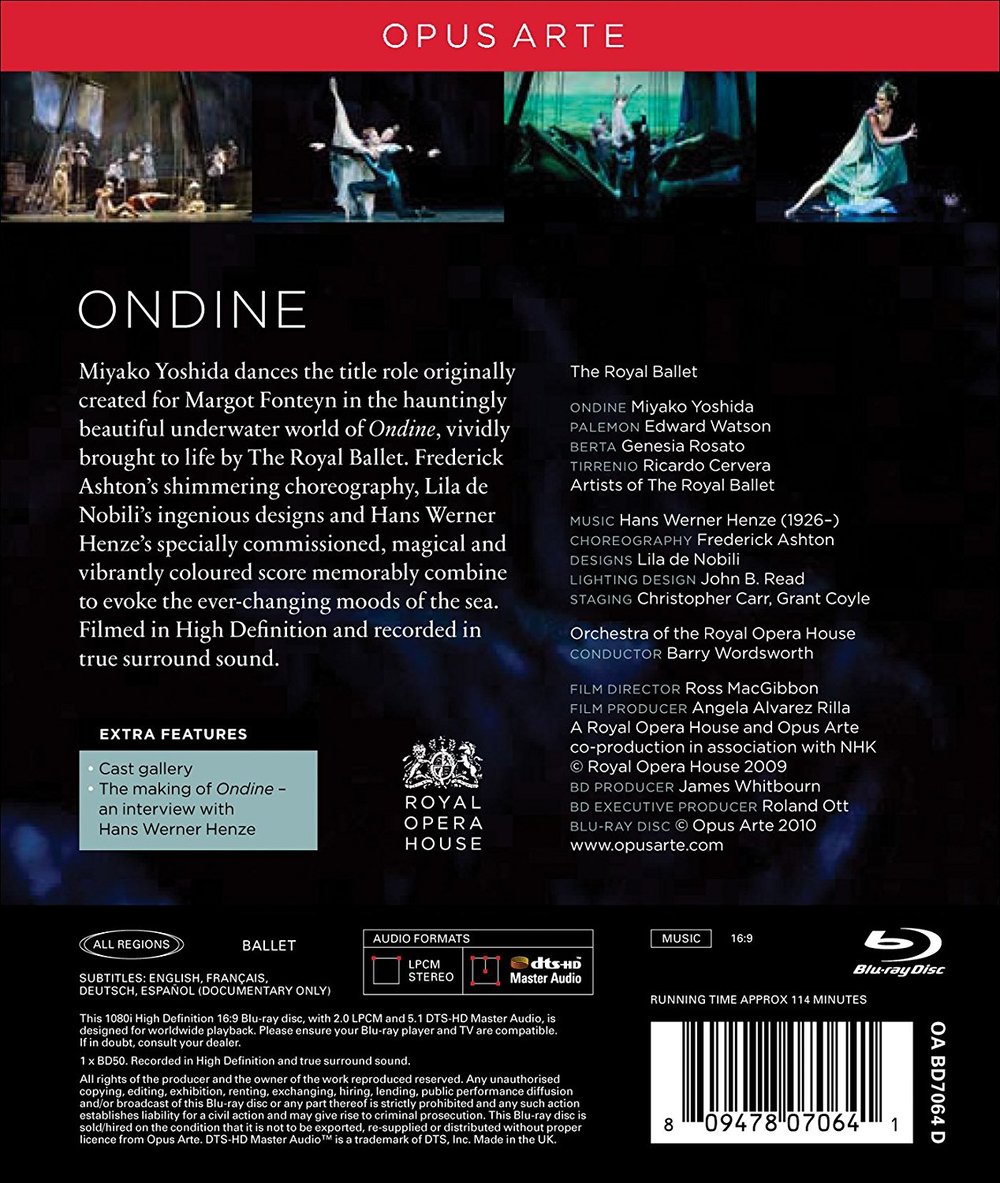 Ondine ballet. Choreographed by Sir Frederick Ashton to a score by Hans Werner Henze. Performed 2009 at the Royal Opera House. Stars Miyako Yoshida (Ondine), Edward Watson (Palemon), Genesia Rosato (Berta), Ricardo Cervera (Tirrenio), and Gary Avis with Mara Galeazzi, José Martin, Helen Crawford, Samantha Raine, Brian Maloney, Sergei Polunin (Act III Divertissement) and other artists of the Royal Ballet. Barry Wordsworth conducts the Orchestra of the Royal Opera House (Concert Master Peter Mannig). Solo piano by Robert Clark. Designs by Lila de Nobili; lighting by John B. Read; staging by Christopher Carr and Grant Coyle; ballet mistress Ursula Hageli; principal coach Jonathan Cope; directed for TV by Ross McGibbon. Released 2010, disc has 5.1 dts-HD Master Audio sound. Grade: A
Based on an old water-nymph fairy tale, every bar of the score was written to order of the choreographer. It was first staged in 1958 by The Royal Ballet with Margot Fonteyn dancing the lead. In this 2009 show, Ondine is danced by Miyako Yoshida, who was then 45 but looked 30. (She retired a year later.) Beautiful and voluptuous for a ballerina, Yoshida's Japanese features give her an air of mystery in this costume drama setting. Edward Watson as Prince Palemon projects the neurotic tension you would expect from a man who would fall in love with an illusion.
Palemon intends to marry Princess Berta. But he falls madly in love with the ocean nymph Ondine:
The match was opposed by Tirrenio, Lord of the Mediterranean:
Ondine is herself a Princess:
Tirrenio throws a huge party to urge Ondine to stay beneath the waves:
Palemon and Ondine marry anyway. But if Palemon should ever be untrue, death will be his lot:
The honeymoon is on a boat. Due to clever props and acting, you might start feeling seasick:
Fate separates the lovers. Palemon goes back to Berta. But Palemon coaxes one last kiss from Ondine:
And Ondine thereafter can do nought but mourn:
I should say that this production is a lot more varied and colorful that my screen shots suggest. With the fast action and low lighting used, it's tricky to get good pictures. The story of a marriage between a Prince and a water spirit wouldn't seem to hold much interest today, but I find myself more affected by the story each time I see it. The dancing, acting, sets, costumes, props, lighting, and special effects (all purely physical) charm you until you begin to think that the Prince can pull it off. The atmosphere of wonder is enhanced by Henze's exotic score, which sounds fresh 50 years after it was written. At first the music seems incongruous with the sets and costumes from olden times; but after you get used to it, you realize that every note is right.
Update on 2012-12-04 by Henry McFadyen Jr.
For another HDVD about a water-nymph, try the Martin Kušej version of the opera Rusalka, which combines romantic music from Dvořák with a surreal modern setting and plot (the opposite of the Ondine ballet with a traditional setting and modern music). And there is also the Little Mermaid, which is based on the Hans Christian Anderson story, but has both modern design and modern music.