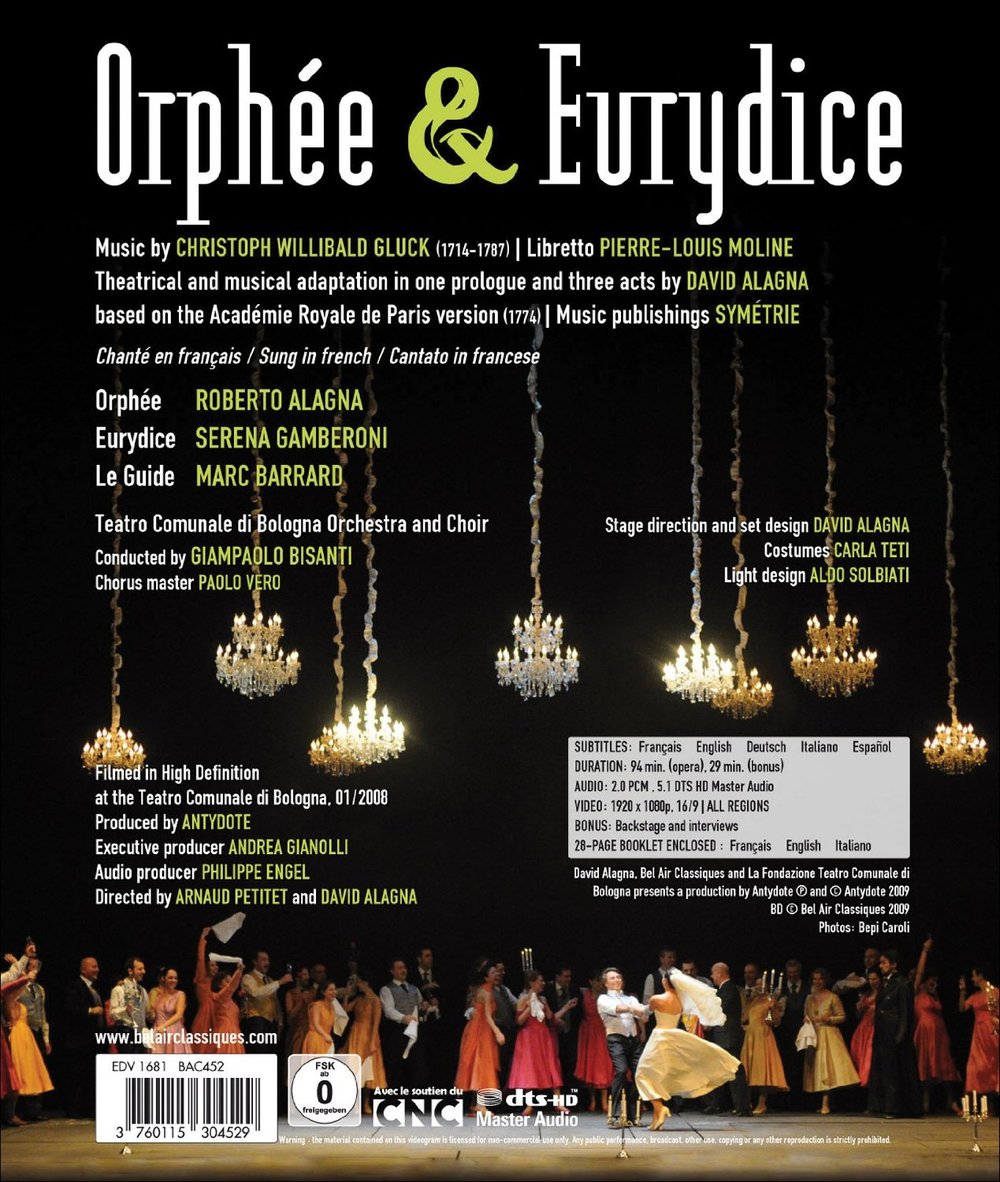 Christoph Gluck Orphée et Eurydice in French (Orfeo ed Euridice in the original Italian name) opera to libretto by Pierre-Louis Moline (sung in French). David Alagna made theatrical and musical adaptations and directed at the Teatro Comunale di Bologna in 2008. Stars Roberto Alagna (Orphée [yes, he's a brother of the director]), Serena Gamberoni (Eurydice), and Marc Barrard (Le Guide or The Guide, who replaces the Amore character). Giampaolo Bisanti conducts the Teatro Comuniale di Bologna Orchdestra (Chorus Master Paolo Vero). Sets by David Algana; costumes by Carla Teti; lighting by Aldo Solbiati; directed for TV by Arnaud Petitet and David Alagna. Released 2010, disc has 5.1 dts-HD Master Audio sound. Grade: B+
In Orpheus and Eurydice (English spelling) Gluck wrote a relatively simple opera that blends singing, orchestration, drama, and dance. It was first performed in 1762 in Italian. It has a lean core of satisfying music that lends itself to adaptation. Gluck was the first adaptor --- he tinkered with the work repeatedly and also wrote a much-modified version in French. Later composers and directors have continued this tradition. This mutability has been the key to the survival of Orpheus and Eurydice in the face of competition like Mozart's Le Nozze di Figaro, a vastly more complicated and mature work that came along only 24 years later.
So let's celebrate rather than bemoan the fact that current versions of Orpheus and Eurydice might be pretty surprising to Herr Gluck if he could tune in. That healthy attitude will prepare us to enjoy the Alagna brothers version we review now, which I describe as an indie motion picture that happens to use a performance on an opera stage as a location.
Using the Gluck's 1774 French version, the Alagnas recast the main roles (historically usually all sung by women or castrati) so that Eurydice is a soprano, Orphée a tenor, and Amour (more about him later) becomes a baritone. To the modern ear this is a huge improvement over listening to three female leads. The Alagnas assume that the audience doesn't know the story of the classical myth all that well and then provide the following version: We meet Orphée and Eurydice at their joyful wedding, which is immediately followed by the death of Eurydice in a car wreck. At the funeral, Orphée's grief is so moving that the undertaker (called "Le Guide" instead of "Amour") intervenes and offers to take Orphée into the netherworld to fetch Eurydice. Le Guide explains, of course, how Orphée can't look at his bride lest she die again. Sexpot Eurydice is grumpy after being aroused from the blissful anaesthesia of death. Denied a loving look from her husband, she proves that she knows how to get what she wants. After her second death, Orphée follows her into death himself.
Having come up with a suitable plot for 2010, the Alagnas move chunks of the music and libretto around to fit. The emotional effect is the same as ever with the Gluck's wrenchingly mournful music relentlessly threatening to push you over the edge into tears. But now the Alagnas add something you don't expect: camp humour. The humour is mostly provided by Marc Barrard's portrayal of Le Guide. Standing tall with lugubrious face surrounded by a floor-length black leather trench coat, stovepipe hat, and black sunglasses, he is the perfect droll antidote to the pathos of the ancient legend. Le Guide is well equipped with his beat-up old Ford station wagon for a hearse, a squad of Blues Brothers-looking pall bearers, and funeral parlour with a bank-vault door leading to the land of shades. And even Eurydice and Orphée get a chance to show their skill at physical comedy.
We know this production was played live to audiences in Bologna because we see curtain calls at the end in a kind of sequel. But on the other hand, the HDVD version is not simply a recording of the live opera. The design of the HDVD show was inspired by the movies. It makes fascinating use of film devices like total camera mobility, trick editing, rapid jump cuts, over-saturation and blooming of colors, artificial granularization, miss-focus, dual and negative images, and slow motion. Some of this maybe was done in post-production, but I also think the film was shot in multiple takes shot in parallel with the mounting of the live opera.
The result is an intriguing version of Gluck's old opera that is in tune with today's tastes. The singing and acting by all three principals is convincing, the chorus is excellent, and the orchestra sounds fine. Now for some screenshots.
Eurydice dies in a car wreck, not from a snakebite:
Orphée (Roberto Alagna) in a daze:
Still wearing her bridal veil, Eurydice, now a shade (spirit of the dead), wanders about the accident scene:
The funeral with everyone in the chorus singing:
The undertaker is Le Guide (Marc Barrard) a baritone who replaces the character of Amour:
The portal to the underworld:
Eurydice at rest in the land of the Blessed Spirits:
Desperate for attention, Eurydice seduces Le Guide to inspire Orphée's jealousy:
Eurydice has died again, Orphée awakes at the funeral, and he decides to join his bride:
I just read a magazine review of this title where the critic called this film a "travesty" of the Gluck opera. That critic is proud of his erudite knowledge of the past. But we on this website are just as interested in what will be as we are in what has been. Also, this title ought to interest younger viewers (weaned on films) to the Gluck opera.
Alagna speaks native French. If you are learning that mysterious language, get this disc for Roberto's unbelievably good diction as well as the the helpful French subtitles. Each time I watch this, I find I've picked up a bit more French. I'm still content with the "B+" grade we gave this several years ago.