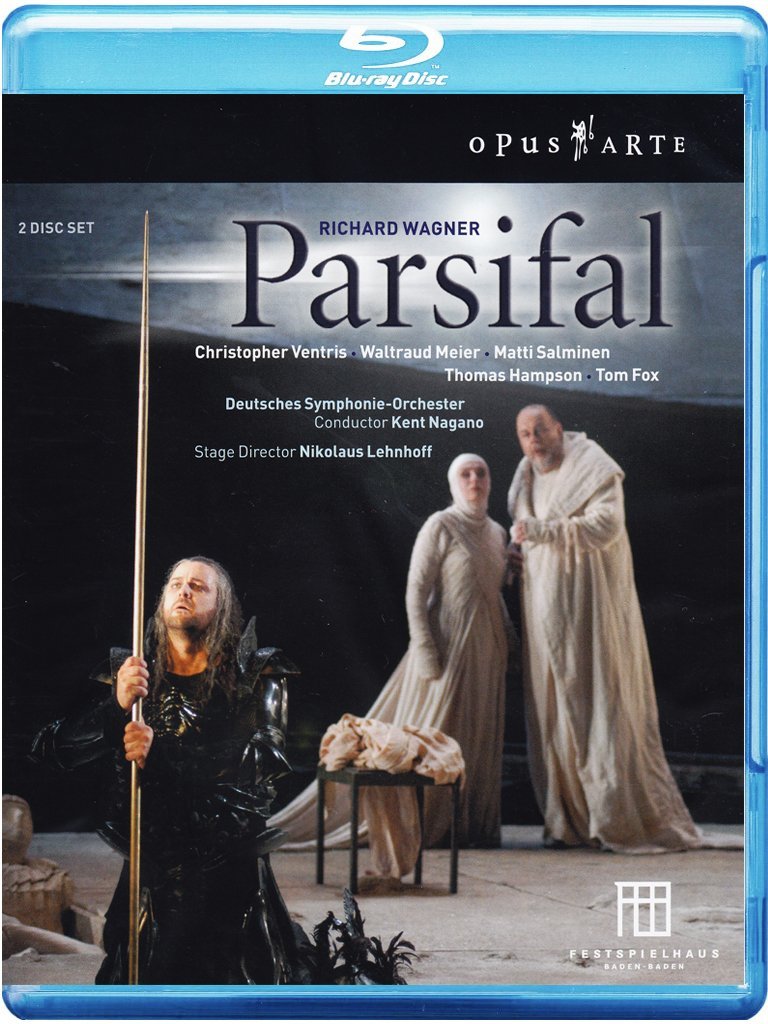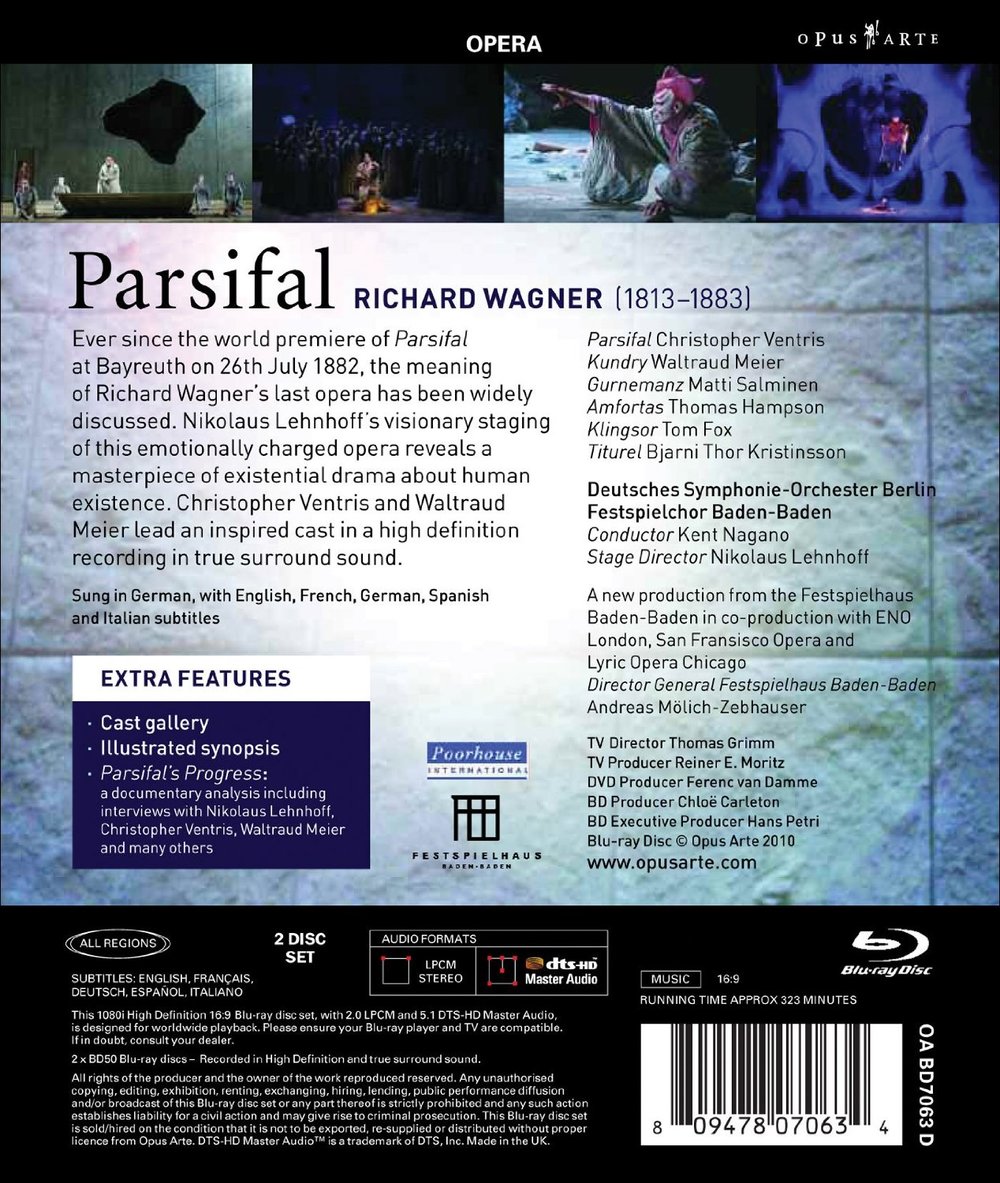 Wagner Parsifal opera to libretto by the composer. Directed 2004 by Nikolaus Lehnhoff at the Baden-Baden Festspielhaus. Stars Christopher Ventris (Parsifal), Waltraud Meier (Kundry), Matti Salminen (Gurnemanz), Thomas Hampson (Amfortas), Tom Fox (Klingsor), Bjarni Thor Kristinsson (Tuturel), Johannes Eidloth (First Knight of the Grail), Taras Konoshchenko (Second Knight of the Grail), Nina Amon (First Squire), Katharina Rikus (Second Squire), Thomas Stückemann (Third Squire), Marco Vassalli (Fourth Squire), Katharina Rikus (Voice from Heaven), Nina Amon, Abbie Furmanksy, Emma Gardner, Alexandra Lubchansky, Katharina Rikus, and Andrea Stadel (Flower Maidens) . Also stars dancers as Flower Maidens: Ute Baur, Sandra Fritz, Simina German, Sarah Kinn, Fabienne Kühn, Sandra Metzger, Iris Mündörfer, Annalena Plathe, Eveline Schwarztrauber, Juliette Van der Meer, Julia Weber, and Afanasia Zwick. Kent Nagano conducts the Deutsches Symphonie-Orchester Berlin and the Baden-Baden Festspielchor. Sets by Raimund Bauer; costumes by Andrea Schmidt-Futterer; lighting by Duane Schuler; choreography by Denni Sayers. Directed for TV by Thomas Grimm. This is a 2 disc set. The opera lasts 3 hours and 55 minutes. There is a helpful documentary that lasts 76 minutes. Total playing time is 5 hours, 23 minutes. Released 2010, discs have 5.1 dts-HD Master Audio sound. Grade: B
Wagner's mixture in this work of pagan and Christian themes has always been controversial. Lehnhoff sidesteps this by presenting an atheistic or existentialist version the opera: the agony of the creeds is left behind as Kundry (the Female) and Parsifal (the Male) head for tunnelendlight. We usually suggest watching an opera cold. But since this one lasts 4 hours and is overloaded with abstract symbolism, consider reading up a bit and play the documentary before plunging. If you have a decent idea about what's happening, the excellent singing and sublime music may suck you into that trance that will make you forget the time you are investing. Lehnhoff updates aggressively, but manages to avoid smacking of etrash. In Act II you encounter a group of women clad in hideous brown headpieces and long gowns made of sackcloth. They are supposed to be the seductive flower-maidens sent to tempt Parsifal into sin. Well, if maidens looked like that, the human race would have died out long ago.
Sorry, no YT clip of this title from the early dawn of the age of HDVD.