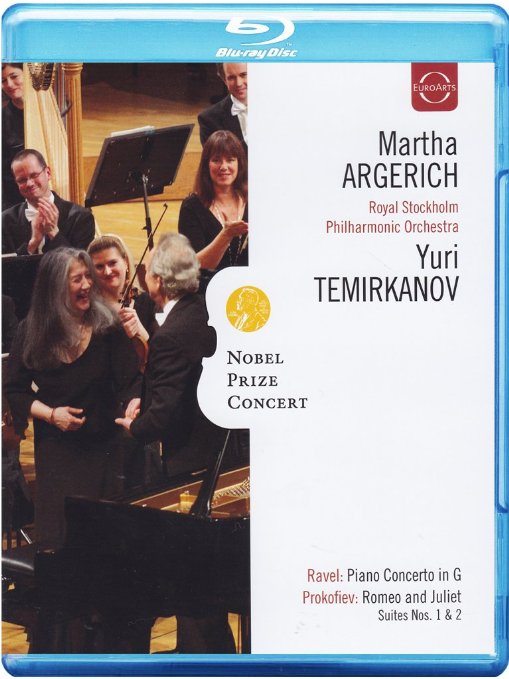 This is a concert given in 2009 at the Nobel Prize festivities. Yuri Temirkanov conducts The Royal Stockholm Orchestra. Martha Argerich is solo pianist. The following music is performed:
Shostakovich Festive Overture

Ravel Piano Concerto in G major (the one with 2 hands)

Chopin Mazurka in C major

Prokofiev Suite No. 2 from Romeo and Juliet (excerpts)

Prokofiev Suite No. 1 from Romeo and Juliet (excerpts)
Produced by Paul Smaczny and Camilla Hyltén-Cavallius; directed for TV by Michael Beyer. Released 2011, disc has 5.1 dts-HD Master Audio sound. Grade: D
This title is a pops-level concert with the short, jazzy Ravel Piano Concerto in G major, the jaunty Shostakovich Festive Overture, and excerpts from a ballet score. The video and sound are acceptable. Martha Argerich, who has treated us to several good performances in HDVD, is rather lackluster on this disc.
If you are interested in a recording of the Ravel Piano Concerto in G major, try the performance by Helen Grimaud also in HDVD. If you're interested in the Prokofiev music to Romeo and Juliet, why not try the Romeo and Juliet ballet in HDVD and get all the music along with whole show performed by the Royal Ballet? Finally, why pay $36 for this when there are so many HDVDs out now offering much more for the same money? (If EuroArts wants to sell discs of this quality, they better put two or three Nobel Prize concerts on one disc.) These considerations leave us with few reasons to buy this title, which in turn earns it the grade of "D." If Euroarts would substantially cut the suggested retail price, we could bump the grade up to "C."
Sorry, there are several YT clips of this, but all are in horrible SD. But if you must buy this title, why not use the Amazon button below and help us with sales commission: