[Special note: this title is now available in both the original, full-price version and as a bargain in the Arthaus "Elegance" budget-priced series. See the end of this review for information on both versions.]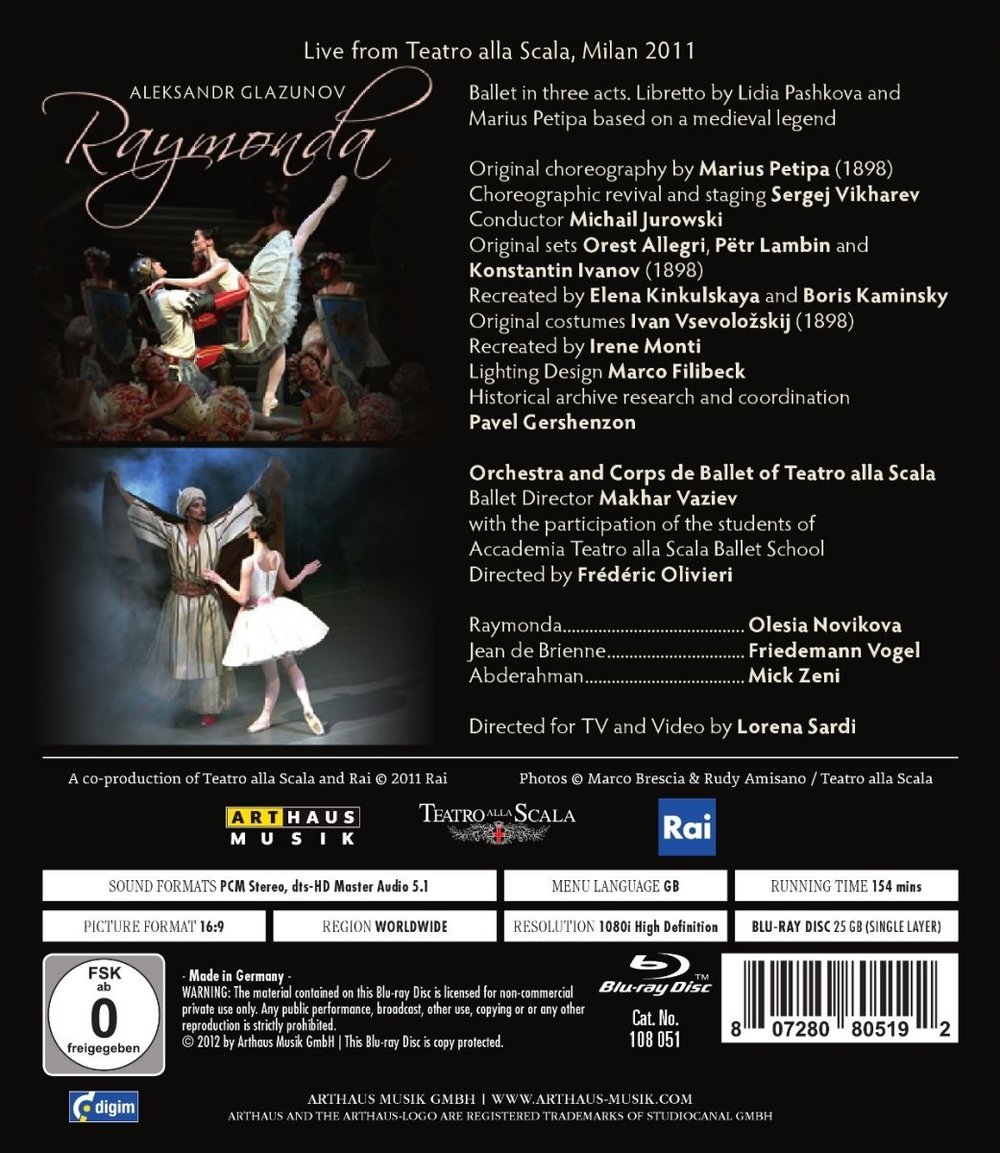 Raymonda ballet. Music by Alexandr Glazunov. Choreography by Marius Petipa as revived 2011 by Sergei Vikharev with the Orchestra and Corps de Ballet of the Teatro alla Scala. Stars Olesia Novikova, Friedemann Vogel, Mick Zeni, Mariafrancesca Garritano, Francesca Podini, Claudio Coviello, Marco Agostino, Sabina Galasso, Luigi Saruggia, Manuela Aufieri, Matteo Buongiorno, Matthew Endicott, Antonella Albano, Daniela Cavalleri, Serena Sarnataro, Maurizio Licitra, Beatrice Carbone, Eris Nezha, Lara Montanaro, Alessandro Grillo, and Emanuela Montanari. Also stars students of the Accademia Teatro alla Scala Ballet School (directed by Frédéric Olivieri). Michail Jurowski conducts the Orchestra of the Teatro Alla Scalla. Original sets by Orest Allegri, Pëtr Lambin, and Konstantin Ivanov as recreated by Elena Kinkulskaya and Boris Kaminsky; original costumes by Ivan Vsevoložskij recreated by Irene Monti; lighting design by Marco Filibeck; historical archive research by Pavel Gershenzon. Directed for TV and video by Lorena Sardi; photography directed by Luciano Cricelli; production managed by Luca Latini; musical advice from Giovanni Primavesi and Maddalena Novati; editing by Valeria Franchino; direction assistance by Elena Russi. Released 2012, disc has 5.1 dts-HD Master Audio sound. Grade: A
Petipa was 80 when this long, huge ballet was first staged in 1898. I get the impression it was Petipa's attempt to present a living encyclopedia of dance steps and techniques. His career began to wind down after Raymonda. His last full ballet premiered in 1904. (That's right, Petipa was a 20th century artist.) He then retired but continued to live in Russia until he died in 1910. He died at the right time, because the world he knew was doomed. In only 7 more years, all his patrons would start heading into exile or liquidation as the Bolsheviks took over. Raymonda turned out to be the swan song of Imperial Russian ballet.
Petipa had the good fortune to enlist Aleksadr Glasunov as composer, whose score is full of beautiful tunes and impressive ideas. (Could this be the most under-appreciated ballet music ever?) The ballet has a plot, but just barely. You don't see this to get sucked into the emotions of the characters. To go to see some 60 numbers knocked out by 150+ performers in lavish sets and costumes in a manner that, some say, foresees the eventual development of abstract choreography.
Only the biggest and best ballet companies can dream of producing Raymonda. In 2011 La Scala made the investment it takes; this recording will likely be the definitive documentation of this work for some time.
The sound is exciting. Picture content is excellent with abundant full-stage shots and mostly full-body, mid-range shots spiced up with occasional close-ups. 1080 resolution just barely barely hacks it when you have so many full-stage shots in a house as big as La Scala; additional resolution (4K or something similar) would be worth having. (This item is also available on DVD where low resolution will doubtless result in poor PQ for much the title.) Picture quality suffers from time to time from motion blur and judder, but this is easy to forgive.
Now for some screen shots. After my first run making screenshots, I had more than 80 great images! There are 60 chapters on the disc for this ballet. To give you a visual table of contents of this production would take one shot per chapter! I had to cut savagely to get the number of shots in this review down to 26. The shots below do give a good sense of the magnificence of Raymonda, but they do a weak job of showing the variety of numbers in the ballet.
Raymonda and friends entertain themselves as the elders prepare a birthday party for Raymonda:
Vassals and peasants of the region attend the party. In the next shot note a statue of a woman on a pedestal at the right rear of the hall. She is the White Lady, who has magical powers:
After the party, Raymonda does the famous pizzicato variation with scarf and then falls asleep:
The White Lady comes to life. She takes Raymonda to the garden to show her two visions of her future. The first vision is the appearance of Jean de Brienne, the knight who is Raymonda's fiancé:
The other vision is the appearance of Abderahman, an Oriental King:
Raymonda falls asleep again on the garden patio as wisps and leprechauns hover about her:
The next day, Abderahman appears with an army of slaves before Ramonda's mother and demands the right to court Raymonda. The queen worries that if Abderahman's request is denied, he might abduct Raymonda:
But Jean arrives just in time to challenge Abderahman. This leads to a duel to the death:
Abderahman is the stronger and wiser fighter. He's closing in on Jean when the White Lady suddenly enters the battle to blind Abderahman with a mirror!
So it is decided: Raymonda will marry Jean. The couple arrives at the wedding festival:
The next three shots come from the grand adagio of the pas classique hongrois, considered by some to be the greatest scene from all of Petipa:
Raymonda's variations from the pas classique hongrois are danced to a famous piano solo:
Here's the "gallop final":
Valentina Bonelli, a ballet expert, wrote a scintillating report (page 61 of the Winter 2011 edition of Dance International) about this live production of Raymonda at La Scala. She discusses the vast research and preparation that results in "an astounding, impressive production that shows how an imperial 'grand ballet' by Marius Petipa should look." Bonelli praises the "amazing technique" of Olesia Novikova in dancing "probably the most difficult [role] in the entire Petipa repertoire, with six variations, among them the most famous, the pizzicato, with the white scarf."
When I first watched this disc cold, I recognized its merits, but I lacked the knowledge of ballet required to understand its importance. So thanks to Valentina Bonelli (who maybe has never seen the Blu-ray) for giving me more insight into the value of this title. In the past, the glories of ballet could only be enjoyed by a hand-full of elite spectators. Monumental productions closed and it might be decades before there was a revival. But now the ability to make relatively good and cheap HDVDs of ballet allows huge new audiences to enjoy ballet.
It also occurs to me that Blu-ray gives audiences new access not just to shows from the major cities, but also to smaller-scale productions being mounted all over the world by regional and local dance groups. Never before have dancers had such a good opportunity for their work to be appreciated. Every ballet company should be trying hard to their best stuff recorded on HDVDs.
Because this title is short on story value and has so many numbers, it may be a bit esoteric for the average ballet fan. But it is for sure an important additional to our growing library of ballet HDVDs, and it fully merits the grade of "A."
First we have links to the full-priced version of this from Arthaus:
And here's the keepcase art for this recording in the Elegance series from Arthaus: