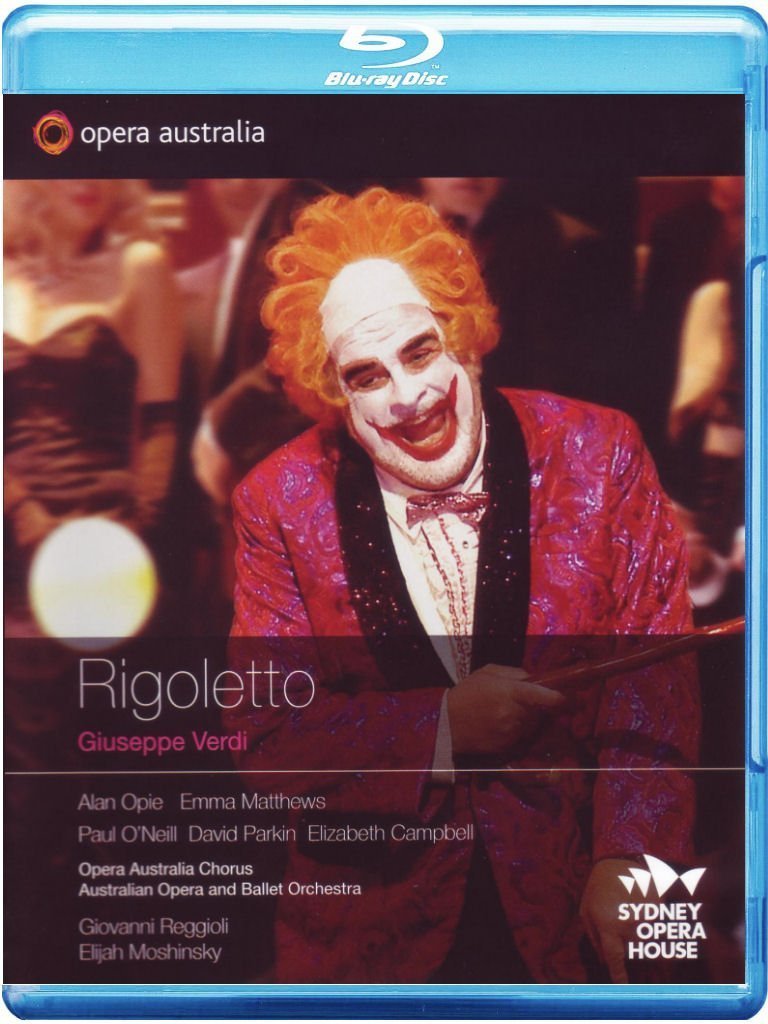 Verdi Rigoletto opera to libretto by Francesco Maria Piave. Directed 2010 by Elijah Moshinsky at the Sydney Opera House. Stars Alan Opie (Rigoletto), Emma Matthews (Gilda), Paul O'Neill (Duke), David Parkin (Sparafucile), Elizabeth Campbell (Giovanna/Maddalena), Christopher Hillier (Count Ceprano), Jane Parkin (Countess Ceprano), Andrew Moran (Marullo), David Corcoran (Borsa), Gennadi Dubinsky (Count Monterone), Jodie McGuren (Page), and Clifford Plumpton (Court Usher). Giovanni Reggioli conducts the Australian Opera and Ballet Orchestra (Concertmaster Aubrey Murphy) and the Opera Australia Chorus (Chorus Master Michael Black). Designs by Michael Yeargan; lighting by Robert Bryan; directed for TV by Cameron Kirkpatrick. Executive Producer was Chris Yates; Supervising Producer was Sam Russell; Audio Director was Tony David Cray. Released 2011, disc has 5.1 dts-HD Master Audio sound. Grade: D
The vast majority of orchestras we hear in Blu-ray opera recordings are excellent. But the Australian Opera and Ballet Orchestra deployed here sounds like a regional band or even a semi-pro community effort. This is evident right from the start in the Act 1 Prelude, and it continues to drag down the production while undermining the singers throughout. The SQ is OK, but the best recording engineers can't help a weak performance. Can director Moshinsky, who has worked all over the world and done Rigoletto numerous times, salvage something here with good personal directing and stagecraft?
Moshinsky sets this Rigoletto in 1960, when people were doing the twist and cameras had flashbulbs. Glamorous blonds were the hottest ever, especially at wild parties in unidentified European jurisdictions:
Below meet the Duke (Paul O'Neill). He's putting the make on Countess Ceprano (Jane Parkin) while her husband look on and steams:
The inspiration for the designs is the movie La Dolce Vita, which stared Anita Ekberg:
The Duke has an official hunchback clown named Rigoletto (Alan Opie) as part of his entourage. Next below we see Rigoletto dealing with Count Monterone (Gennadi Dubinsky). Monterone is upset because his underage daughter is at the party:
And here she is, pretty in pink, being tutored by the Duke (the daughter is an uncredited moot role that's not in the libretto):
I was a twister in 1960. But at no time during my life have I known of one person putting a curse on another. This technique of negotiating, like dueling, has gone out of style. But Monterone threatens Rigoletto with a curse. Rigoletto goes to his dressing room. A stranger named Sparafucile is waiting. Sparafucile is a hit man making a cold call as part of his marketing plan:
Well, so far, so good with directing and production values. But what's wrong with the images above and below? They are both out of focus. This might not be bothersome in a VHS tape or DVD. But it's irritating in Blu-ray, where such errors become obvious. So now Moshinsky is caught between a weak orchestra and a poor videographer:
Rigoletto is running with a rough crowd, but handicapped people have to take work where they find it. Although he's ashamed of his life, he has one secret joy: his daughter Gilda (Emma Matthews). Now we run into one of the problems with merely updating Rigoletto. Gilda has been for all her young life isolated from the rest of society. This might have been fairly easy in the 18th century, but it's hardly conceivable in 1960. I guess she used to live in the country where she was homeschooled. Of course, we don't expect the logic of opera plots to be air-tight, but Gilda's condition is now a tough swallow:
We normally think of Rigoletto as being a favorite of the Duke who receives plenty of money. But Moshinsky's Rigoletto has to keep his daughter in a poor neighborhood with an impoverished landlady named Giovanna (Elizabeth Campbell). I include the shot of Giovanna below mainly because Campbell also plays the role of Maddalena, the street dancer whom we meet in Act 3:
The Duke is a professional woman hunter, and he has ferreted out the new girl in town. Next below is a shot from the Act 1 love scene. O'Neill is probably the best singer in this production. But if he has any sex-appeal or charisma, Moshinsky ruthlessly suppresses it. The Duke lectures Gilda on love like a starving adjunct professor. And Moshinsky puts him in hideous glasses that cast shadows to break up the image of his face. Midst all this misery, the love duet is painful to listen to:
The Duke departs after convincing Gilda that he is a poor student. Now we are wallowing in another difficultly. In 1960, all the world was already in the era of mass communication and celebrity worship. But this powerful Duke (swallow again hard) can slum around all over town and nobody recognizes him.
Next below is the beginning of Gilda's famous 'Caro nome' aria. Even if her performance would probably be welcome in most regional opera houses, Matthews isn't competitive in this with Machaidze, Moşuc, or Damrau. And here she's hamstrung with slovenly personal direction and poor videography. Moshinsky stands her on a shabby staircase. A dark shadow covers her face. And in the center of the screen is a fake doorknob stuck to a fake door with no keyhole behind it. All of this was possibly OK to a live audience. But as shown here, it's inexcusably ugly:
And where in 1960 could a mob of men kidnap a young woman as you see below without getting the police involved?
Well, Rigoletto figures things out and gets Gilda back pretty quickly. The end of Act 2 is easily the best part of this production with a duet between father and daughter so beautiful and touching that even the orchestra sounds better:
Gilda is hopelessly in love. Now it's Act 3 and time for Rigoletto to get rid of the Duke, one way or the other. Either Gilda will agree to forget him, or the Duke will die:
From the famous 'La donna è mobile':
Elizabeth Campbell is back as Maddalena---has anyone seen an uglier street dancer than this one?
Now the production veers into self-parody:
Stupid Sparafucile doesn't realize he's getting ready to kill a head-of-state:
This show would have been enjoyable live in a small opera house where you would have only modest expectations. And devoted fans of Opera Australia can maybe overlook the lack of quality, fit, and finish. I do note that the clarity and diction of the sung parts is good. But alas, for the weak orchestra, only adequate singing, copy-cat designs, sloppy directing, and error-plagued videography, I'll grade this a D. With all the superior HDVD Rigolettos now on the market, this title isn't competitive. You wouldn't want to invest in it unless you have a real good reason.