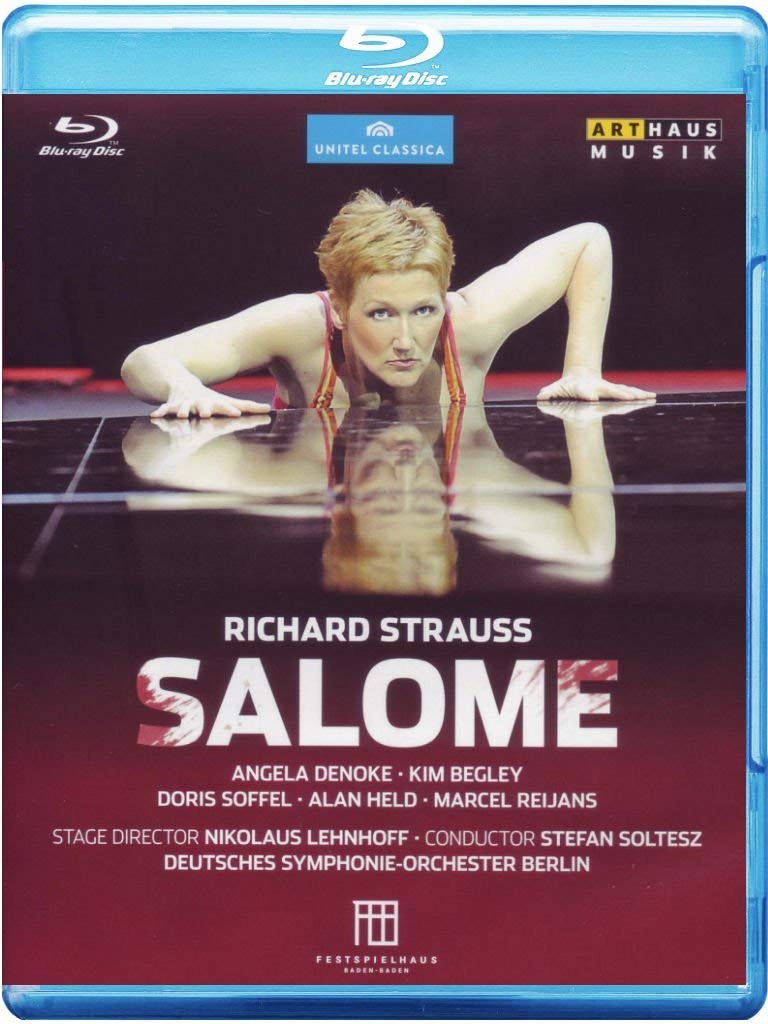 Richard Strauss Salome opera to a libretto from Hedwig Lachmann's German translation of Oscar Wilde's play Salome. Directed 2011 by Nikolaus Lehnhoff at the Festspielhaus, Baden-Baden. Stars Angela Denoke (Salome), Kim Begley (Herodes or Herod in English), Doris Soffel (Herodias), Alan Held (Jochanaan), Marcel Reijans (Narraboth), Jurgita Adamonytė (Page of Herodias), Jeffrey Francis (First Jew), Benjamin Hulett (Second Jew), Timothy Robinson (Third Jew), Pascal Pittie (Fourth Jew), Reinhard Dorn (Fifth Jew), Steven Humes (First Nazarene), Roman Grübner (Second Nazarene), David Jerusalem (First Soldier), Artur Grywatzik (Second Soldier), Iwona Sakowicz (A Page), and Patrick Büttner (Naaman the Executioner). Stefan Soltesz conducts the Berlin Deutsches Symphony-Orchestra. Stage design by Hans-Martin Scholder; costume design by Bettina Walter; lighting design by Duane Schuler; choreography by Denni Sayers; video direction by Thomas Grimm. Released 2012, disc has 5.0 dts-HD Master Audio sound. Grade: B-
The set is placed (correctly) outside on a terrace to or backyard of Herod's palace (in sore need of repair) where Herod's servants rest while waiting for orders. Herod is having a party inside with many important guests. This Baden-Baden production doesn't show the party at all, so it might be hard for a newcomer to the opera to understand why so many odd characters appear on the set from time to time. There is a pit or cistern out of sight in the center where Jochanaan (John the Baptist) is Herod's prisoner. Jochanaan hasn't committed a crime---Herod holds him in part to keep the lid on simmering religious disputes in the country, in part to silence his criticism of Herod's family, and in part to protect him from those in the country who consider him an apostate. In this shot, the voice of Jochanaan can be heard saying, "When He (Jesus) comes, the blind will see the light of day."
Herod is married to Herodias, Salome's mother. Herod is Salome's step-father. Salome (Angela Denoke) leaves the party and joins the servants because Herod has been ogling her too much. She is also looking for adventure. The asks the guards, "Is this Prophet (the prisoner) a old man?"
Salome insists that the soldiers bring Jochanaan out of the pit. Salome knows that Jochanaan has accused Herodias of incest under religious law (because Herodias was previously married to Herod's brother). Here Jochanaan (Alan Held) attacks Herodias for sleeping in an "incestuous bed."
Salome would like to learn more about the Prophet's message, but seducing him would be even more fun. "Let me kiss you on the mouth."
Of course, Jochanaan spurns Salome, who then tries a different approach: "What is this Son of Man?'
Now the Prophet gets excited. What if he could baptise Salome right there in the cistern? He preaches to her:
He warmly embraces her as a potential convert:
Until Salome reveals her true intentions, "Let me kiss your mouth, John!:
John recoils in revulsion and anger. "I curse you, daughter of an incestuous mother." I think Lehnhoff views this violently repeated cursing of Salome as the turning point of the opera. Salome is used to getting what she wants and will not be cursed with impunity. After the cursing, Salome will implacably seek the same revenge her mother wants. Opportunity for this revenge will soon arise:
Now Herod (Kiw Begley) moves the party out to the terrace; and, making his famous promise, he begs Salome to entertain everyone with a dance. Salome can hardly believe her good fortune and asks: "Will you really give me anything I want?"
After watching this dance, I think Herod made a bad deal indeed:
This is Denoke's last veil:
"Splendid!" declares Herod:
Herod was not that hard to please---surely Salome will not charge too much. "So what, my girl, would you like to have on the platter?"
"The repeated, implacable answer is supported also by Herodias, "I demand of you the head of John the Baptist on the platter."
"You didn't want to let me kiss your mouth."
"Well, John, now I've kissed your mouth."
Herod is terrified at how badly his party game has turned out. To appease the gods, he turns Naaman the Executioner (Patrick Büttner) loose on both members of this mother-daughter team. (The execution of Herodias is Lehnhoff's invention and not in the libretto.)
I just finished a detailed review of the ROH Salome from the highly-esteemed director David McVicar, and I graded that recording "A+." Now we have another Salome from the equally well-esteemed Nicolaus Lehnhoff at the venerable Baden-Baden venue. This calls for a shoot-out.
First the soprano. I'm not qualified to write about singing voices, but I think most experts would say that Denoke is a stronger singer than Nadja Michael, the soprano at the ROH. Denoke is further a good actress and, while pretty old at age 50 for this role, at least thin and reasonable agile. But when looking at the whole package, Michael comes out ahead of Denoke. Michael is a Salome specialist and maybe knows the role better than anyone else. While her singing is more than adequate, her acting is astonishingly vibrant. As a life-long health nut, she still looked in 2008 young and fresh enough to be a princess. This opera was taken almost directly from a successful stage play, and the words are important. German is Michael's native language; and, thanks to her youthful stamina, her diction never flags. Her stage presence is as strong as that of a movie actress (who has the benefit of a thousand retakes.) Denoke is also a native German. But at her age when making this, she did not have the stamina to maintain good German diction throughout. As the opera progresses, first words and then whole phrases seem to disappear in a wallow of sound. I should point out that some of the words I'm missing are possibly just covered up by the orchestra. But the effect is the same. Denoke is harder to understand than Michael.
Michael Volle sings beautifully as Jochanaan at the ROH and looks like a wilderness prophet; at Baden-Baden, Alan Held is impressive but looks like a rock musician with his strange Mohawk hairdo. Otherwise I would say the supporting singers are about equal in quality.
I can't say the same for the orchestras. The balance between the singers and the orchestra is good in both recordings. But the Deutsches Symphonie-Orchester Berlin is not in the same league as the Orchestra of the Royal Opera House, at least not in this material. I don't want to seen as critical of the Deutsches Symphonie-Orchester Berlin. Their playing is enjoyable and as good as the other aspects of the Baden-Baden production. But when you contend with the Orchestra of the Royal Opera House, you are up against one of the best opera orchestras in history.
Let's move on to mis-en-scène. In 2010, the folks at Baden-Baden produced one of my favorite opera videos, a Richard Strauss Elektra with a set consisting of a solid geometric curtain, a staircase, one expensive costume (for Klytämnesta), and two props (a lamp and an axe). In 2011 they tried something similar in subject Salome with a bombed-out building, trashy costumes, and no props other a platter and a fake-looking head. But this doesn't work for Salome, where you need an atmosphere of opulent decadence throughout even though the action takes place in servant quarters. Just compare the screenshots of the ROH and Baden-Baden productions to see what i'm talking about. My only added comment would be to ask: Where could they have found that hideous pink dress for Salome?
I suppose one could defend the cheapness of the Baden-Baden production by observing that Lehnhoff has only a "biblical" or superficial concept of the Salome story. The princess is a spoiled brat who is angry at John because he curses her and is happy to help her mother get rid of him. If this is as far as it goes, you don't need any decadence.
But I think the libretto and music supports the deeper view taken by McVicar and Es Devlin of Salome as sexual predator. She has already enjoyed her friends, seduced an army officer, and twisted her step-father's desire away from her mother to herself. And now in the orgy with the head, Salome enjoys the connection (so much beloved by the Roman conquerors) between power, sex, and blood sport. She has emerged as a monster who is dangerous to everyone.
If you take the biblical view of Salome, you don't need taut personal directing of the many protagonists---it's just a tale you already know. But if you're going to create and exterminate a monster, the personal directing of every action of every character is important in building the case. This is where McVicar excels most of all: when I watch the ROH disc, I feel like I'm in the room with Salome. When I watch the Baden-Baden disc, I feel like I'm watching a bible story.
Comparing the screenshots of these two productions surprised me. I much prefer the video work of John Haswell in London even though it has very few close-ups. His views tend to show all or most of the stage and his closer shots go from the knee up. Thomas Grimm in Baden-Baden uses a lot of close-up and extreme close-up shots. One might think this would increase the impact of the video. We now have the ability to easily make extreme close-ups in an opera, so why not provide them? Or could it be that using close-ups in an opera suggests that the show is getting boring and desperately needs something artificial to pep it up?
I give the Baden-Baden disc a "B-" grade. If all the blood in the ROH version is too much for you, then you might feel edified by Lehnhoff's concept and this might be a better choice for you.