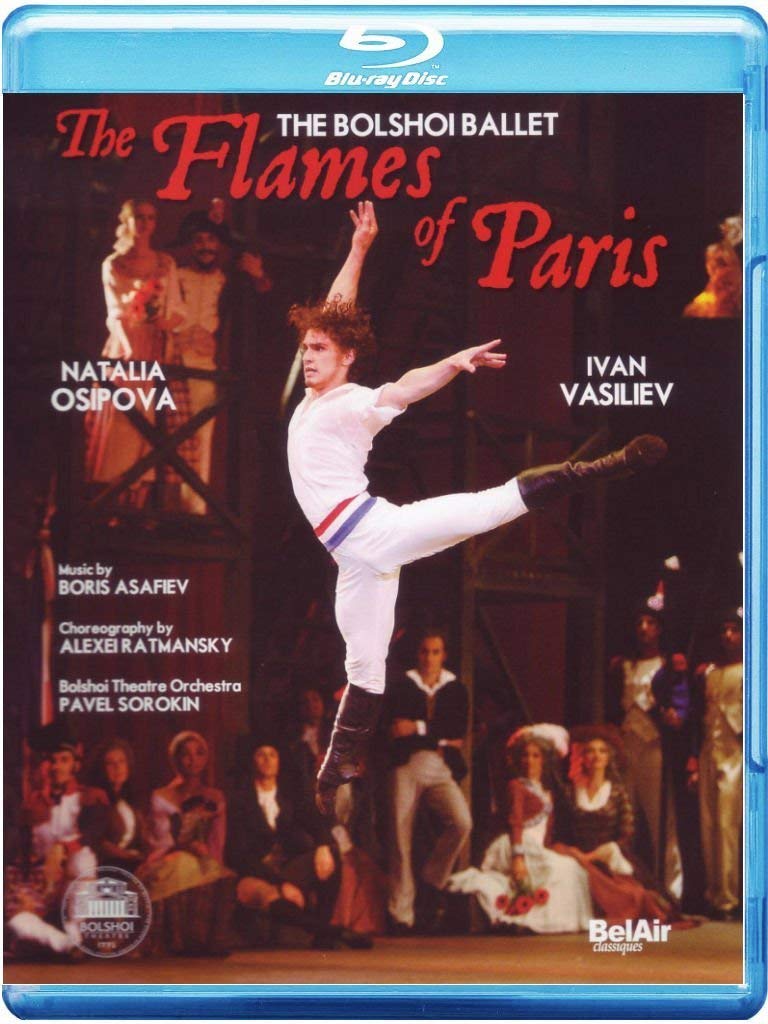 The Flames of Paris ballet. Music by Boris Asafiev. Book by Alexander Belinsky and Alexei Ratmansky based on a libretto by Nikolai Volkov and Vladimir Dmitriev. Directed and choreographed 2010 by Alexei Ratmansky (after Vasily Vaynonen) at the Bolshoi Ballet. Stars Natalia Osipova, Denis Savin, Ivan Vasiliev, Yuri Klevtsov, Nina Kaptsova, Anna Antonicheva, and Ruslan Skvortsov. Pavel Sorokin conducts the Bolshoi Theatre Orchestra. Scenography by Ilya Utkin and Evgeny Monakhov; costumes by Yelena Markovskaya; lighting by Damir Ismagilov; produced by François Duplat and Antoine Perset; directed for TV and video by Vincent Bataillon. Released 2010, disc has 5.1 dts-HD Master Audio sound. Grade: A
The French Revolution in ballet! Meet the peasant girl, Jeanne (Natalia Osipova), and her brother, Jerome (Denis Savin) with their parents in the background (I hope you like red, white, and blue):
Jeanne and her brother live on the vast estate of Marquis Costa de Beauregard (Yuri Klevtsov), who has a daughter, Adeline (Nina Kaptsova). Costa is a philanderer, but Adeline is deeply thoughtful:
Costa chases Jeanne around the forest:
Jerome successfully defends Jeanne, but Costa throws Jerome in a dungeon. Adeline is shocked by her father's lust. She enters the prison to release Jerome, and during this encounter, the two fall in love:
Jeanne and Jerome say good-by to their parents and leave to join the Marseillais in Paris:
In Paris, when the revolutionaries aren't fighting in the streets, they are dancing there:
Jeanne and Jerome find their friend Philippe, a Marseillais leader who once stole a kiss from Jeanne. Jerome and Jeanne beg to be allowed to join the ranks:
Fighters from every region of France show off their native costumes, dances, and beautiful girls:
While the revolution roils, the King and his court are holed up at Versailles. Now we get a classical ballet inside our revolutionary ballet. Alas, a prop malfunction with a curtain interferes with the illusion and must have caused agony for the video editor. I can't believe the Bolshoi Ballet wasn't able to reshoot this scene!
King Louis XVI and Marie Antoinette:
Adeline leaves Versailles and goes to Paris to find Jerome and the Marseillais:
There's a lot of drinking and dancing in the streets. The action is fast and non-stop; it's hard to get screenshots until the end of a chapter:
Amidst the tumult, Jerome and Adeline find time alone to explore their love in a tender pas de deux:
The battle is joined, leading to victory for the Republic:
Jeanne and Philippe are the first couple to marry under the new laws, and a wedding pas de deux follows with terrific leaping rounds from Ivan Vasiliev:
In the 1930s, this ballet was an icon of Soviet Union art, i.e., a propaganda ballet. I'm guessing at this, but I think the Bolshevik Flames of Paris ended with the wedding pas de deux. Ratmansky wanted to honor the hoards of Bolshoi dancers who danced this during the Communist era. But he had no chance of getting folks to buy tickets to propaganda. So he added new elements to the story after the wedding. (This would have earned Ratmansky a one-way trip to the Lubyanka while Stalin was alive.)
Suddenly the wedding party is interrupted when a guillotine is set up in the square. The guards bring in Costa de Beauregard for execution. Adeline begs for her father's life:
The mob turns on Adeline, probably thinking she is a royalist spy. Adeline's friends know Adeline is loyal to the Revolution. But no one will listen, and spies are the first to die:
So now we get a taste of the excesses of the French Revolution, and poor Jerome gets Adeline's head:
As the ranks of the troops get ever closer, Jerome is left behind. We hear "Ça ira" ("It'll be fine") the most popular revolutionary song, which was inspired by the words of none other than the American patroit Benjamin Franklin!
Although the story is thin, this title gets an A+ for enthusiasm and tons of great dancing, especially by the unbelievably vivacious Natalia Osipova and Ivan Vasiliev, the grin leaper. Vivid sound and bass drum; fun music and costumes. Good video framing, but PQ not so hot with low light and motion artifacts. So I arrive at the grade of "A."