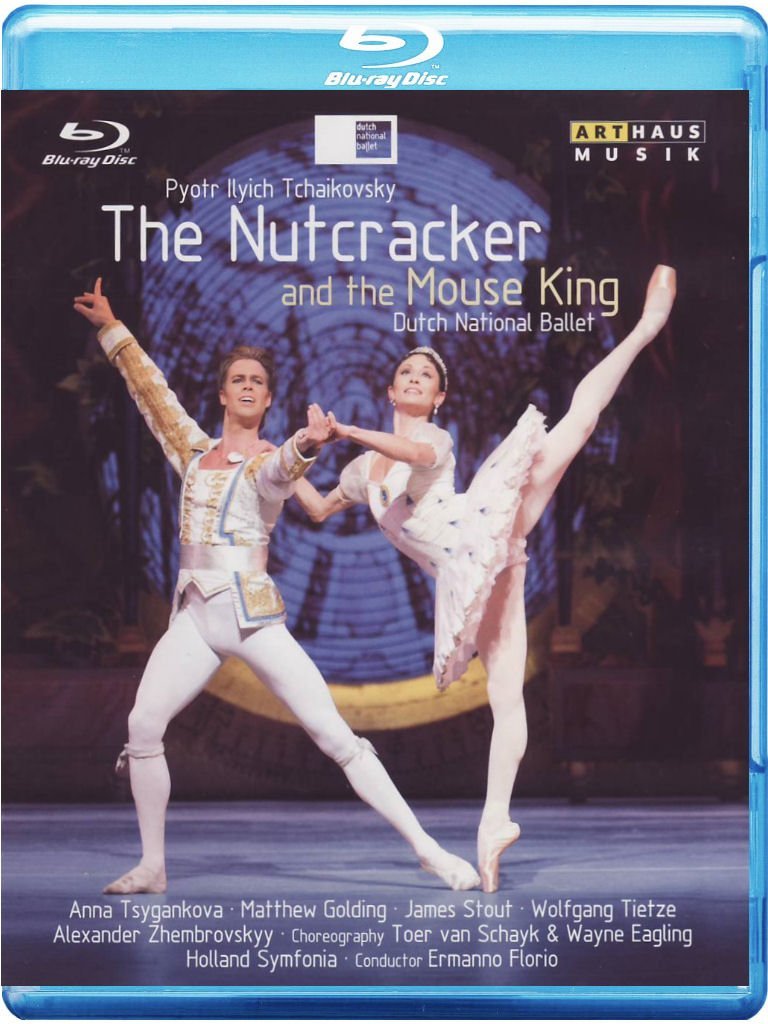 The Nutcracker and the Mouse King ballet. Music by Pyotr Ilyich Tchaikovsky. Performed 2011 by the Dutch National Ballet at the Amsterdam Music Theatre. Choreography by Toer van Schayk and Wayne Eagling. Stars Anna Tsygankova (Clara Staalboom), Matthew Golding (Prince/Drosselmeijer's Nephew), James Stout (Nutcracker), Wolfgang Tietze (Drosselmeijer), Nadia Yanowsky (Louise, Clara's sister), Rink Sliphorst (Frits, Clara's brother), Alexander Zhembrovskyy (Mouse King), Nicolas Rapaic (Mr. Staalboom), Rachel Beaujean (Mrs. Staalboom), Amaljá Yuno (Young Clara), Giovanni van den Berg (Young Frits), Juanjo Arqués (Poet), Roman Artyushkin (Faun), Steven Etienne (Old Don Juan), Erica Horwood (Prince inside the magic lantern), and Oleksey Smolyakov (Princess inside the magic lantern). Additional performers are Maria Chugai and Sasha Mukhamedov (lead Snow Flakes); Naira Agvanean and Arthur Shesterikov (Spanish dance); Anatole Babenko, Amanda McGuigan, Hannah de Klein, Natasja Lucassen, and Pascalle Paerel (Arabian dance): Sasha Mukhamedov, Edo Wijnen, Young Gyu Choi, and Bruno da Rocha Perreira (Chinese dance); Nadia Yanowksy, Junajo Arqués, Roman Artyushkin and Steven Etienne (Greek dance); Anouk Nelemans, Jingjing Mao, Sandra Quinty, Tess Sturmann, Nicolas Rapaic [Mr. Staalboom], Rachel Beaujean [Mrs. Staalboom], and Aina Bilkins [Jansje] (Russian dance [4 dancers not credited in keepcase booket]); Maiko Tsutsumi, Remi Wörtmeyer, Emanouela Merdjoanova, and Mathieu Gremillet (lead Flower Waltz). Ermanno Florio conducts the Holland Symfonia. Jan Maarten Koeman was Chorus Master for the "Waterland" Children's Choir. Set and costume design by Toer van Schayk; lighting design from Hans Åke Sjöquist; directed for TV by Jeff Tudor; produced by Adrienne Liron and Jeff Tudor. Released 2012, stereo music recorded at 48kHz/16-bit and surround sound at 48kHz/24-bit sampling specs. Disc has 5.1 dts-HD Master Audio sound output. Grade: A+
This is a Dutch version of Nutcracker. Some 250,000 spectators at the Amsterdam Music Theatre have seen this in recent years. But even though it's been around a while, everything looks new in this excellent video with big production values. Choreographers van Schayk and Eagling have their own version of the story that stresses the battle of the Prince and the Mouse King. There's also a believable romance between Clara (as the woman the child will become) and the Prince. So this version is pitched a bit more at older girls and adults than to little kids.
There is, of course, a ton of Dutch local color such as the frozen canals in front of Clara's house and the St Nicholas party:
Little Clara meets Drosselmeijer's (Dutch spelling) nephew at the party---for her it's crush at first sight. Young Clara is played by adorable 12-year old Amaljá Yuno, who looks exactly like she should to become the woman she dreams she will be, played by the equally adorable Anna Tsygankova. I doubt anyone will ever come up with a better pair of Claras than this. The Nephew (later Prince) is played by Matthew Golding, Anna's husband in real life:
This is Black Pete (Zwartpiet), the character in Dutch lore who is the Jack of Spades in cards and who gives holiday presents to the kids!
The setting is during the early days of electricity. Drosselmeijer has brought to the party a "magic lantern" with which he will show projections on a screen. Everybody at the party is excited about this, and this is why the entire Second Act of the ballet takes place inside the magic lantern:
Clara gets the Nutcracker doll. Her mean brother breaks it, but Drosselmeijer and Clara mend it. This event will come up again in the Second Act:
Clara gets tucked into bed, but she has troubled dreams:
The transformation begins with the appearance of Clara the woman and the Nutcracker as a soldier (played by James Stout wearing a mask). We will not see Clara the child again until the last moments of the ballet. With an adult Clara, from here on this production will be as intensely choreographic as a Nutcracker can be:
The Mouse King (Alexander Zhembrovskyy) has his own ideas about Clara's future:
A platoon of soldiers (all girls) and brother Frits (Rink Shiphorst) enter the battle (these screenshots are a bit dark mere but they look great in the TV display):
The Mouse King is forced to retreat. But the Nutcracker is wounded (as he was at the party). Clara binds the wound, puts her soldier in her bed, prays, and heals him. This segment takes place in a few moments; but to me, it distinguishes this Nutcracker from all the rest I've seen. I predict our dreaming Clara will grow up to be a nurse:
With her champion well, Clara is treated to a vision of the Waltz of the Snowflakes:
To conclude the First Act, Drosselmeijer, Clara, and the Nutcracker enter the Magic Lantern:
Inside the magic lantern, Drosselmeijer (Wolfgang Tietze) and Clara are astonished when the Mouse King continues his pursuit:
But the Nutcracker finally is victorious:
And is revealed to be Clara's Prince:
Now it's time for celebrating with a grand divertissement of dances from many lands. Here we see a chieftain who knows how to handle a harem:
And a lady martial-arts fighter who defeats 4 warriors with her single staff:
Followed by the Waltz of the Flowers:
And the grand pas de deux (in this casting, between a real husdand and wife):
My only reservation about this production would be a slight but noticable lack of precision in the corps numbers. If you can only have one Nutcracker, I still think the San Francisco show is first choice for Americans, especially if you are trying the get young kids interested in ballet. But the Dutch version might be first choice for Europeans. Also, the Dutch version would be good if you want something a bit different (but still safe for kids) for your Nutcracker party. So I arrive at an "A+" grade for this title.
Special Note: There are two sets of ordering buttons below. The 1st set is to order this title at regular price. 2nd set of buttons is to take advantage of a special bargain discount Arthaus offers for this title with a bonus feature advertising many of their other HDVDs. You will want to buy the bargain disc if it is available!
Regular Price: