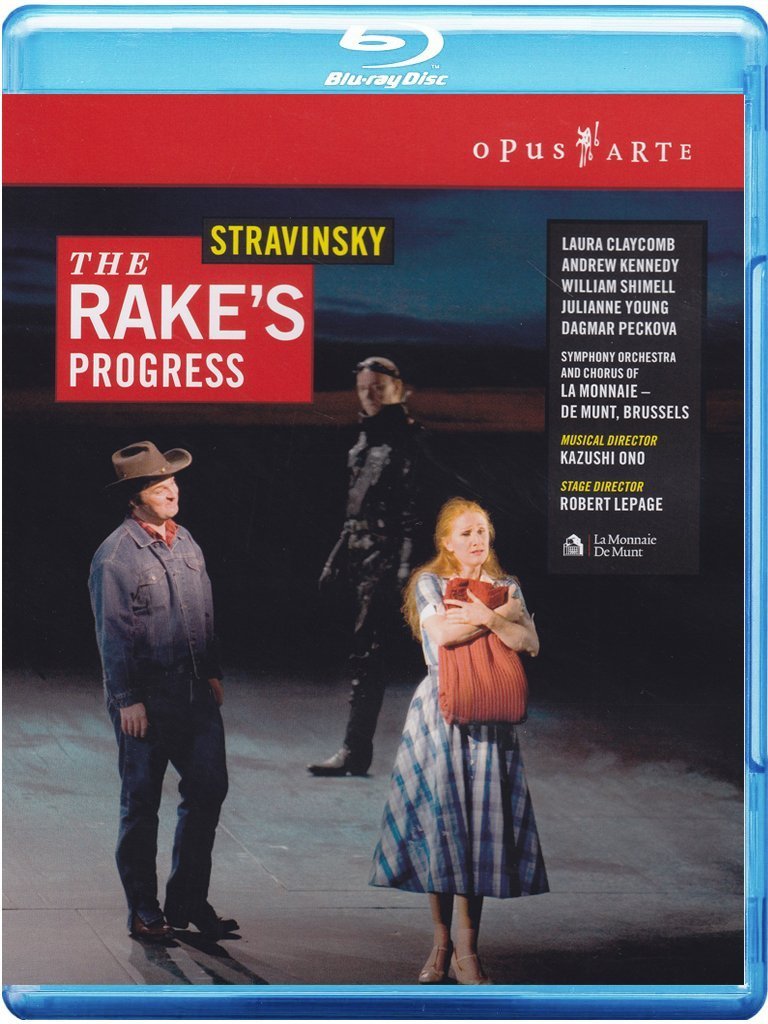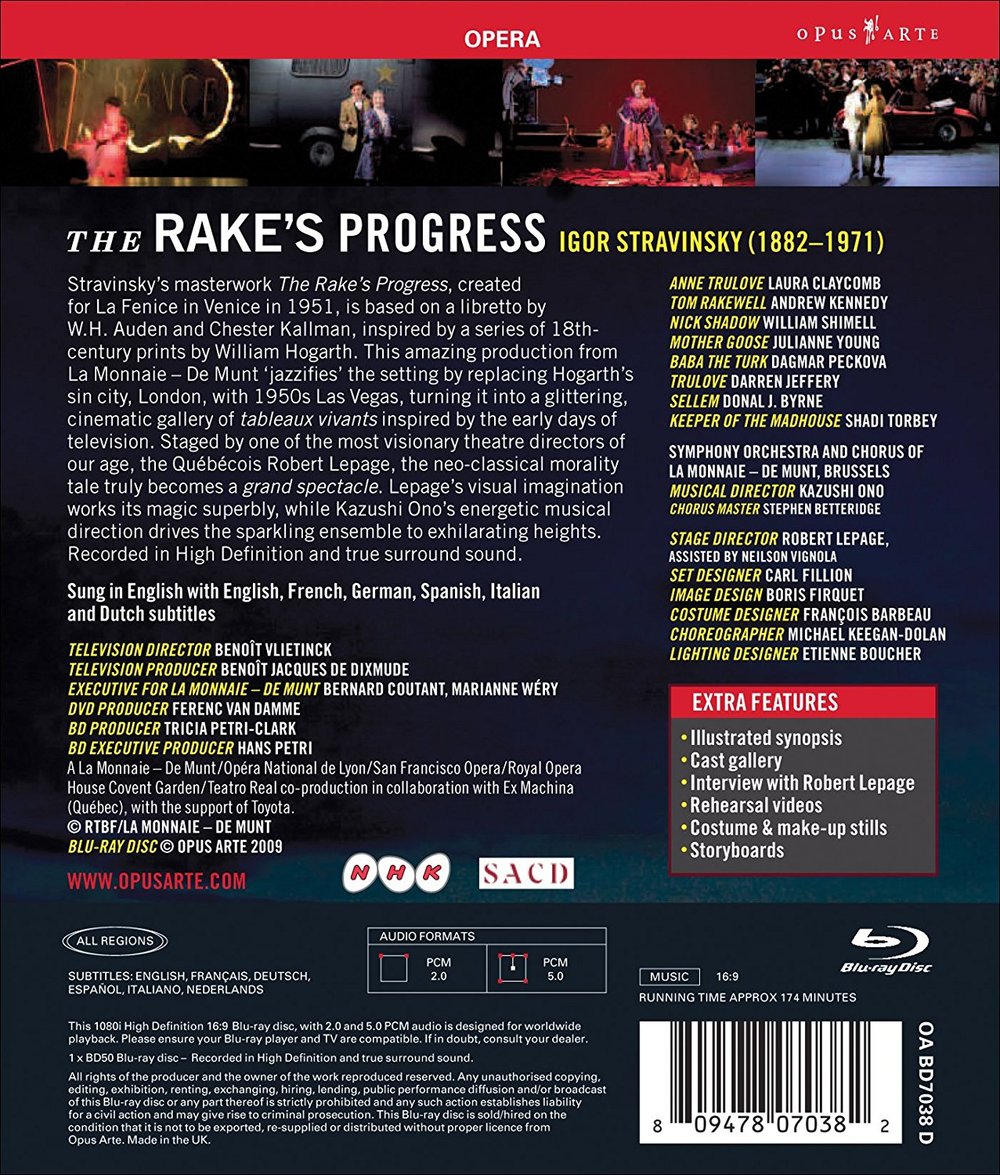 Igor Stravinsky The Rake's Progress opera to libretto by W. H. Auden and Chester Kallman. Directed 2007 by Robert Lepage (assisted by Neilson Vignola) at the Théâtre Royal de la Monnaie, Brussels. Stars Laura Claycomb (Anne Trulove), Andrew Kennedy (Tom Rakewell), William Shimell (Nick Shadow), Julianne Young (Mother Goose), Dagmar Peckova (Baba the Turk), Darren Jeffery (Trulove), Donal J. Byrne (Sellem), and Shadi Torbey (Keeper of the Madhouse). Dancers: Anne-Laure Rondel, Lies Mahy, Magali Revest, Rachel Poirier, Milan Labouiss, Erwin Wauters, Yhonny Correa, David Gellura, Werner Nigg, and Bart Walter. Kazushi Ono conducts the Orchestra and Chorus of la Monnaie-De Munt (Chorus Master: Stephen Betteridge). Set design by Carl Fillion; image design by Boris Firquet; costumes by François Barbeau; lighting by Etienne Boucher; choreography by Michael Keegan-Dolan; accessories by Patricia Ruel; make-up and wigs by Catherine Friedland; directed for TV by Benoît Vlietinck. Released 2009, disc has 5.0 PCM sound. Grade: A
The libretto, in English for a change, was written in 1949 by W.H. Auden (and Chester Kallman). Auden is, per Wikipedia, one of the greatest writers of the 20th century whose work is ". . . noted for its stylistic and technical achievements, its engagement with moral and political issues, and its . . . central themes of . . . love . . . religion and morals, and the relationship between unique human beings and the anonymous, impersonal world of nature." Wow, that's a mouthful, but it describes well the dreamscape of this opera version of The Rake's Progress. Stravinsky's score is quite astringent, but its mood is perfect for a jaunty satire and black comedy.
The Rake's Progress is, of course, inspired by the famous drawings and paintings by William Hogarth from the 1700s. Hogarth's images have been brought to life in just about every media. I checked, and Amazon has 896 "Progress" items to sell you---my favorite is the Orgy Scene Rubber Mouse Mat that you can buy to spice up your office cubicle.
This opera is a late-comer to the Progress party, but it is quite popular, and especially so with smaller houses and even student groups. And we now also have two HDVD takes: (1) this La Monnaie "celebrity tragedy" and (2) a story-book version from Glyndebourne.
The folks at La Monnaie snagged Robert Lapage to do their mise-en-scène in 2007. Lapage and 4 of his team with credits in this Rake's Progress soon thereafter became the core supporting artists for the monumental Ring des Nibelungen produced by the Met in 2010. I've seen the Lapage Progress and Ring repeatedly. I would never have guessed that the same director did both. Even though Lepage is a master of high-tech, his greatest talent is in using technology to support his old-fashion story telling in ways you don't notice.
Lapage starts off his lovers, Tom Rakewell and Anne Truelove, in Texas (I think):
Who the devil might this be? He says Tom has inherited fabulous riches from an uncle Tom didn't know existed:
Now Tom is off to London to collect his fortune; but why not make a detour to a brothel in Vegas?
Anne knows something is wrong. She rides to the rescue. Note she is now in London, where they drive on the wrong side of the road:
But Tom is ruined, and everything is sold at auction:
The devil takes Tom's sanity, and he winds up in Bedlam. But although Tom will never leave Bedlam, he is healthier there than he was before and now has some insight into his true condition. He sings a profound duet with Anne:
Anne says goodby with the most wretchedly beautiful lullaby conceivable:
I hope I haven't ruined the story for you. There are plenty of surprises not revealed here. I prefer this version to the Glyndebourne show because Laura Claycomb has opportunity under Lepage to fully act out Anne's anguish and the true love she bears for her doomed boyfriend. And Lepage develops all the other characters fully as well. So I wind up with an "A" grade for this title that I find more admirable each time I watch it.