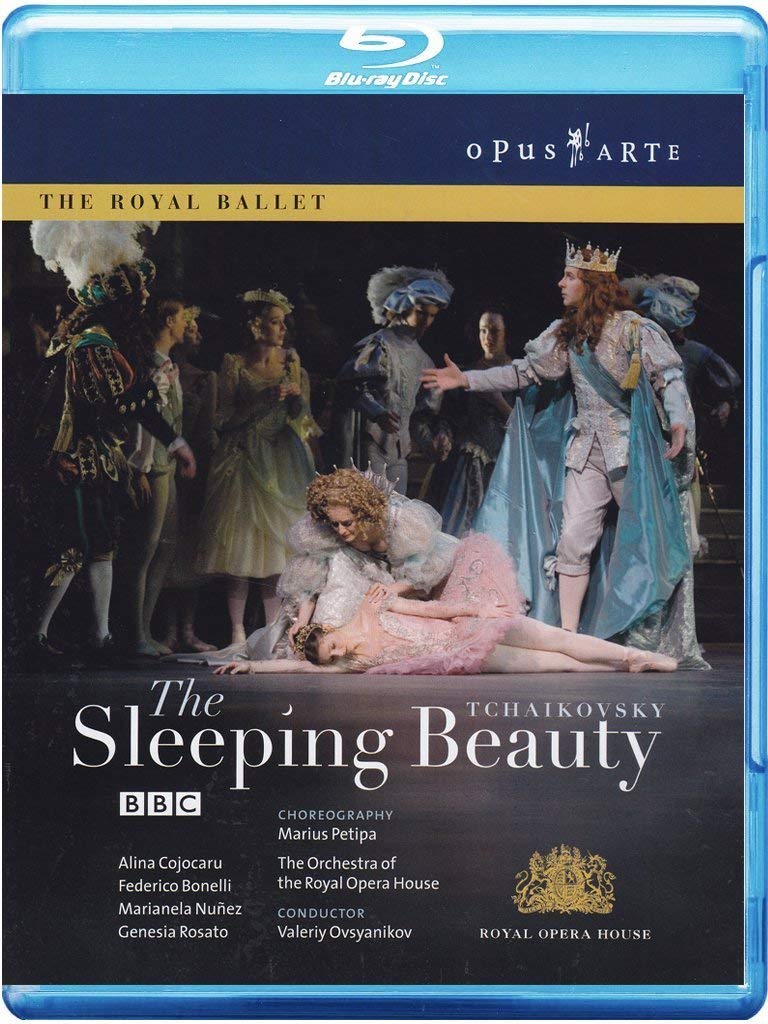 The Sleeping Beauty ballet. Music by Peter Ilich Tchaikovsky. Direction and choreography by Frederick Ashton, Anthony Dowell, and Christopher Wheeldon (based on tradition of Marius Petipa). Produced 2006 at Royal Opera House by Monica Mason and Christopher Newton. Stars Alina Cojocaru (Princess Aurora), Federico Bonelli (Prince Florimund), Marianela Nuñez (Lilac Fairy), Christopher Saunders (King Florestan), Elizabeth McGorian (The Queen), Alastair Marriott (Cattalabutte), and Genesia Rosato (Carabosse). Also features Isabel McMeekan, Ricardo Cervera, Lauren Cuthbertson, Andrej Uspenski, Mara Galeazzi, Johannes Stepanek, Natasha Oughtred, José Martin, Laura Morera, Ernst Meisner, Valeri Hristov, Gary Avis, Edward Watson, David Makhatelli, Gemma Bond, Helen Crawford, Victoria Hewitt, Hikaru Kobayashi, Iohna Loots, Samanthan Raine, Gemma Sykes, Jonathan Howells, Deirdre Chapman, Sarah Lamb, Yohei Sasaki, David Pickering, artists of the Royal Ballet, and students of the Royal Ballet School. Valeriy Ovsyanikov conducts the Orchestra of the Royal Opera House. Original designs by Oliver Messel and Peter Farmer; lighting by Mark Jonathan; staging by Christopher Carr. Directed for TV by Ross McGibbon. Released 2009, disc has 5.1 PCM sound. Grade: C+
The 2011 Moscow Bolshoi The Sleeping Beauty is now the production against which all other SB shows must be measured. Here is a screen shot of the opening of subject title as staged by the Royal Ballet in 2006:
And here's how the same scene appears in the Bolshoi version:
The Royal Ballet King (Christopher Saunders) and Queen (Elizabeth McGorian). The Queen's dress looks like it has been worn by many predecessors, and the crown looks like something from a comic book:
In 2006 the TV directors and cameramen were still learning how to shoot ballet for HD TV. Here is a visible scrim; there is no mistake like this in the Bolshoi recording (the dancer is Marianela Nuñez as the Lilac Fairy):
In London, the Lilac Fairy has 8 attendants. Because the Moscow Bolshoi is bolshoi, the Lilac Fairy there gets 12 attendants:
Both productions have 6 featured fairies, but they have different names:
The individual dancers in London are competitive with everybody else. And in a smaller show, a single girl has a better chance of taking charge. Here the great supporting dancer Laura Morera is doing just that in a brilliant performance as the Fairy of the Golden Vine:
The peasants dance at the christening party also. Here they have 8 wreaths: in Moscow they have 16:
The Royal Ballet has the better Carabosse. Genesia Rosato is gleefully lascivious and sadistic in wreaking revenge on everybody who slighted her:
Finally, Alina Cojocaru as Princess Aurora smiles her own puff of grapeshot to level everything around her. Svetlana Zakharova at the Bolshoi is an Aurora to admire and honor; Alina is an Aurora to adore:
The pick-your-prince party poops when the princess pricks her pinky. The Lilac Fairy puts everyone in a deep sleep for 100 years. Meanwhile, the handsome prince is born (his name is Florimund in London) and is sad. Here he is shown a vision of Aurora provided by the Lilac Fairy and her team of 16 Nereids. And you guessed it right---at the Bolshoi there are 24 Nereids.
Price Florimund finally figures out what he's supposed to do and everybody wakes up:
All that's left now is the wedding celebration. Natasha Oughtred as the White Cat oozes personality and charm even with her face half covered:
But this Princess Florine (Sarah Lamb) is held back by a rather shopworn costume:
The final screenshots show the Finale and the Apotheosis. Feel free to compare these scenes to the matching screenshots from the Bolshoi show.