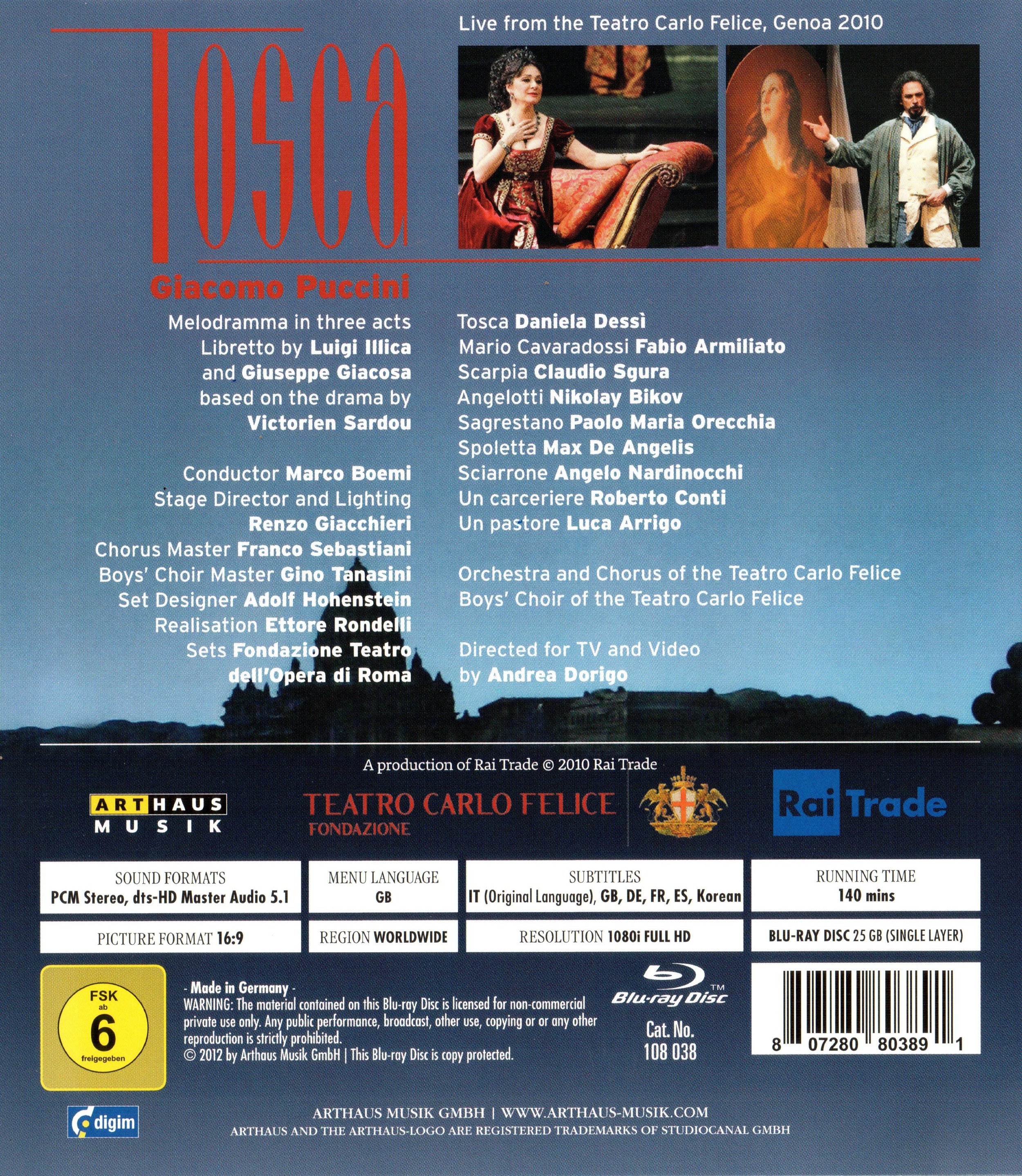 Puccini Tosca opera to libretto by Giuseppe Giacosa and Luigi Illica. Directed 2010 by Renzo Giacchieri at the Teatro Carlo Felice di Genoa in Italy. Stars Daniela Dessì (Tosca), Fabio Armiliato (Cavarodossi), Claudio Sgura (Scarpia), Nikolay Bikov (Angelotti), Paolo Maria Orecchia (Sacristan), Max De Angelis (Spoletta), Angelo Nardinocchi (Sciarrone), Roberto Conti (Jailer), and Luca Arrigo (Shepherd). Marco Boemi conducts the Orchestra, Chorus (Chorus Master Franco Sebastiani) and Boys' Chorus (Chorus Master Gino Tanasini) of the Teatro Carlos Felice. Set design by Adolf Hohenstein as recreated by Ettore Rondelli; also sets by the Fondazione Teatro dell'Opera di Roma; lighting design by Renzo Giacchieri. Directed for TV by Andrea Dorigo. Released 2012, disc has 5.1 dts-HD Master Audio sound. Grade: A
Conducted with zest by Marco Boemi, the orchestra music sounds clear, detailed, vivid, and gorgeous from the first to the last bar. The balance between the pit and the singers is perfect. Picture quality is fine with decent resolution and good color balance considering the low level of lighting throughout the production.
Highly-admired Daniela Dessi is fine as Tosca except she's starting to age out a bit. Fabio Armiliato (her partner in some real-life) is even better as Cavaradossi. Claudio Sgura is a pretty and nasty Scarpia, except that he has two sets of eyebrows (more below). All the leads display excellent acting skills and are well-directed.
The traditional set (following the original Hohenstein design) is comfy and satisfying even if you might notice air waves in the (hung fabric) castle walls when a player walks by. The costumes are pleasing without being ostentatious or expensive looking. The props are fine for the theater, even if they look slightly flimsy in HDVD close up. The main culprit is the makeup, which doubtless looked great in the theater but was not done with high-definition cameras in mind. And so Scarpia has (1) his real eyebrows, which we see clearly when the audience does not and (2) his swooping, wicked makeup eyebrows higher on his forehead. It's a tribute to Claudio Sgura that you soon get used to the scary brows and forget about the real ones.
The show is presented as a recording of an opera performance, not as a opera recording which happened to be made at a live venue. The TV director gives us several important views of the whole theater and the pit during performance and nice whole stage shots. These shots tell us that we are in Genoa at the Teatro Carlo Felice. In addition, the TV director provides a wide range of mid-distance, short-distance, close up, and extreme close up shots. So we get the see the show better than the audience.
While watching this I began to get a feel for Italian opera is like. With one exception, everybody with a major credit appears to be Italian, and everything about the production seems to exude a home-grown passion.
I felt Italian passion too. Maybe this is because the audience is involved and enthusiastic. Both Dessi and Armiliato give repeat arias. The camera crews were alert, and they catch the communication between the director and the singers as they "decide" to give the repeat. Both singers perform their encores differently from the first time and in both cases the encores seem better than the first performance. I've never seen this before live or on the screen; when I see it now, I start feeling swept up. So this HDVD has something special about it, at least to a novice like me.
I think Puccini would be happy with this performance if it was the last recording of Tosca ever made. Later I watched the EMI Tosca with Gheorghiu, Kaufmann, and Terfel at the Royal Opera House and Pappano conducting --- a colossal production with hot, world-famous musicians. On paper, the Royal Opera show figures to outshine the Italians at Carlo Felice. But the Italians hold their own with better acting and Fabio Armiliato's rendition (twice) of "E lucevan le stelle," which continues to choke me up every time I watch it. Call it a case of big deal vs. real deal.
I would give this a B+ based on the usual factors. But now while I'm still feeling Italian passion, I'll advance the grade a notch to "A."
Even though the Arthaus Musik publication of this title is region free, it may not always be available from vendors in Region A. Another release, probably aimed at Region A, has been published by Kultur with slightly different package artwork seen below:
Sorry, there are many YT videos, but all are in SD and don't do this title justice.
Shop around. First the Arthaus version:
And next the Kutur issue: