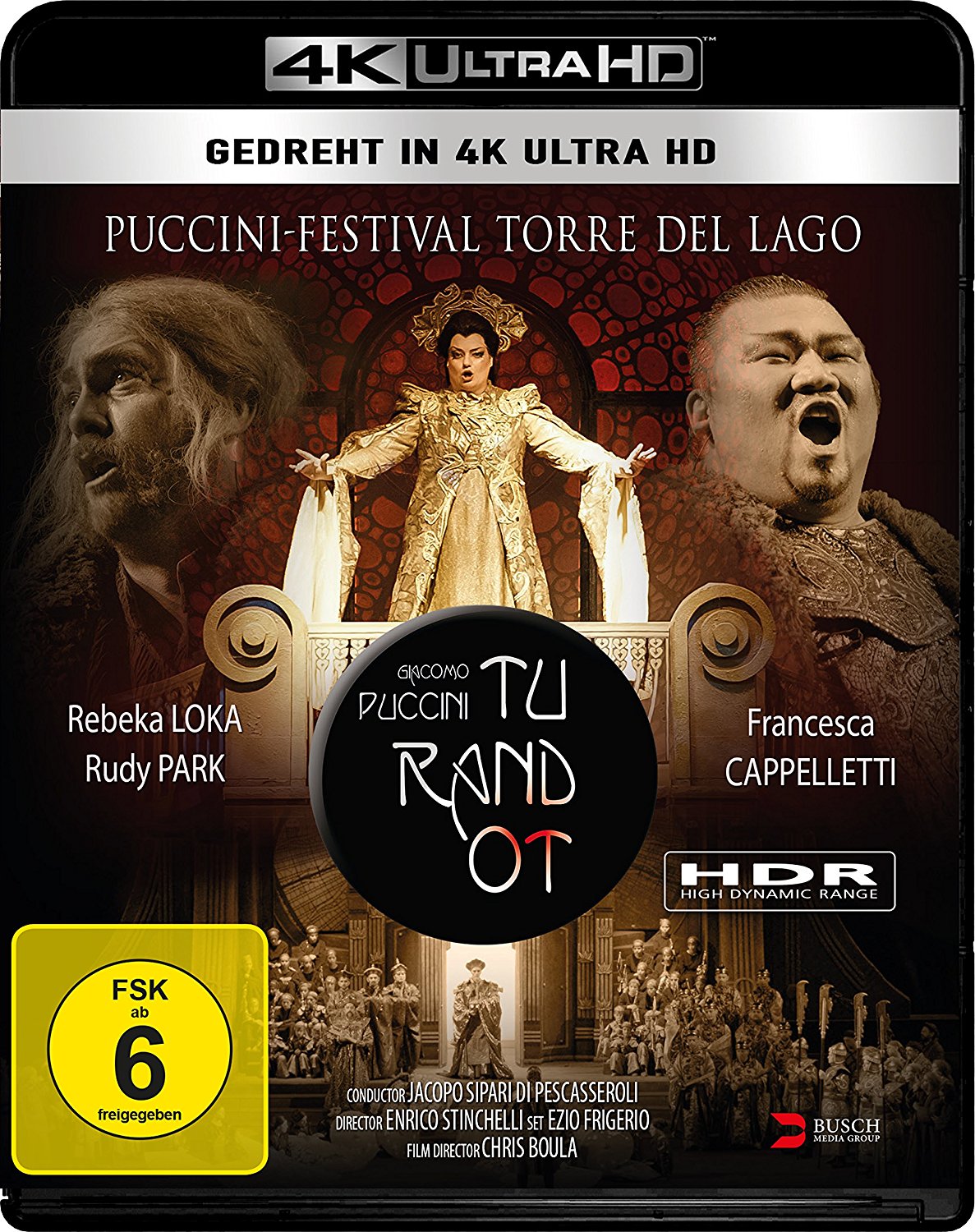 Puccini Turandot opera to a libretto by Giuseppe Adami and Renato Simoni and as completed by Lucio Berio. Directed 2016 by Enrico Stinchelli at the Torre del Lago Puccini Festival. Stars Rebeka Lokar (Turandot), Rudy Park (Calaf), Franceska Cappelletti (Liù), Vladimir Reutov (Old Emperor), Ernesto Morillo (Timur), Mauro Buda (Ping), Ugo Tarquini (Pang), Tiziano Baroncini (Pong), Claudio Ottino (The Mandarin), and Alberto Petricca (Prince of Persia), Anna Poala Troiano (First Handmaid), and Donatella De Caro (Second Handmaid). Jacopo Sipari di Pescasseroli conducts the Orchestra, Chorus, and Boy Soprano Chorus of the Puccini Festival (Chorus Master Viviana Apicella). Sets by Ezio Frigerio; costumes by Franca Squarciapino; lighting by Enrico Stinchelli; directed for TV by Chris Boula. Released 2018, disc has 5.1 dts-HD Master Audio surround sound. Grade: B-
As you can see from the thumbnail images above, this title is available as both a standard 2K Blu-ray and a 4K Ultra HD Blu-ray with HDR. (The back side of the 4K/HDR keepcase has the exact same artwork as seen above from the 2K Blu-ray verison.) We have excluded the 2K version because this is an outdoors production in a large arena of the kind that usually results in a disappointing video.
But we make an exception for the 4K/HDR version because this is only the second such title to be published of a fine-arts production. (The first such production was the 4K/HDR film of Buniatischvili piano concertos also brought to us by Busch.) So the comments below relate only to the 4K/HDR title as displayed on our LG OLED65C7P television set.
The Puccini-Festival Torre del Lago is one of the weakest of the many Italian opera festivals. Still, although the singers were not well-known names, they did pretty well. Alas, the (big but unnamed) orchestra performed at the semi-professional or community band level, and was poorly recorded to boot. Although the costumes were acceptable, the set did not hold up under inspection by 4-K cameras. The directing of the stars was adequate, but the chorus, dancers, and especially the fan girls looked under-rehearsed. Children on stage figeted about like they were in some church pageant.
The lighting of the stage was, as is the case with too many outdoor events, relatively primitive. But TV director Chris Boula had command of the very latest cameras with 4K and HDR capabilities. So for the most part the video depiction of the show turned out quite well with good resolution (under the circumstances) and nice color balance. And the HDR feature was also working and looking good.
But there remained one serious issue with this disc. According to the disc information report, Boula shot his film at 24 frames per second (rather than at 59.94 like most Blu-ray recordings). This can lead to the "judder problem" in countries where TVs use 60Hz electrical power. On our LG there is consistent problem with motion artifacts that just could not be ignored or gotten used to. And we were not able to get rid of the jerkiness in the picture no matter how we changed the settings in our Oppo player and the TV. (Of course, we made sure we had the latest firmware in our player, the AVR, and our display. And I should add that we have had a good experience with our LG and the other 4K/HDR titles we own and with 4K/HDR clips we have seen via YouTube.)
Frustrated, we took the disc to our gear guru John Fort in Dallas. His only HDR capable display available at the time was an entry-level TCL set with 4K/HDR. On the TCL display, the picture quality was distinctly inferior to what we see on our LG. But Fort was able to use a motion-smoothly setting in the TCL set to smooth out the judder issue. With this wind in our sails, we tried again to get the disc to play on in our HT. No such luck even after going again over all equipment settings, especially the setting for video shot at 24 fps.
A few days later we got our annual paperback Consumer Reports 2019 Buyer's Guide. We looked up the LG 4K/HDR sets. They all get top overall ratings from CR. But in the detailed test reports, the LGs did get graded down (from "excellent" to "good") for "Motion blur." H'm. We used our LG for a year with many titles and saw no motion blur until we viewed subject title Busch Turandot. We conclude now that the Busch Turandot will probably play nice with many or most 4K/HDR TV sets. But if your set is noted by Consumer Reports as having a "motion blur" problem, you might well be unhappy with the Busch Turandot.
We give this title a B- grade as a nice HDR recording of a pedestrian production. If you have a TV that is graded down for motion blur by Consumer Reports, we are stuck at the grade of D+, i.e, don't buy this unless you have a special reason. Maybe the folks at Busch can work this out with the folks at Oppo/LG and a firmware upgrade can solve the problem.
Here is a clip from Paramax Films (who filmed the event in 4K):
Buy this title in standard Blu-ray:
Buy this title in 4K Ultra HD with HDR: