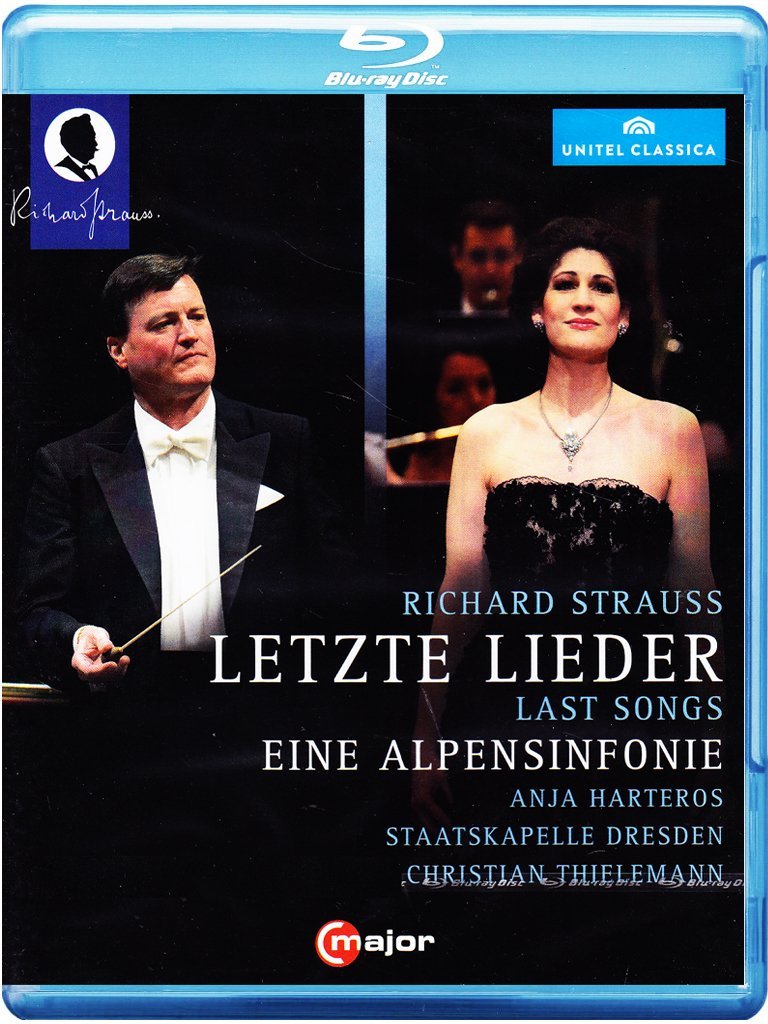 Christian Thielemann conducts the Staatskapelle Dresden in 2014. Below Thielemann and soprano Anja Harteros:
Pop quiz: what instrument are the two gents below playing? [Answer below]
And what is this gent below playing in the percussion section?
The following three works are presented on this Blu-ray:
Wolfgang Rihm's orchestral piece Ernster Gesang (Serious Song)

Richard Strauss's Vier Letzte Lieder (Four Last Songs), with an inserted fifth song "Malven" (in a version orchestrated by Wolfgang Rihm in 2013). The combined presentation of five songs is therefore titled Letzte Lieder (Last Songs). Because the title Vier Letzte Lieder is so famous, we call it that way in the Alphalist. Here are the songs, all sung by soprano Anja Harteros:

I. "Fruhling" ("Spring")

II. "Malven" ("Mallows" or Malva . . . the plant genus)

III. "September"

IV. "Beim Schlafengehen" ("When Falling Asleep")

V. "Im Abendrot" ("At Sunset")

Richard Strauss's Eine Alpensinfonie
Recorded 2014 at the Dresden Semperoper. Directed for TV by Michael Beyer. Released 2015, disc has 5.1 dts-HD Master Audio sound output. Overall Grade: C+
Hugo Shirley, writing about subject title in the May 2015 Gramophone at page 36, is full of praise for all involved in what he says "was clearly an outstanding concert." Willam R. Braun also praises this title in the July 2015 Opera News (page 58). He points out that the Rihm Ernster Gesang is especially dark with no flutes, oboes, or violins. He asserts this works is a palate cleanser to enhance the tasting of the Strauss song package that follows. He also calls The Alpine Symphony a "triumph." H'm. Such avalanches of praise rolling off the print critics' mountains generally cause us alarm at HDVDarts.
Rihm – Ernster Gesgang (approximate timing: 12 minutes)
Ernster Gesang is a relatively austere sounding orchestral work, commissioned by the Philadelphia Orchestra and premiered in 1997 to coincide with that orchestra's observance of the centennial of Brahms's death. There are, therefore, some connections to that composer. For example, the work is written for four clarinets, horns, bassoons, and lower strings (no violins) – reminiscent of the instrumentation utilized by Brahms in his Serenade No. 2 (recently reviewed here in a performance by Andris Nelsons with the Lucerne Orchestra). Apparently the piece contains a brief reference to Brahms' Symphony No. 3, although I struggle to hear it! Further, the work's mood and title have been taken from the Brahms song cycle Vier Ernste Gesänge (Four Serious Songs).
Strauss (Richard) – Letzte Lieder (approximate timing: 24 minutes)
Soprano Anja Harteros joins Thielemann and the Staatskapelle Dresden for this most lyrical and touching work by Richard Strauss, composed in the penultimate year of his life.
As explained above, we start with the familiar grouping "Vier Letzte Lieder"; however, the song "Malven" has been inserted between the first and second songs. "Malven", which was discovered in the early 1980's, has since been identified as the actual "last song" composed by Strauss. Wolfgang Rihm dressed it up with orchestration for the current presentation. Time will tell if this tinkering will add anything to the Strauss legend or be viewed as hitchhiking.
Anja Harteros gives a splendid performance full of warmth. The intensity is palpable, and is very much enhanced by the video. There are no lyrics printed in the keepcase booklet. So the subtitles will be considered helpful by many viewers, allowing one to more closely follow the emotional line of the poetry that inspired the song cycle.
I believe strongly that this video will help any viewer fall head-over-heels for this piece. Absolutely gorgeous!
Strauss (Richard) – Eine Alpensinfonie (approximate timing: 53 minutes)
C-Major's website touts the large orchestra featured in Eine Alpensinfonie, including two harps, 16 horns (apparently including twelve backstage! . . . though this may not be obvious to the casual Blu-ray observer, as there is little visual clue provided), four trombones, two bass tubas, a Heckelphon (a sort of "bass oboe"), organ, celesta, bass drum, timpani, and a wind machine.
I personally struggled to assess the performance of this work, so instead I will rely on more published reviews here. I found two separate MusicWeb International reviews that unanimously sing the praises of Thielemann's interpretation with words such as "momentous", "thrilling", "completely compelling", "superbly realized", and "outstanding." While I enjoyed it, I have an impression of a greater degree of movement and architectural cohesiveness in two of my CD performances – Blomstedt with the San Francisco Symphony, and Ashkenazy with the Cleveland Orchestra. Perhaps it is my imagination . . . or perhaps I'm adversely influenced by the "economy" of physical movement and expression displayed by Thielemann. When I watch him, I often get the feeling he's really not a conductor but the chairman of the board of an insurance company.
Although we must always we wary of the inevitable and unadulterated puffing by publishers of classical music, I think we can consider subject title to be a fine sound recording of a commendable concert, even if the producers failed to record this with 96kHz/24-bit sound sampling. Picture quality is reasonably sharp throughout, with natural color saturation. With a strong video, this recording might well be right up there with the best recordings ever made of Strauss symphonic works.
But, alas, two of the pieces in subject title, like so many other symphonic works we have reviewed on this website, have a video content problem: a severe case of the dread disease DVDitis. Briefly, DVDitis is a malady that afflicts Blu-ray videos with content that is only appropriate for a DVD. If you are new to our symphonic music reviews, please take a few minutes to check out the following resources found elsewhere on this website:
First, see our special article on how to make a decent video of a large orchestra for viewing on HD TV

Next, take a look at the Wonk Worksheet we use to accurately diagnose DVDitis in a Blu-ray symphony recording

Finally refer to our Wonk Worksheet Instructions
The resources above tell you how to determine the pace of a video (how many seconds the average video clip lasts). They also tell you how to distinguish between large-scale video clips, which we call "supershots" and which are appropriate for Blu-ray video, and the small-scale shots that are appropriate for a DVD. You will learn how to figure what percentage of total clips are supershots. Finally the resources tell you how to figure what percentage of total clips are views of the conductor.
Once you have run the numbers, you can see how the title stacks up against the following standard:
A good HDVD (or Blu-ray) should have a slow pace with more than 10 seconds per video clip on average (longer the better). 20 to 40% (higher is better) of the clips should be large-scale "supershots" (whole-orchestra, part-orchestra, multiple-section, and large-section shots). Conductor shots should be less than 20% (way less really) of the clips in the video.
Now you are ready to digest the information in the table below:
DVDitis Analysis
DVDitis Criterion

Rihm – Ernster Gesgang

Strauss (Richard) – Letzte Lieder

Strauss (Richard) – Eine Alpensinfonie

Duration (min)

12.00

24.65

53.10

Total number of clips

83

149

323

Pace

8.7 sec / clip

9.9 sec / clip

9.9 sec / clip

% Supershots

13%

21%

11%

% Conductor shots

22%

13%

32%

% Soloist(s) realistic

Not applicable

57%

Not applicable

Grade for each title

D

A -

D+

Rationale

Partial grade deducted for non 96/24 sound

Full grades deducted for each of the 3 DVDitis criteria

Partial grade deducted for non 96/24 sound

Partial grade deducted for being "on the cusp" for pace criterion

No other deductions necessary

Partial grade deducted for non 96/24 sound

Partial grade deducted for being "on the cusp" for pace criterion

Full grades deducted for each of the remaining 2 DVDitis criteria

A further partial grade deducted for higher-than-usual number of "error shots" …or, at least, poor shots
Further thoughts on above: Basically, the pure symphonic works on subject disc were made to be published as DVDs. The publisher then attempted to publish the record in Blu-ray dress as an enhanced product at a greater price. The publisher can honestly claim that the video resolution in the Blu-ray is better and the sound may also sound better. But the title still suffers from DVDitis---it was not made to take advantage of the ability of the HD camera to make large-scale video images of what the orchestra is doing. A Blu-ray video with DVDitis falls way short of what a good symphony HDVD should look like. We only give a good grade for videos that were made to take full advantage of HD television. We give bad grades for Blu-ray discs that are sick with DVDitis.
Why did the Letze Lieder segment get such a better grade than the others? Because in the Letze Lieder there is a beautiful woman, who can also sing very well, standing in front of the orchestra. This forces the TV director to focus on the star singer. (With no star, the TV director is free to make as many lazy and thoughtless shots of the conductor as he likes). The singer usually sings a text fairly slowly, which forces the TV director to keep the cameras on the star for long periods. Further, many shots of the singer will also show large parts of the orchestra. So the star singer usually benefits the video by slowing down the pace, showing more of what the whole orchestra is doing, and reducing the temptation to over-emphasize the conductor. One woman standing up in a black dress turns a bad video into a good one!
Overall grade: See individual grades below. I will assume that purchasers of this Blu-ray will be mostly interested in Strauss. I will therefore exclude the Rihm from the average overall grade, resulting in a C+.
Now for some visuals!
Rihm – Ernster Gesgang
We don't get a single whole-orchestra (WO) shot in this work until the applause. Very strange indeed, since there is for the whole time a camera capable of the angle below:
Still, there are some excellent PO shots like the one below:
Next compare the shot above with a more traditional C/B view below. Because the soloist was far more interesting to watch than Thielemann during this clip, I classified this as "Soloist not realistic":
The next shot below gets a "Soloist realistic" classification. This is perhaps debatable, but I felt this is "on the cusp" of providing a realistic audience perspective. I believe side-views exist in many concert halls:
The next two clips give a sense of the intensity of the performance. In the second shot, which occurs near the end of the final song "At Sunset" (. . . drifting into death), Anja Harteros may be shedding a tear. This couldn't have been timed better and was well captured by the camera:
The large-scale shots are also excellent. But again I did not in the entire piece note any WO shot (or Soloist shot encompassing the whole orchestra):
Strauss (Richard) – Eine Alpensinfonie
Over the course of 53 minutes, Michael Beyer found it in his heart to give us a measly 4 WO shots. But the one below is nice!
Only 11% of the clips are large-scale "supershots" (36 of 323 clips). I called the shot below "large-scale", so you can see I was generous in my classifications:
Next below is a more obvious large-scale view:
I hate to end on a sour note, but I have to warn that there are many poor shots in this symphony segment. Below are 4 shots taken from poor angles:
The next shots below should be viewed as pairs. The small-scale shots (139 of them in total), were often very zoomed in . . . causing motion blurring and a phenomenon of musicians bobbing in and out of view. Now you see him, now you don't! The following 2 shots are separated by 1 second:
My last 2 shots below are separated by 2 seconds:
Large-scale shots make it easier for the TV director to avoid irksome errors in composition, focus, and the like. With large-scale shots, the viewer has a lot to look at and can pick the most interesting things to watch. The viewer doesn't notice the small mistakes. But when the TV director zooms in for close ups, the director takes on full responsibility to nail down every frame perfectly. Every error that slips through is painfully obvious to any viewer who appreciates high-quality video.
This title is similar to an older title from Opus Arte with Renée Fleming singing Strauss songs for a warm-up followed by Eine Alpensinfonie. After you read this review, you would want to check out the earlier title as well. Subject title with Anja Harteros is arguably better than the effort with Fleming. But the street price on the Fleming recording might be a lot cheaper.
(Thanks to Wonk Bryan Balmer for this detailed review!)