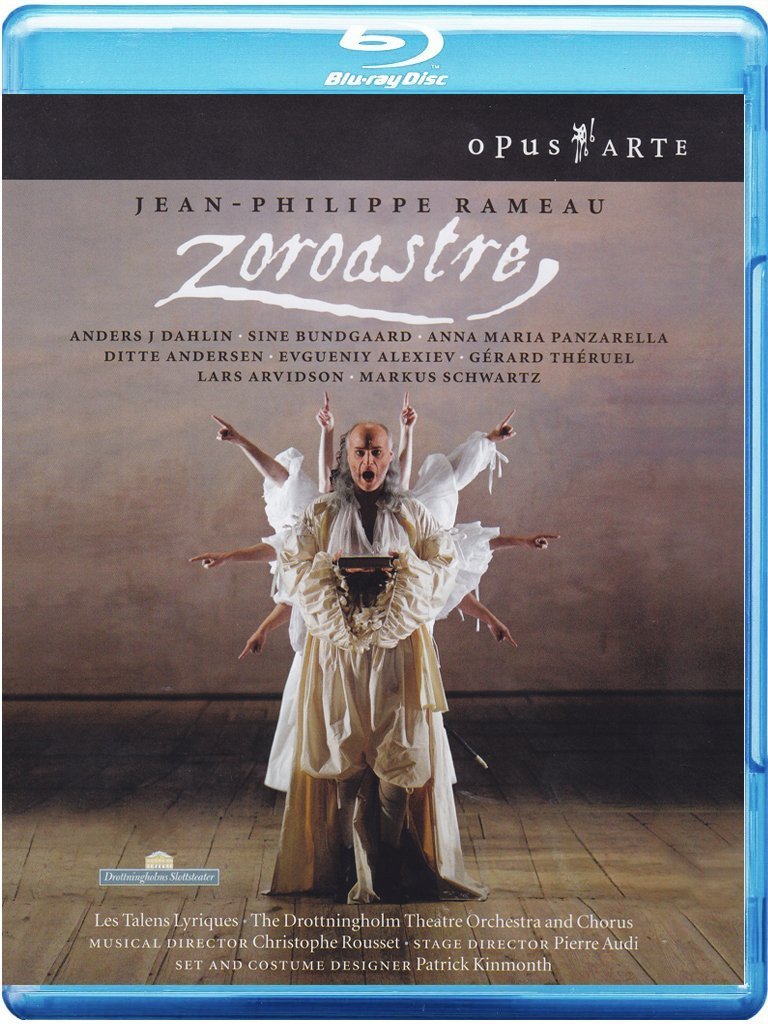 Jean-Philippe Rameau Zoroastre opera to libretto by Louis de Cahusac. Directed 2006 by Pierre Audi at the Drottningholm Slottstheater. Stars Anders J. Dahlin (Zoroastre), Evgueniy Alexiev (Abramane), Sine Bundgaard (Amélite), Anna Maria Panzarella (Erinice), Lars Arvidson (Zopire/La Vengeance) Markus Schwartz (Narbanor), Gérard Théruel (Oromasès/Ariman), and Ditte Andersen (Sèphie). Christophe Rousset conducts Les Talens Lyriques in collaboration with the Drottningholm Theatre Orchestra and Chorus. Features dancers from the Drotttningholm Theatre Dancers. Set and costume design by Patrick Kinmonth; lighting design by Peter von Praet; choreography by Amir Hosseinpour. Directed for TV by Olivier Simonnet; produced for TV by Christina Hörnblad and François Bertrand. Sung in French. Released 2008, disc has 5.1 Dolby TrueHD sound. Grade: A
This is a good introduction to early, or baroque, opera. The good guys, Zoroastre (Persian hero) and his gal Amélite are pitted against the bad guys, Abramane and his paramour Erinice. The problem is that Erinice secretly loves Zoroastre and would bring down the universe to get him. A priest commands Zoroastre to save the universe and his girl. After almost 4 hours of pageantry-paced yen and yang, Zoroastre finally establishes order. This is a big investment in time for such a thin book.
But all the rest is good news. Zoroastre dates to 1756, and this production was recorded at the Drottningholm in Sweden, the most famous and best preserved 18-century theater in the world (450 seats). The stage is tiny and cozy. This show makes splendid use of the elaborate original stage equipment. The high-definition cameras crews crawl around and shoot from every possible direction. The singers are young, sexy, and having fun. Because they don't have to scream to the rafters, you can hear the words. (Turn on the French subtitles and take a language lesson.) The music, performed with period instruments, sounds to me limited in range and colors. But it's pretty impressive what they do with without valves or keys.
The design is a tasteful application of simplicity to 18th century forms. I understand the original opera had dance numbers throughout. But the choreography here is (I think) modern dance tipping its hat to baroque and folk antecedents. The overall effect is slick and stylish (rather than quaint or erudite). The direction reveals surprising psychological depth, as in, for example, the Act IV scene of the blood-thirsty orgy of the evil cult.
Watch this Zoroastre first and then follow up with the Mozart Die Zauberflöte. These works share the basic "Masonic" theme of enlightenment achieved by an initiation rite. Mozart composed his classical opera just 35 years after Rameau staged his baroque Zoroastre. You will probably be impressed by the differences in the libretto and music in the two works. But which of these two recordings seems the more "modern" today? You might be surprised by your conclusion.
Sorry, no decent YouTube clip for this title.