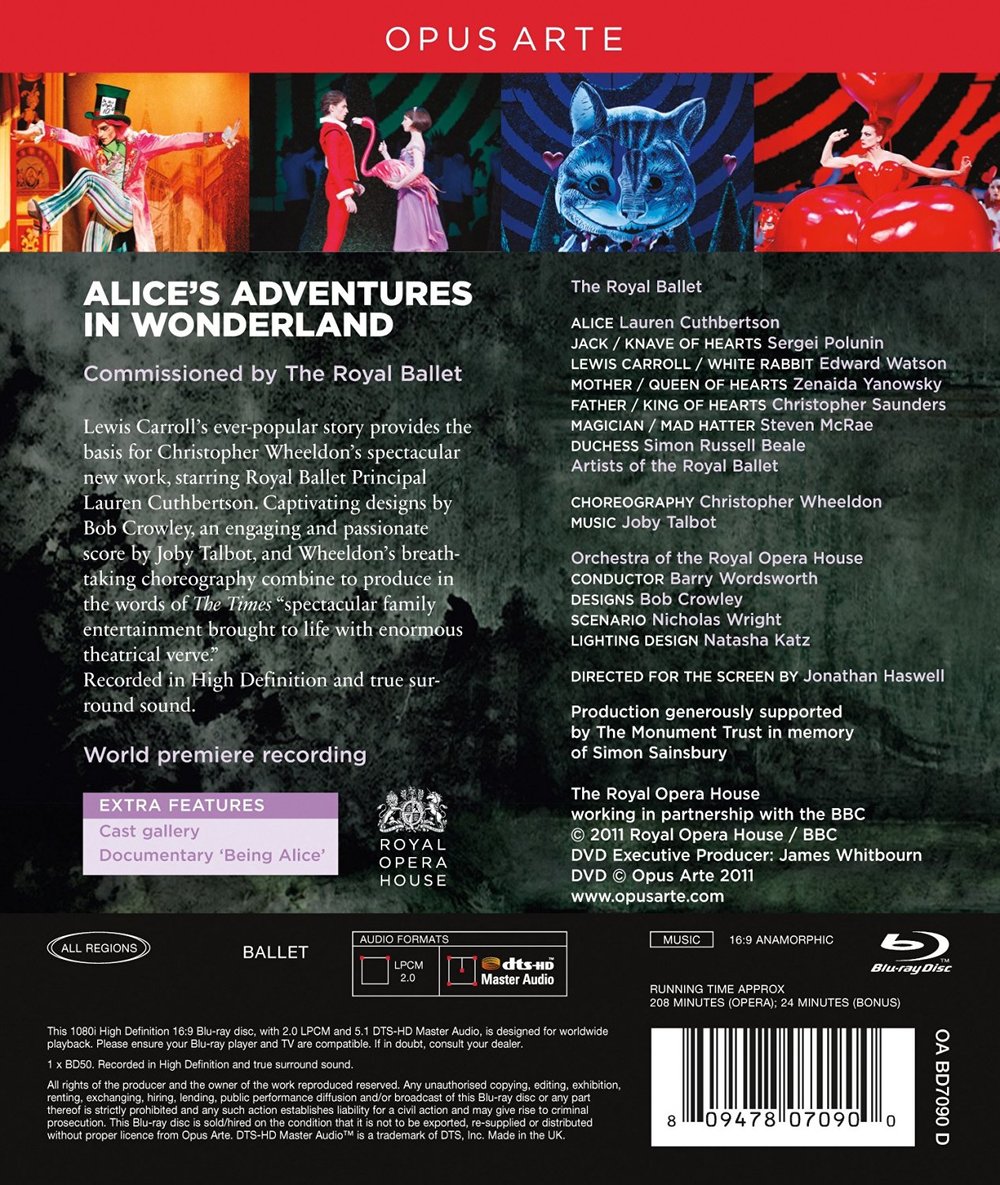 Alice's Adventures in Wonderland ballet. Original music by Joby Talbot orchestrated by Christopher Austin and Joby Talbot. Choreography by Christopher Wheeldon with assistant Jacquelin Barrett. Performed 2011 at the Royal Opera House. Stars Lauren Cuthbertson (Alice), Sergei Polunin (Jack/The Knave of Hearts), Edward Watson (Lewis Carroll/The White Rabbit), Zenaida Yanowsky (Mother/Queen of Hearts), Christopher Saunders (Father/King of Hearts), Steven McRae (Magician/Mad Hatter), Eric Underwood (Rajah/Caterpillar), Simon Russell Beale (yes, the famous actor in his first dancing role, as Duchess), Ricardo Cervera (Vicar/March Hare), James Wilkie (Verger/Dormouse), Kristen McNally (Cook), Ludovic Ondiviela (Footman/Fish), Kenta Kura (Footman/Frog), Leanne Cope and Samantha Raine (Alice's Sisters), Philip Mosley (Butler/Executioner), James Hay, Dawid Trzensimiech, Valentino Zucchetti (Three Gardeners), and other dancers of the Royal Opera Ballet. Barry Wordsworth conducts the Orchestra of the Royal Opera House (Concert Master Vasko Vassilev). Designs by Bob Crowley; scenario by Nicholas Wright, lighting design by Nathasha Katz; production design by John Driscoll and Gemma Carrington. Directed for TV by Jonathan Haswell. Released in 2011, disc has 5.1 dts-HD Master Audio sound. Grade: A+
Here are comments contributed by Wonk Gordon Smith in 2012 when Alice's Adventures in Wonderland was reviewed by The OperaDou Jury:
"The Jury graded every aspect of this title "A+," the best grade the Jury had ever given.This brand-new ballet is an absolute feast from every point of view: staging, lighting, dancing, music, and originality. The choreography by Christopher Wheeldon to original music by Joby Talbot, incredibly intricate and precise, is performed to perfection by the entire cast, particularly Lauren Cuthbertson as Alice and Sergei Polumin as Jack, the Knave of Hearts. Staging a major new ballet of this kind is of course a formidable challenge. This is extremely well explained and documented in the half-hour "Making Of" bonus included on this disc.
I would strongly recommend everyone to watch the bonus before viewing the actual production. It is one of the very best crafted and produced "look behind-the-scenes" documentaries you are ever likely to see. It gives a real insight into the creative process and everything that goes into the build-up before the first night. Having worked in the West End theatre for many years, I can vouch for the authenticity of the atmosphere created in this film. After seeing it, you feel you know all those involved and find yourself rooting for them to deliver the performance of their lives. Which they certainly do!"
This ballet is a completely contemporary retelling and expansion of the famous Lewis Carroll story. The main new story items are that Lewis himself becomes a character and Alice has a love story in which she prevails over her mom and gets her guy. The screenshots below only suggest how zany the non-stop action is.
Alice (Lauren Cuthbertson) is sweet on Jack, the gardener's son (Sergei Polunin). He gives her a rose before the garden party. Alice's socialite mom has to put a stop to this, and she contrives to get Jack fired by accusing him of eating a tart from a guest tray:
Alice is so sad at the party. She feels drowsy, and suddenly, away she goes:
At first, Alice is too small:
Alice falls in with a strange bunch of animals and they have a race:
The Duchess (Simon Russell Beale) and the cook (Kristen McNally) are too many bosses for one kitchen, and terrifying combat erupts:
Alice and the Cheshire Cat:
The White Rabbit (Edward Watson, who also plays Lewis Carroll) appears to try to help Alice find her way:
The Mad Hatter (Steven McRae) is also a Mad Tapper. Seems McRae was a champion tap dancer. Sorry, it's hard to show tap in a screen capture, but see the YouTube clip below:
The Rajah (Eric Underwood) brings his own party; they also line up to form the Caterpiller:
This flower garden is nicer than the one at Alice's home:
Alice finds her Jack, now the Knave of Hearts, for a eloquent pas de deux:
Finally, the garden party starts. Alice's mom (Zenaida Yanowsky), now the Queen of Hearts, tries to dominate the event with a long showcase number. But she makes too many mistakes, the most painful of which is an accidental split. (Part of this is a satire of the famous Rose Adage scene from The Sleeping Beauty):
The trial of the Jack of Knaves (for alleged theft of the tart) results in a verdict of "innocent.":
Alice and Jack are together again:
This has been a huge success for the Royal Ballet. Here are a couple of good clips: