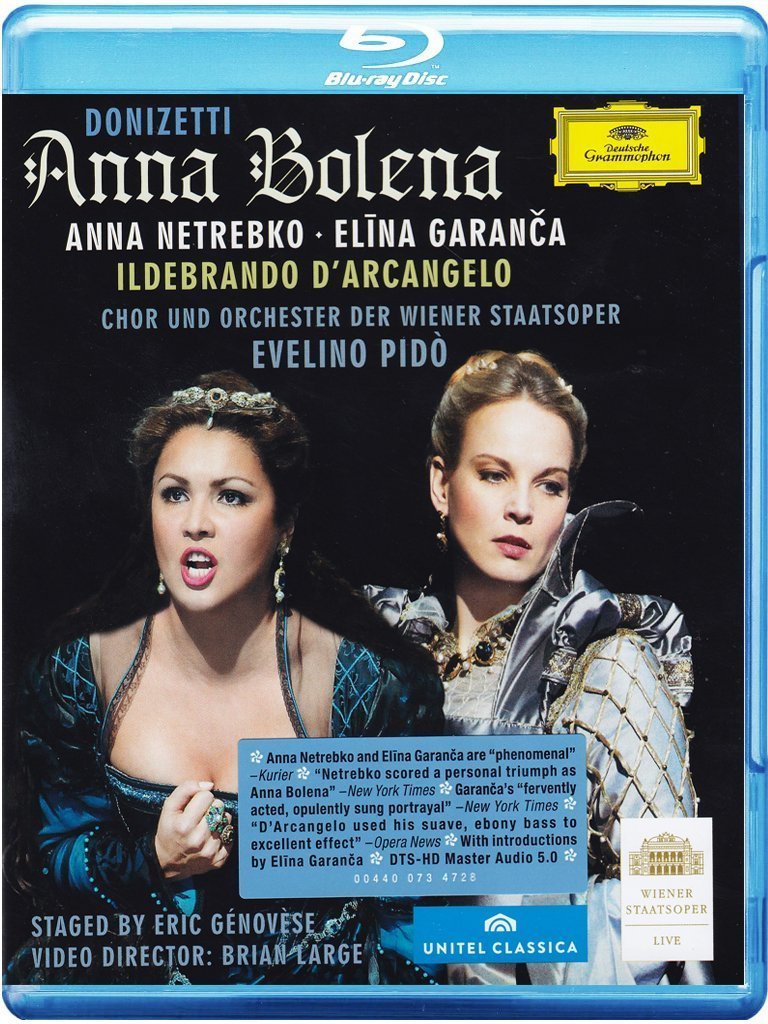 Donizetti Anna Bolena opera to a libretto by Felice Romani. Directed 2011 by Eric Génovèse at the Wiener Staatsoper. Stars Ildebrando D'Arcangelo (Enrico VIII or Henry VIII), Anna Netrebko (Anna Bolena or Ann Boleyn), Elīna Garanča (Giovanna Seymour or Jane Seymour), Dan Paul Dumitrescu (Lord Rochefort), Francesco Meli (Lord Riccardo or Richard Percy), Elisabeth Kulman (Smeton or Mark Smeaton), and Peter Jelosits (Sir Hervey). Evelino Pidò conducts the Chor, Orchester, und Bühnenorchester der Wiener Staatsoper (Chorus Masters Thomas Lang and Martin Schebesta). Set design by Jacques Gabel and Claire Sternberg; costume design by Luisa Spinatelli; lighting design by Bertrand Couderc. Directed for TV by Brian Large. Sung in Italian. Released 2011, disc has 5.0 dts-HD Master Audio sound. Grade: A+
Opera Now (August/September 2011 at page 85) praised the singers but panned the stark, dark stage production for this Anna Bolena as "pretty much . . . a concert version of the opera."
So the sets were boring in the theater. Was this a weakness, or could it be possible that the sets were designed to look good in the video that would be made of the show? In any event, Brian Large knew what to do for his home theater audience: he turned the simple set into a black velvet-lined presentation box. And in this box, with maximum vividness and clarity, he displays the rich jewels of the star singers and the chorus members, all in resplendent costumes. Thus Large produces a gorgeous event that wonk Gordon Smith declares to "be a milestone in opera production with superlative singing, acting, filming, orchestral recording, the lot . . . "
Gordon has more experience with opera video than I. But as for my part, the brilliance of the singers and the acting was so impressive, I didn't notice the set. Gordon and I agree on an "A+" grade for this show, and below are some screenshots (slightly out-of-order) to back up our grade.
Queen Anna Bolena (Anna Netrebko) believes Jane Seymour (Elīna Garanča) a true friend. (Anna's real name in English was Anne Boleyn, but we will stick to the Italian spelling for her since it's the name of the opera.) Bolena knows the King has turned against her. The page Smeaton (Elisabeth Kulman) is distraught because he can't cheer up the Queen. "She is upset and troubled.":
Henry VIII (Ildebrando D'Arcangelo) and Jane are lovers. "Heaven and earth must know that I love you.":
Henry has a plan to dissolve his marriage with Anna and marry Jane. She agrees, but asks, "may I hope that the means will not be cruel?":
Lord Percy (Francesto Meli), Anna's first lover, has been lured back from exile and encounters Henry and Anna in public. Lord Rochefort (Dan Paul Dumitrescu), Anna's brother, cautions Percy, "Restrain yourself, madman; your heart's confusion in written in your face.":
In chambers, Percy declares to Anna, "As the King abhors you, I still love you.":
"Don't you know that I am a wife? That I am Queen?":
Percy threatens to stab himself with a knife. The page, who has been in hiding, thinks Anna is in danger and defends her. Anna declares, "I'm ruined!":
Henry appears and finds the page with a locket that belonged to Anna. He shows this to Jane, "Here's proof of betrayal.":
Anna is compromised. Her women comfort her, " Virtue cannot perish.":
Jane confesses to Anna, "Oh, yes, the traitress lies prostrate at your feet.":
Anna's realizes that Jane has become her rival:
Anna forgives Jane, "Go, unhappy girl, and bear with you Bolena's pardon.":
Percy confronts Henry. Furious, Henry knocks Anna down. He threatens her and their daughter, Elizabeth, saying," Your name and blood will be hated, disgraced, and rejected." From this point on, Anna will comply to shield her daughter:
"One victim is already sacrificed":
For years, Elizabeth will live near the chopping block. But at age 25, she will be her father's last living descendant and become queen regent. She will then be perhaps the best educated women in England; in her coronation speech she will promise to rule by "good advice and counsel." She will go on to be one of the greatest of English monarchs, for whom an era of history is named.
Here are a couple of clips in SD — it looks so much better in Blu-ray!
And the whole of Act 1 (half the opera) with subtitles in English: