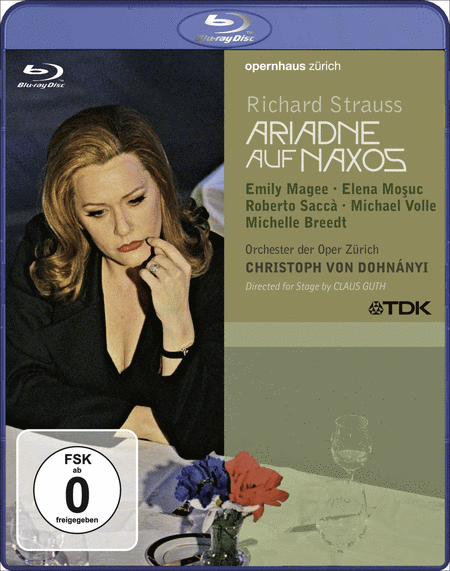 Richard Strauss Ariadne auf Naxos opera to libretto by Hugo von Hofmannsthal. Directed 2006 by Claus Guth at Opernhaus Zürich. Stars Emily Magee (Ariadne/Primadonna), Elena Moçuc (Zerbinetta), Roberto Saccà (Tenor/Bacchus), Alexander Pereira (Haushofmeister), Michael Volle (Musiklehrer), Michelle Breedt (Komponist), Randall Ball (Offizier), Guy de Mey (Tanzmeister), Andrew Ashwin (Perückenmacher), Ruben Drole (Lakai), Gabriel Bermúdez (Harlekin), Martin Zysset (Scaramuccio), Reinhard Mayr (Truffaldin), Blagoj Nacoski (Brighella), Eva Liebau (Najade), Irène Friedli (Dryade), and Sandra Trattnigg (Echo). Christoph von Dohnányi conducts the Orchestra der Oper Zürich. Set and costume designs by Christian Schmidt; dramaturgy by Ronny Dietrich; lighting by Jürgen Hoffmann; directed for TV by Thomas Grimm. Released 2009, this disc has 7.1 dts-HD Master Audio sound. Grade: B
This title was later re-released by Arthaus with different artwork.
When you're going to view an opera for the first time, we usually suggest you watch it cold. But if you are a Strauss newbie, that would be unwise for Ariadne auf Naxos, which is a complicated insiders' joke. Before you tackle Ariadne, do some research and get ready for a chaotic mashup of somber tragedy and frivolous comedy.
But if you're in a hurry, here are some tips. Ariadne, in mythology a symbol of the ideal of female fidelity, sacrificed everything for her lover, Theseus, who then abandoned her in a cave on the island of Naxos. Eventually her suffering is rewarded by the god Dionysus, who weds and exalts her.
In this production, the cave becomes a commodious restaurant, where Ariane sits day after sorrowful day waiting to learn her fate. Also in the restaurant appear various characters including nymphs (waitresses), clowns (tipsy lounge lizzards), and sex symbol Zerbinetta, who try to cheer her up, most notably by extolling the benefits of serial and multiple sex partners. Emily Magee gets to sing profound arias about stuff like alienation, the futility of life, and the kingdom of death. Elena Moçuc cuts loose with "Noch glaub' ich dem einen ganz mich gehörend," her supremely spectacular and difficult aria of "pure nymphomanical coloratura" (Henry W. Simon in 100 Great Operas). And after Roberto Saccà appears as Dionysus (here Bacchus) to resolve matters, there is sublime ensemble music on the same level as the Strauss' famous "Four Last Songs." And so, dear Strauss newbie, if any of this appeals to you, work a bit on Ariadne, and you will be rewarded.
If you are a seasoned Strauss fan, everything about this disc ought to please you. The singing is fine, the orchestra brilliant, the acting convincing, the updated staging tasteful, and video and sound recording excellent.
PS. Here's another insider's joke. Alexander Pereira plays the role of Haushofmeister, or general director of the manor where this opera is set. Pereira's real job at the time was general director of the Zurich Opera.
Update: In the February 2014 Gramophone at page 96, Hugo Shirley wrote a long piece about all the recordings in history of Ariadne auf Naxos. Out of 8 DVDs and Blu-rays of Ariadne auf Naxos, Shirley picks this Guth production with Emily Magee as the best video ever. But at this writing in March 2018, the best HDVD of Ariadne would probably be the show from Glyndebourne that came out in 2014.
Here's a nice YouTube in HD: