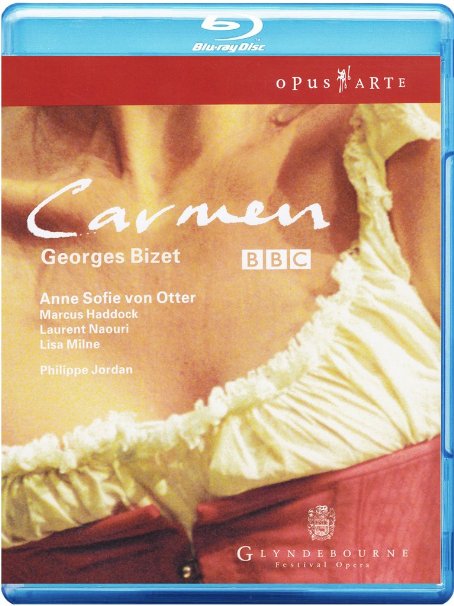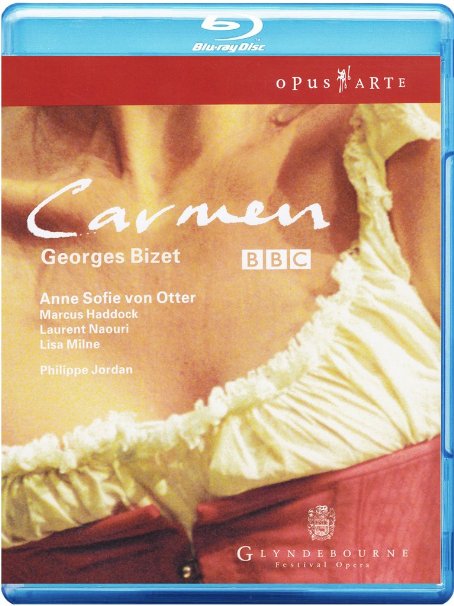 Georges Bizet Carmen opera to libretto by Henri Meilhac and Ludovic Halévy. Directed 2002 by David McVicar at Glyndebourne. Stars Anne Sophie von Otter (Carmen), Marcus Haddock (Don José), Hans Voschezang (Moralès), Lisa Milne (Micaëla), Jonathan Best (Zuniga), Mary Hegarty (Frasquita), Christine Rice (Mercédès), Anthony Wise (Lillas Pastia), Laurent Naouri (Escamillo), Quentin Hayes (Le Dancaïre), Colin Judson (Le Remendado), and Franck Lopez, (Le Guide). Philippe Jordan conducts the London Philharmonic Orchestra (Leader Pieter Schoeman), the Glyndebourne Chorus (Chorus Master Tecwyn Evans) and the Children's Chorus of Stoke Brunswick School, East Grinstead. Set design by Michael Vale; costumes by Sue Blane; lighting by Paule Constable; choreography by Andrew George; fight scenes by Nicholas Hall; directed for TV by Sue Judd; produced for TV by Peter Maniura. Released 2008, disc has 5.1 Dolby TrueHD sound. Grade: B
Anne Sofie von Otter was long a leading soprano; if you are a fan, try this disc. Von Otter probably also would be impressive in this role live. But we are now watching HDVD with all those close-ups; for this medium, von Otter is a bit too old, too skinny, and, well, too insufficiently endowed. Marcus Haddock could probably be convincing as Don José, but only if he loses 20+ pounds and goes to the gym for 3 months. At one point Haddock walks down the street on his way to the tavern. You get a long look at his flabby profile, and he doesn't much look like a soldier just sprung from the stockade. Otherwise, we liked McVicar's directing, especially his romalis (Gypsy dancing scene) at the beginning of Act II.
The Opus Arte disc of Carmen was released in the U.S. on Nov. 18, 2008. On the same day, Decca released a different Carmen starring Anna Caterina Antonacci and Jonas Kaufman. Both performances are worth watching. But if you can only buy one, the Antonacci version is distinctly the stronger.