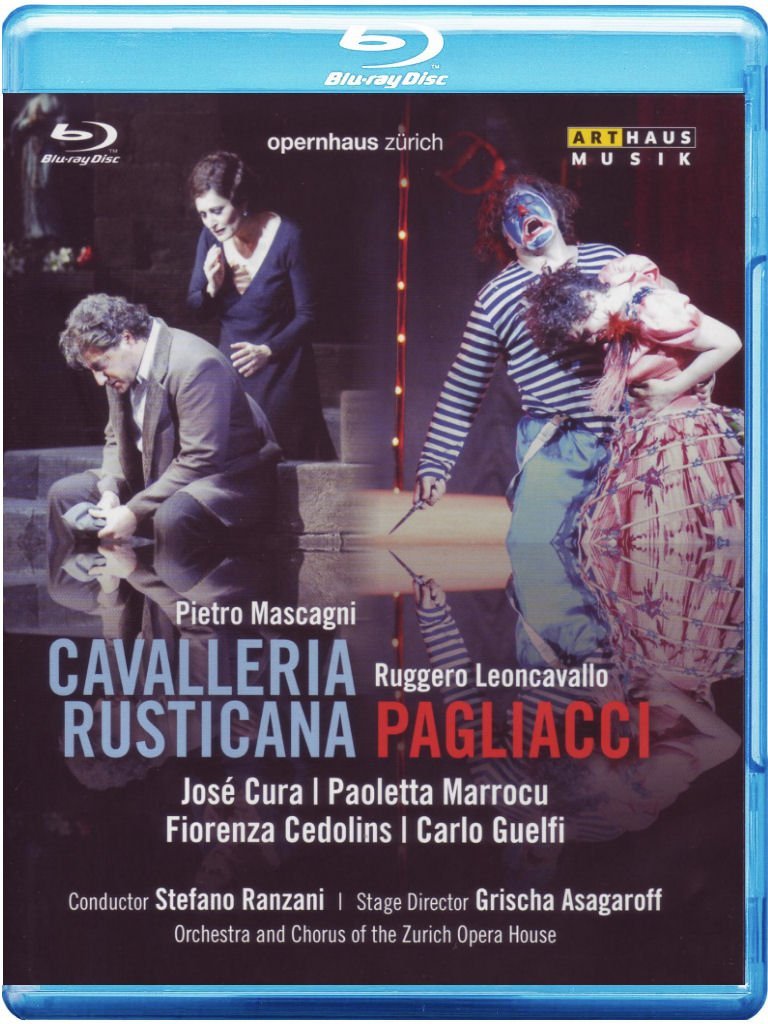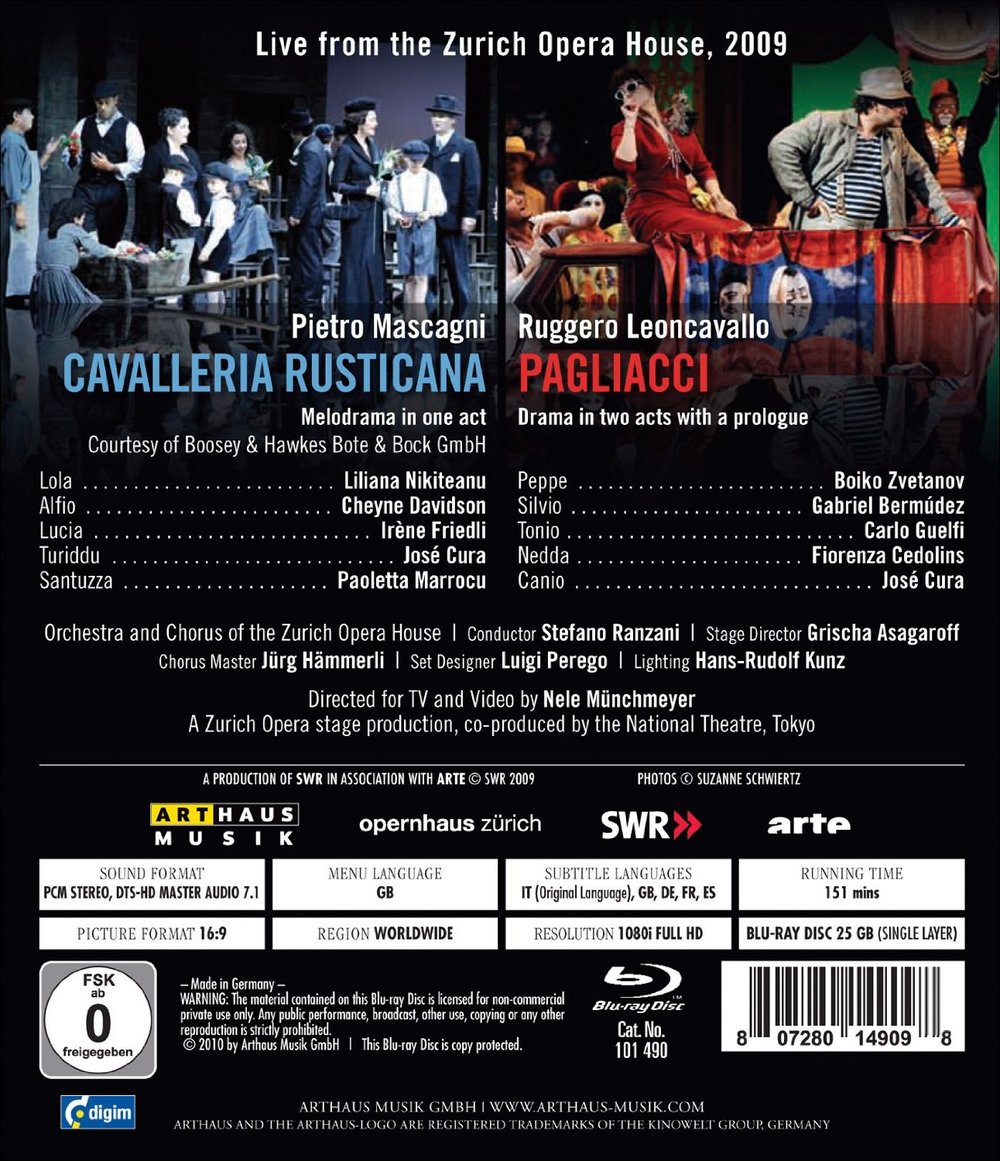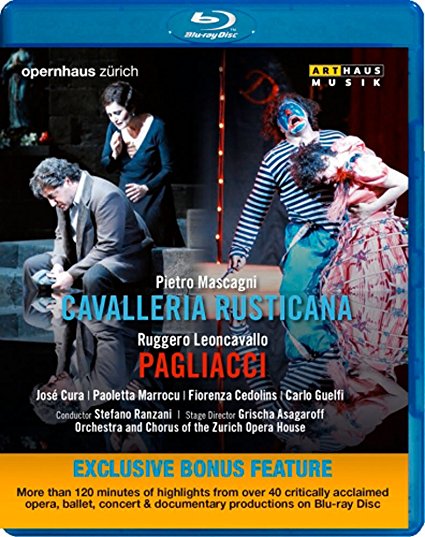 "Cav and Pag" opera double feature directed 2009 by Grischa Asagaroff at the Zurich Opera House.
1. First plays the Pietro Mascagni Cavalleria rusticana to libretto by Giovanni Targioni-Tozzeti and Guido Menasci. Stars José Cura (Turiddu), Paoletta Marrocu (Santuzza), Liliana Nikiteanu (Lola), Irène Friedli (Lucia), and Cheyne Davidson (Alfio).
2. Then follows the Ruggero Leoncavallo Pagliacci to libretto by the composer. Stars José Cura (Canio), Fiorenza Cedolins (Nedda), Carlo Guelfi (Tonio), Gabriel Bermúdez (Silvio), and Boiko Zvetanov (Peppe).
Stefano Ranzani conducts the Orchestra and Chorus (Chorus Master Jürg Hämmerli) of the Zurich Opera. Set design by Luigi Perego; lighting by Hans-Rudolf Kunz; directed for TV by Nele Münchmeyer. Released 2010, disc has 7.1 dts-HD Master Audio sound. For both operas Grade: B
The Zurich Opera Cav and Pag is a decent production, but it remains in the shadow of the Teatro Real Madrid Cav and Pag.
Director Grischa Asagaroff uses the same set and conventional (but updated) mise-en-scène for both operas. In Cav, Marrocu as Santussa has a terrific confrontation scene with her Turiddu; but otherwise Marrocu tends to overact and her voice is only barely strong enough for this tough role. Cura has great physical presence, but his voice in this production sounds thin and strained. The design will appeal to traditionalists, but the folks in the chorus look too sophisticated and prosperous to be settling scores with six-inch knives. On the other hand, the dts-HD Master Audio sound on this disc is exceptionally good.
Cura sings lead tenor in Pag also. He is a natural comic, and he is able to play a convincing drunk. The problem, alas, is that there is nothing funny or bumbling about Canio's lethal behavior. So we think Cura was misdirected in this production and that the misdirection is also evident in the confusing and unconvincing portrayal of the play within the play at the end of the opera.
We give both operas a B, and we recommend subject title to unyielding traditionalists and those whose seek the best sound available. Others will probably be happier with the Teatro Real version.
There are some old and grubby YouTube clips on this, but they are not worth bothering with.
This title is available at low prices. As you can see from the keepcase art above, there are two versions. So there are two Amazon buttons below. The 1st button is for the regular price. The 2nd button takes advantage of a bargain edition Arthaus published with samplers advertising many of their other HDVDs. Shop around.
Regular Price: