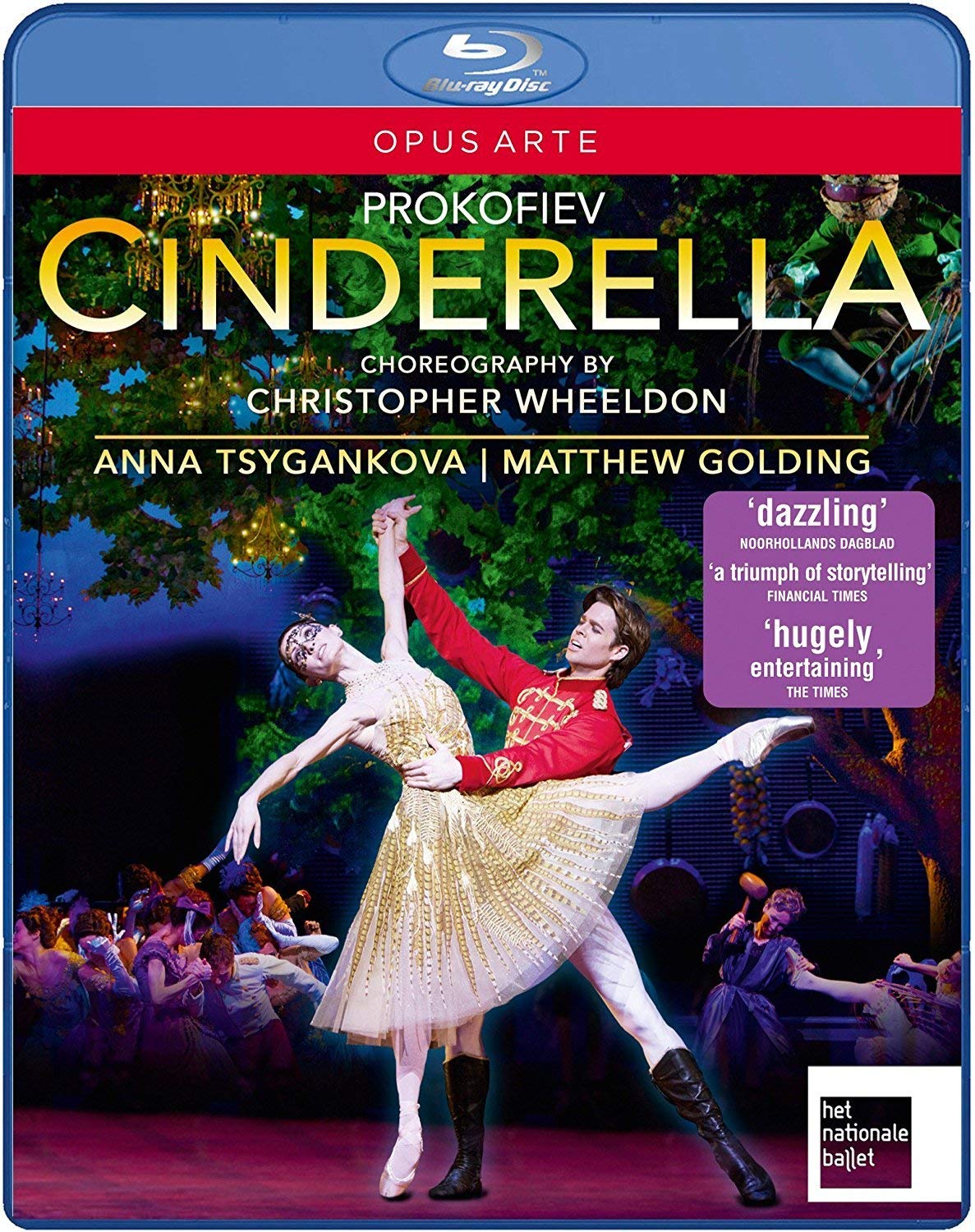 Cinderella ballet. Music by Sergei Prokofiev. Christopher Wheeldon (assisted by Jackie Barrett) choreographed in 2012 the world première of this production at Het Nationale Ballet (Dutch National Ballet). Stars Anna Tsygankova, Matthew Golding, Larissa Lezhnina, Megan Zimny Gray, Nadia Yanowsky, Remi Wörtmeyer, Alexander Zhembrovskyy, Erica Horwood, Boris de Leeuw, Simona Ferrazza, Dario Meali, and Jeanette Vondersaar. Spirits and fates portrayed by Suzanna Kaic, Young Gyu Choi, Serguel Endinian, Sasha Mukhamedov, Ernst Meisner, James Stout, Rink Sliphorst, and Jared Wright. Ermanno Florio conducts The Holland Symfonia. Libretto by Craig Lucas; sets and costumes by Julian Crouch; lighting by Natasha Katz; tree and carriage scene direction and design by Basil Twist; video projection design by Daniel Brodie; directed for screen by Jeff Tutor at Het Muziektheater, Amsterdam; produced by Adrienne Liron. Released 2013, disc has 5.1 dts-HD Master Audio sound. Grade: A
We recently finished a review of The Nutcracker and the Mouse King from the Dutch National Ballet starring the real-life wife and husband team of Anna Tsygankova and Matthew Golding. Here we have a completely new production of Cinderella from Dutch National Ballet, also with Anna and Matthew in the lead. And as was the case with the Nutcracker/Mouse King, this is a reworking of the familiar story aimed at appealing more to adults. It has realistic characters and adult situations, is packed full of acting touches that kids might not pick up, and is intensely choreographed straight through with a libretto that has no pauses for scene changes. Call it Cinderella heavy.
The disc has an extra feature that presents the entire ballet with voice-over explication from Christopher Wheeldon and assistant director Jackie Barrett. This might be the most successful bonus feature we have had in our fine-art HDVDs. It's easy to follow thanks to reduced sound and clear, slowly spoken comments from the directors. I suggest you first watch the show cold and then watch it again with the directors comments. The third time you watch, you will probably be astonished how much more you enjoy it. The directors are so conscientious---they really care that you get as much as possible out of the time and treasure you invest with them.
The show opens with some backstory presented behind a scrim: Cinderella's mother (Erica Horwood) starts coughing up blood and is soon called away by the fates, 4 mostly-benign characters dressed in dark blue who hover about throughout much of story. Cinderella's father (Alexander Zhembrovskyy) is no clown---he's presented as a busy professional man with only limited energy to deal with domestic matters:
Cinderella often visits her mother's grave. Her tears nourish a magical tree that flourishes behind the grave as Cinderella grows up:
In the cemetery, Cinderella meets her new step-mother, Hortensia (Larissa Lezhnina). Step-sister Edwina (Megan Zimny Gray) is seen here standing. She is pretty, but mean and nasty. Step-sister Clementine (Nadia Yanowsky) is a bit plain, but also sweet. She has sympathy for Cinderella which shows up in various ways in the story, but she's just as afraid of Hortensia as everyone else:
Meanwhile we meet the King (Boris de Leeuw) and Queen (Simona Ferrazza), Prince Guillaume, and Benjamin (Ramy Wörtmeyer). Benjamin is Guillaume's best friend and son of the royal butler and household manager. The King is giving an ultimatum: Guillaume must invite everyone to a ball where Guillaume will pick a bride:
While giving out invitations around the kingdom, Benjamin pretends to be the prince:
The Prince pretends to be a tramp. Cinderella comforts him with food and a warm place by the fire. The tramp tries to cheer Cinderella up with a comical dance full of compassion and tenderness. The pair catch fire and each dreams of a true love that could take each of them away from the traps they live in:
The step-sisters are on their way to the ball, and Hortensia tears up Cinderella's invitation. The fates transport Cinderella to the magic tree:
Where the spirits and the seasons teach Cindy how to dance and outfit her with a magic dress and carriage (there is no Fairy Godmother in this production). The carriage is a Basil Twist design:
Guillaume doesn't care for the Princesses of Russia, Spain, or Burma:
Edwina and Clementine present themselves to the Prince, but they make too many mistakes:
Edwina defeats Clementine:
But Benjamin comes to Clementine's rescue! For the first time in her life, Clementine sees that a man could maybe love her and take her also to a better place:
Meanwhile, Cinderella, wearing a mask, slips into the ball:
Hortensia gets drunk and passes out! And soon it will be midnight and the party will end:
Now it is the morning after. Edwina didn't find a true love at the ball, but she did find a soldier to sneak into her bedroom until the next morning. Cinderella sees the soldier leave, and Edwina gives Cinderella a warning:
Clementine wants to talk about her new love. But the only person she can trust is Cinderella. Clementine draws a heart in the air:
Hortensia knows that Cinderella is the stranger who crashed the party. Desperate to suppress her, Hortensia attacks Cinderella at breakfast. Cinderella's father finally wakes up to his wife's cruelty and defends his daughter:
Nobody can get into the shoe, and Hortensia throws it into the fire:
But Cinderella has the other shoe, and our story is going to soon call for a wedding:
Remember this pose? We saw it before in the brief romance of the tramp and the fire-place girl:
I'm sorry this review is so long. I want to convince you this title is more than just another fairy story for little kids. The Cinderella to get for the kids is still the Birmingham Royal Ballet version.