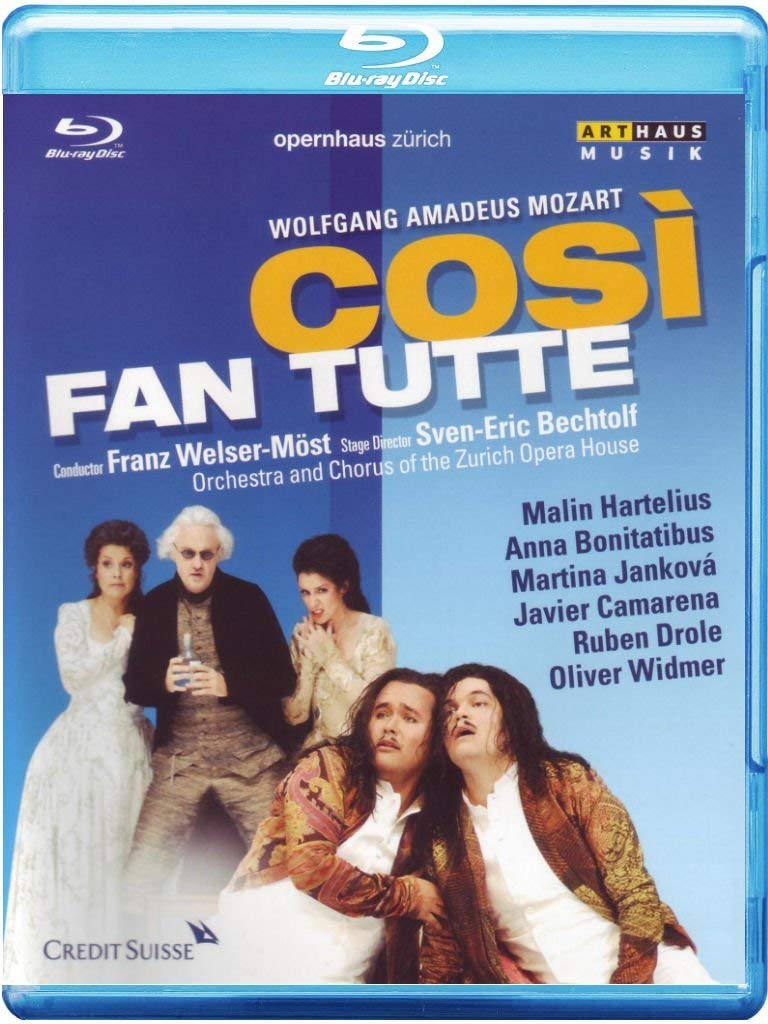 Mozart Così fan tutte opera to libretto by Lorenzo Da Ponte. Directed 2009 by Sven-Eric Bechtolf at the Zurich Opera House. Stars Malin Hartelius (Fiordiligi), Anna Bonitatibus (Dorabella), Martina Janková (Despina), Javier Camarena (Ferrando), Ruben Drole (Guglielmo), and Oliver Widmer (Don Alfonso). Franz Welser-Möst conducts the Zurich Opera House Orchestra and Chorus (Chorus Master: Ernst Raffelsberger). Set designs by Rolf Glittenberg; costume designs by Marianne Glittenberg; lighting by Jürgen Hoffman; TV direction by Felix Breisach. Released 2010, disc has dts-HD Master Audio 7.1 sound. Grade: B
The stars here were picked for singing ability. Age, physical appearance, and acting ability were secondary considerations. The singing and orchestra music is very fine as is the sound recording. At times the blending and recording of the voices in ensemble reaches a level that rivals live performance. Felix Breisach gives us a sharp picture with vivid color plus a nice balance of full-stage, mid-range, near, and extremely close views. The only technical issue I see are the English sub-titles, which are clumsy and plagued with errors.
The design is updated traditional. Bechtolf's directing veers off into silliness and even slapstick. If you saw the video without sound, you might think you were watching an operetta. The singers gamely live up to their contracts with enthusiasm.
Now for some snapshots. I already gave synopsis information in reviews of 2 other version of Così fan tutte. I'll focus in this review on various aspects of this production. Here we see all five of the main characters as Don Alfonso tells the girls that their boyfriends are being send to the war. They are, from left to right, Ferrando (Javier Camarena), Fiordiligi (Malin Hartelius), Don Alfonzo (Oliver Widmer), Dorabella (Anna Bonitatibus), and Guglielmo (Ruben Drole):
Here are some fun shots of horseplay with Despina (Martina Janková) as Don Alfonzo hires her to help him with his scheme:
Our heros return in disguise:
"Como scoglio" means "Like a rock." The English translator, Hugh Leith, knows this. But his translation doesn't match up with the director's decision to show the libretto in Italian!
Guglielmo gets his body parts confused:
This is from Ferrando's aria "Un'aura amorosa." Javier Camarena is magnificent and leaves you with no doubt that the mysterious power of a song can destroy all good intentions:
Despina is working overtime to earn another gold piece. Rejected, the men pretend to take poison. The girls revive them and are rewarded with some pelvic locomotion that Elvis Pressley would have admired:
The seduction of Dorabella:
Breaking the news to Ferrando:
Don Alfonzo makes a woman for Ferrando to punish:
Look at it philosophically:
The wedding ceremony begins:
What's Fiordiligi drinking?
She drank Despina's poison by mistake. But wasn't the poison fake? Consult your libretto:
In summary: if beautiful singing trumps all else for you and/or you like broad comedy, you probably will like this disc.