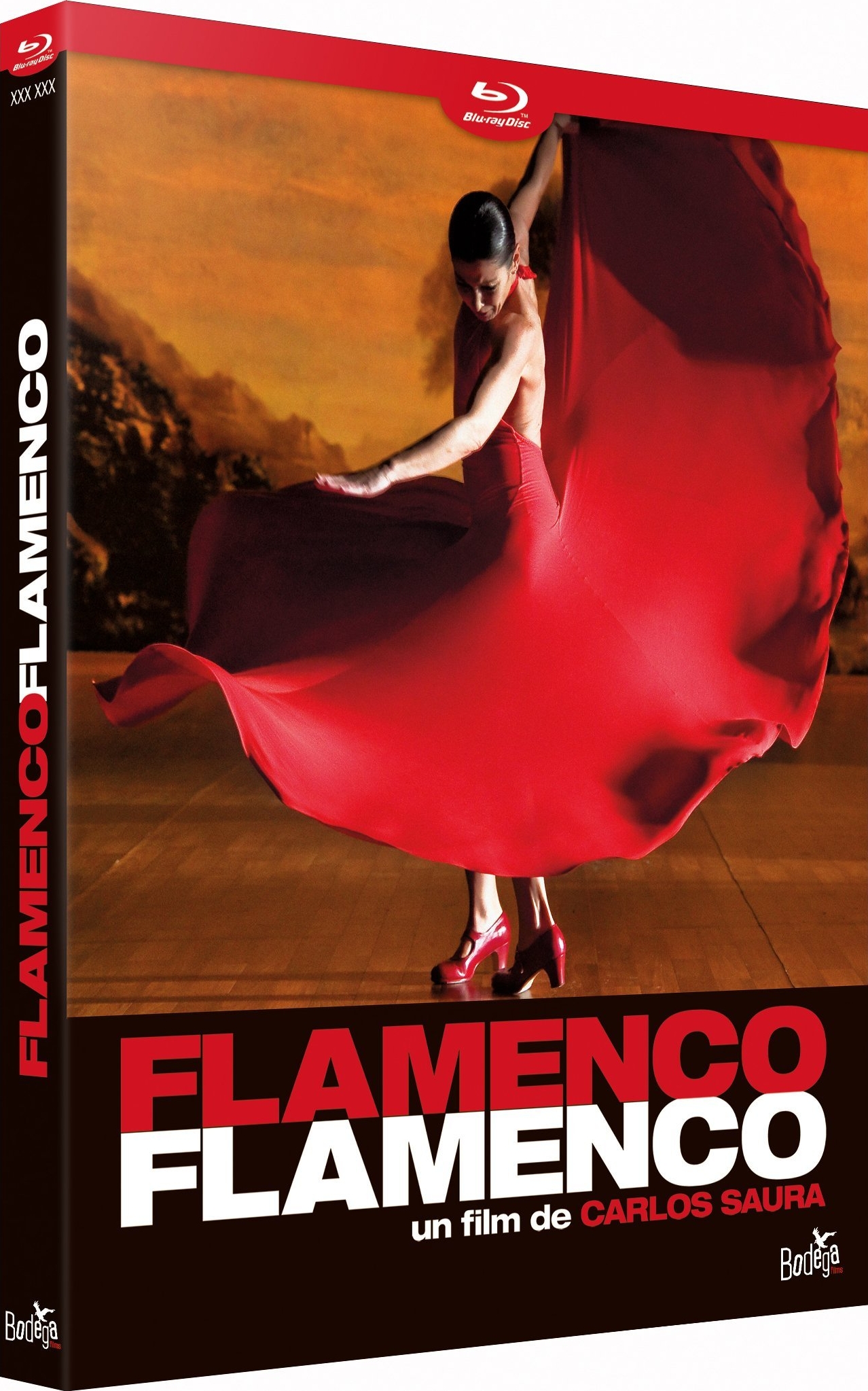 Flamenco Flamenco dance film by Carlos Saura. This is a full-length motion picture showing 21 performances of flamenco today. This title has been released in Europe under two different labels: Cameo Media (Spain) and Bodega (France). Both versions of this title are Region B only and have 5.1 dts-HD Master Audio sound. Grade: B+
I found this in May 2012 at the gift shop of the Paris Opera Garnier. I had never seen anything about it in our Internet resources. I asked the Phantom of the Opera if I should buy it. He said he'd be really disappointed if I didn't. Well, a friend in France was able to show me movie, and it was better than I expected.
Saura was able to get a bunch of great acts to come to his studio where they could be filmed under uniform, controlled conditions. The stage was decorated with a lot of classy artwork which is used ingeniously to tie the various acts together. The video was made on film stock an 24 frames per second; it has that rich, painterly look you can't get with digital video. I also think it benefits also from progressive handling of the video (contrasted to the usual 1080i specification). The sound is great. Here is a screenshot, taken from the behind-the-scenes extra, showing the stage and the various art recreations:
The acts vary from fairly traditional to a bit racy. True hard-core, old-school flamenco lovers might bemoan some of this, but even they would probably agree that there is nothing tacky or sentimental afoot.
On returning to the U.S., Flamenco Flamenco would not play on my Region A Oppo. But in honor of Flamenco Flamenco and to appease the Phantom, I bought a new machine that plays Region B. (The player can handle Region C also, but I've yet to hear of a disc that works only in a Region C device.)
I bought the French version from Bodega. Of course, the singing and the spoken language in the extras is in Spanish. The subtitles are in French only.
The film uses a lot of shadow and the color palate runs to orange shades and teal; I understand this is popular now as a technique for giving "pop" to movie images. The director was looking for drama, atmosphere, and warmth---not razor-sharp resolution. The film looks great on my HT display with more "life" than our screenshots convey.
Here is a screenshot for each of the 21 acts on the film:
Rumba - María Ángeles Fernández, Carlos de Pepa y Josemi
Soleá por bulerías - Montse Cortés and Diego del Morao
Cartagenera y bulerías - Diego Amador and David Dorantes
Copla por bulería - Miguel Poveda
Soleá - Eva la Yerbabuena
Marcha procesional - Music by Pepe de la Vega; Choreography by Javier Latorre
Martinete y toná - José Mercé
Guajira - Arcángel; Choreography by Rafael Estévez and Nani Paños
Alegría - Manolo Sanlúcar
Tangos - Estrella Morente
El tiempo - Music by Juan Carlos Romero; Choreography by Javier Latorre
La leyenda del tiempo - Niña Pastori, Tomatito, and Josemi
Canción de cuna - Miguel Poveda and Eva la Yerbabuena
Bulería por soleá - Paco de Lucía
Bulería de Jerez - Moraíto Chico, Luis el Zambo, Jesús Méndez and Peña Tío José de Paula
As best we can tell, this film has been released several times for different regional markets. We list below links three versions via Amazon.
From the United States: