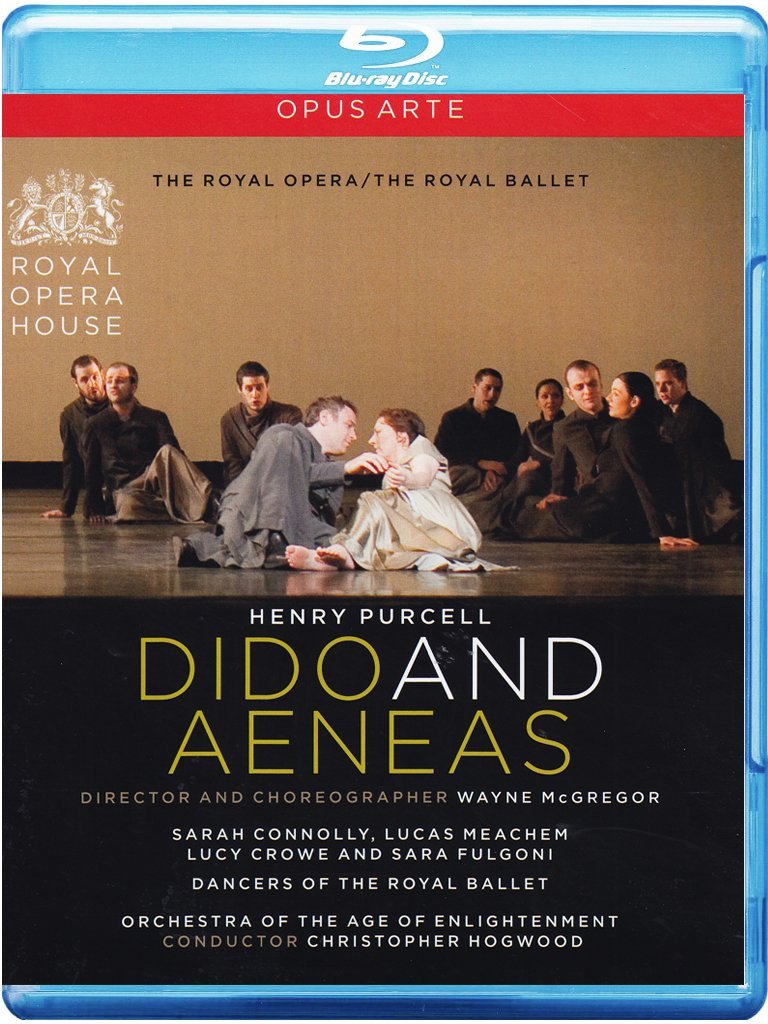 Henry Purcell Dido and Aeneas opera to libretto by Nahum Tate. Directed and choreographed 2009 by Wayne McGregor (assisted by Laï Diallo) at the Royal Opera House. Singing stars are Sarah Connolly (Dido), Lucas Meachem (Aeneas), Lucy Crowe (Belinda), Sara Fulgoni (Sorceress), Anita Watson (Second Woman), Eri Nakamura (First Witch), Pumeza Matshikiza (Second Witch), Iestyn Davies (Spirit), and Ji-Min Park (Sailor). Dancing stars of the Royal Ballet are Olivia Cowley, Melissa Hamilton, Cindy Jourdain, Iohna Loots, Kristen McNally, Samantha Raine, Paul Kay, Brian Maloney, Steven McRae, Xander Parish, Liam Scarlett, and Johannes Stepanek. Christopher Hogwood conducts the Orchestra of the Age of Enlightenment (Leader Kati Debretzeni) and the Royal Opera Extra Chorus (Chorus Master: Stephen Westrop). Continuo: harpsichord, Julian Perkins; theorbo, Jan Čižmář; cello, Andrew Skidmore; chamber organ, Steven Moore. Set design by Hildegard Bechtler; costumes by Fotini Dimou; lighting by Lucy Carter; projection design by Mark Hatchard. Directed for TV by Jonathan Haswell. Released 2009, disc has has 5.1 PCM sound. Grade: C
This baroque-period title will be of interest mostly to card-carrying early opera fans. If you are new to baroque opera, better first choices would be the Rameau Zoroastre or the Handel Giulio Cesare.
Sorry, we have found no decent YouTube clip for this.