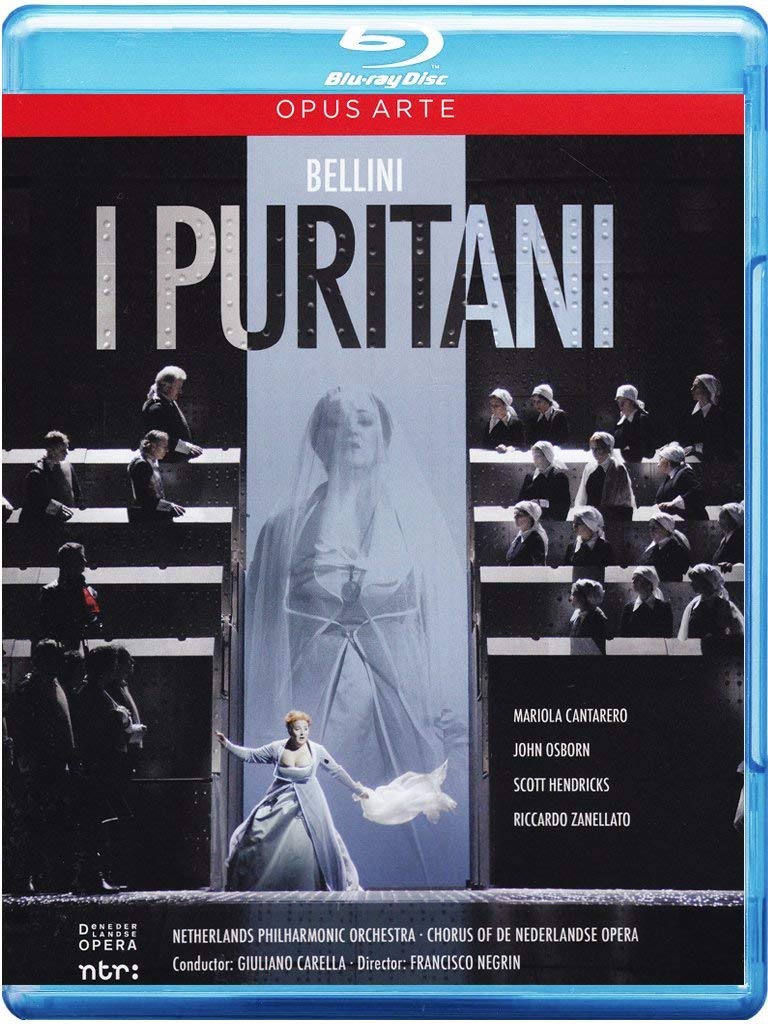 Bellini I Puritani opera to libretto by Carlo Pepoli. Directed 2009 by Francisco Negrin at the Netherlands Opera. Stars Mariola Cantarero (Elvira), John Osborn(Arturo), Scott Hendricks (Ricarrdo), Riccardo Zanellato (Giorgio), Fredrika Brillembourg (Enrichetta di Francia/Henrietta of France), Daniel Borowski (Lord Walton), and Gregorio Gonzalez (Bruno). Giuliano Carella conducts the Netherlands Philharmonic Orchestra and the Chorus of the Netherlands Opera (Chorus Director Martin Wright). Set design by Es Devlin; costume design by Louis Désiré; lighting design by Brunto Poet; directed for screen by Misjel Vermeiren. Released 2012, disc has 4.1 dts-HD Master Audio sound. Grade: B+
In a traditional production of I Puritani, Bellini doesn't seem interested at all in the complicated political, religious, and social aspects of the English Revolution. Elvira is a model bel canto heroine: simple, virtuous, faithful, and self-sacrificing for her man. Everybody on both sides (Catholic / Royalist vs. Protestant / Republican) is eventually purified. But could it be that Count Popoli laced deeper veins of gold through the libretto than even Bellini realized? In this production, director Francisco Negrin shows that he did.
Negrin's Elvira isn't just a bel canto maid; she's more like the young Queen Elizabeth---an intellectual woman of independent mien teaching herself how to survive in a world of dangerous men. Thus we see Elvira reading and writing constantly in her own journal. Even though Negrin's Elvira is not beautiful, she charms men who recognise her as their equal. And she has the courage to love a man who is a scion of the enemy.
With this strong Elvira to lead the way, Negrin invents many new actions in the plot which are surprising but at least arguably consistent with the music and Popoli's text (which is, I think, carefully followed as allowed by the latest I Puritani scholarship and especially well translated into English). Negrin's most impressive invention is his handling of the mad scene, which is transformed from a pathetic display of deranged femininity into a startling jury trial followed by a brilliant appeal to the judges for clemency.
Along with Negrin's fresh insights, we get a challenging set from Es Devlin. We know Es well from her remarkable work in Salome and Les Troyens at the Royal Opera House. At first I was shocked by what I thought to be the brutality of her I Puritani sets with an iron boilerplate motif. But eventually I realized that what we see are giant characters rendered in braille, which protagonists in the opera frequently try to read with their hands. The braille is, I think, Es's symbol of pity and compassion for all those blind persons who spend centuries trying to destroy each other because some were Catholic and others were Protestants.
Our first screenshot shows Elvira (Mariola Cantarero) diligently working on her journal:
Elvira's family are Puritan supporters of Oliver Cromwell and enemies of the Catholic Royalist forces. But Elvira believes that no man or religion has a superior claim on God. She prefers worship in the open air to worship in the fortress church:
The soldiers in the garrison are led here by junior officer Bruno (Gregorio Gonzalez) in their morning devotionals:
Elvira is in love with a Catholic Knight, Arturo, a hero of the Royalist forces. Elvira's father has agreed that Elvira can marry Arturo, but Elvira doesn't know that yet. Here Arturo arrives to sign the wedding contract with Elvira's father and to immediately marry Elvira:
Riccardo (Scott Hendricks) is captain of the garrison forces. He is in love with Elvira and has just learned that he has lost her to Arturo:
Riccardo is a hothead and a natural warrior. Negrin spices up his production with a lot of action-movie violence would not normally be expected, I think, in a Bellini opera. Below Riccardo points his gun at his Lieutenant and friend Bruno. Negrin obviously knows nothing about the military. Every combat officer is constantly concerned with weapon safety, and a firearm may never pointed, even by accident, at another person unless that person is an enemy threat. Deliberately pointing a firearm at a fellow soldier is a military crime that always requires summary punishment:
In this scene, Arturo is on the upper deck entering the fortress while Elvira learns from her Uncle that she will be allowed to marry Arturo. I included this as an example of the great flexibility of the big, wide stage at the Netherlands Opera House:
Stadium seating lets you hear the chorus well, but it's a pretty radical design for a bel canto opera:
Another of many odd directorial touches---men help dress the bride. if you have an explanation for this, please let me know:
The Puritans have a mysterious prisoner whom they suspect is a Royalist messenger. They don't know she is the widow of the recently-executed King. This is a tough plot tidbit to swallow and it's even more ridiculous to think a prisoner would be allowed to mix in with a wedding celebration. Get over it. Here Enrichetta of France is sung by Fredrika Brillembourg:
Elvira feels sorry for the prisoner and lets her try on a veil along with the other bridesmaids. The Queen is on the far left:
Elvira runs off to get her hair done. When Arturo learns the prisoner is the Queen, he sets out to save her by leaving the fortress pretending she is his bride (covered with a veil). But Riccardo discovers this, and the opera starts to take on aspects of a made-for-TV thriller. Below the Queen gets the drop on Riccardo with his own pistol and Arturo has a knife at his throat---but they still can't control the situation until Riccardo learns that the prisoner--- not Elvira--- is under the veil. Then Riccardo cleverly lets them go:
Soon Elvira arrives and finds herself jilted:
The first part of the mad scene is presented as a trial of Arturo in absentia. Elvira is brought into the courtroom partly as a witness and partly as evidence against Arturo:
The trial starts with Uncle Georgio telling of Elivra's condition. It's astonishing to see how well the libretto fits in to this scenario, and below are 4 shots to give you some idea about this. First, testimony about what Elvira has been saying:
Georgio's testimony about Elvira's strange actions:
The verdict: Arturo is guilty of falsely promising marriage to Elvira in a plot to run off with the Royalist woman:
But suddenly Elvira rises to her feet and begins her appeal for Arturo's life. Once again, a few screenshots only hint at how well this all comes off:
She calls Riccardo as a surprise witness. Since he is a hostile witness, she may ask a leading question (that require a "yes" or "no" for the answer):
Her question: "Listen and tell me. Have you ever been in love?"
The answer is "Yes." And this leads to the devastating observation:
That whoever faithfully loves . . . :
After the summation, there is a rebuttal: "Oh, Elvira, in time you'll get over it." Her counter to the rebuttal: "Never." In the end, Elvira is taken away by her shrinks. But she wins her case! Georgio, the Head of the Court, passes down this judgment to Riccardo:
The normal conclusion of I Puritani is a happy end for everyone, including Riccardo who later will have his pick of many lovely ladies. Negrin has a distinctly more problematical ending, but you will have to find out about that yourself. I wiil show you a set that Es Devlin throws in for variety near the end: the theme of writing that is so important to Elvira is continued. Here Elvira learns that the prisoner was the Quenn. Arturo had never seen her before the wedding day and was never in love with her. But he still felt obligated to save her from certain death:
The Netherlands Opera is one of the larger houses with a reputation for trying new stuff. With this I Puritani, they manage to preserve bel canto glory while updating (without Eurotrash) to appeal to the younger crowd. Young women might be especially interested in Negrin's independent Elvira. The big Netherlands Philharmonic Orchestra plays wonderfully well for Giuliano Carella, an inspiring guy who views bel canto is a "state of mind" or maybe even a way of life. PQ, video content, and SQ are fine. Drawbacks would be a shortage of famous singers who can hit the money notes and over-acting in the thriller scenes. The Met I Puritani with Netrebko remains the best choice for most people. But this Negrin report would be fine also for a second opinion and for anyone who deems the Met too stogy.
Here's a clip which has not been very popular on YouTube: