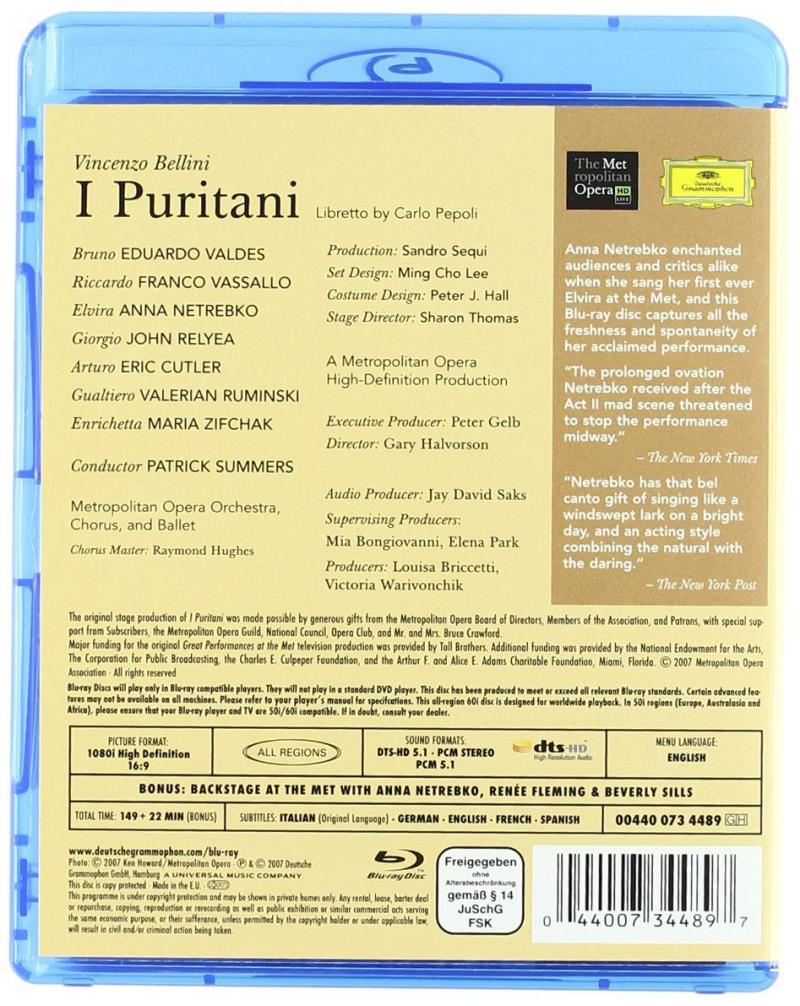 Bellini I Puritani opera to libretto by Carlo Pepoli. Directed 2007 by Sharon Thomas at the New York Metropolitan Opera. Stars Anna Netrebko (Elvira), Eric Cutler (Arturo), Franco Vassallo (Riccardo), John Relyea (Giorgio), Valerian Ruminski (Gualtiero), Eduardo Valdes (Bruno), and Maria Zifchak (Enrichetta). Patrick Summers conducts the Metropolitan Opera Orchestra and Chorus (Chorus Master Raymond Hughes). Set design by Ming Cho Lee; costumes by Peter J. Hall; directed for TV by Gary Halvorson. Released 2008, disc has 5.1 PCM and 5.1 dts-HD sound. Grade: A+
It's about 1650 in England. The Puritans, followers of Oliver Cromwell, are pursuing the English Revolution with Parliament pitted against the royal Stuart family. Elvira (Anna Netrebko) is the daughter of Lord Walton, a Puritan General. As the opera opens, she is getting married, and the chorus is singing her praises. (You might notice how similar this is to the opening of La Sonnambula, another famous Bellini opera):
Elvira's hand had been promised to Riccardo (Franco Vassallo), a Puritan colonel. But Elvira was in love with Arturo, a cavalier and supporter of the royal family. Here we see Elvira:
She learns that her uncle Giorgio (John Relyea) interceded for her and got permission from her father that she may marry Arturo:
This is crushing news for Riccardo, just home from the wars dreaming of marrying Elvira as promised:
The Puritans and Royalists are playing for keeps, and King Charles I has just had his head cut off. Still, Arturo is allow to cross enemy lines for the wedding at the Puritan fortress. Well, it seems security at the fortress is a bit lax---Enrichetta, a mysterious imprisoned woman connected to the Royalists, is wandering around the grounds making friends with everyone including Elvira. The Puritans don't realize she is the widow of King Charles I:
Arturo arrives to marry Elvira:
But while Elvira is dressing for the wedding, Arturo figures out the prisoner is the Stuart Queen. What a conflict of interest for poor Arturo! Should he marry his girl or save the State! Arturo's duty is clear: he must help the Queen escape, even at cost of losing Elvira. As Arturo and the Queen are sneaking out of the fort, Riccardo suddenly appears. Now he's got the conflict: does Riccardo save the Revolution or make another try at the girl? Arturo allows the the Queen and Arturo to slip away---with Arturo gone, maybe he will have another chance to marry Elvira:
Soon Elvira arrives for the wedding and finds the place in chaos--it seems her groom has used her wedding as a pretext to break the Queen out of jail and maybe destroy the Revolution and her family! As Act I closes, we see that Elvira has started to go mad, and she will stay that way for most of the rest of the opera:
Act II begins with Elvira's famous mad scene. The mad scene in this Met production has become famous for Netrebko's stunt of singing upside-down hanging off the stage into the orchestra pit. The mad scene begins with Elvira descending a long flight of stairs in her veil:
She doesn't recognize anyone and rambles on saying all kinds of surprising and ironic things in her confusion:
Here Elvira hops up on a bench to sing:
Which is followed by the upside-down segment:
The end of the mad scene:
Prodded by Elvira's uncle, Riccardo acknowledges his complicity in the Queen's escape and his guilt in contributing to Elvira's predicament. He agrees to try to save his rival in order to protect Elvira from further distress:
After that Giorgio and Riccardo join in a famous patriotic war duet "Suoni la tromba'' (Sound the Trumpet):
Arturo, although marked for death as a traitor, comes back to prove his love for Elvira. They meet and Elvira regains her sanity:
Despite Riccardo's efforts, Arturo is arrested and is headed for the chopping block:
Arturo bravely faces his execution:
Well, this is bel canto, not Shakespeare. So there is a happy ending for all except possibly Riccardo. (He does recover his honor, and I'm pretty sure he will find another lady.) Buy the disc for further details.
Logically, this plot has more holes than the last socks I threw out. Artistically, the plot is polished driftwood in the hands of the expert Met storytellers. With the help of excellent subtitles, even a newcomer to this work should be able to easily understand what is happening.
I Puritani is an opera in the bel canto ("beautiful song'') style. One would think that all operas would by definition be about beautiful song. But operas have many elements (in addition to the singing) including the orchestral score, a plot, dramatic acting, scenery, costumes, lighting, dancing, and sometimes even a political agenda.
I Puritani has all these elements to some decree, and all are nicely done. But everything is subservient to one goal: to cram in as many beautiful songs as possible. Somebody is singing all the time. There is no spoken word or harpsichord filler to give the singers a break. Bellini writes for his singers at the limit of what what the human voice can do--while always projecting an aura of utmost decorum, propriety, and elevation of taste.
I don't think Bellini and Pepoli were much interested in the complicated history of the time of the English Revolution. Sure, the civil war provides a framework for the drama of characters caught between love and duty. But I think the composer used the name I Puritani as a metaphor for the dream world he creates: a world elevated by beautiful song to a nirvana of purity, goodness, and beauty. This is a world with no poverty, wealth, ugliness, hate, violence, death, greed, sex, or even humor or need for humor. Yes, there's a revolution and war going on, but not in our fortress. Here everybody, including the enemy, is noble, righteous, and brave.
The only weakness shown by anyone is Riccardo's betrayal of his duty out of longing for the girl he cannot have. In this Elysian world of pure goodness, such a small fault has catastrophic consequences for fragile Elvira. But Riccardo will in time nobly redeem himself. In I Puritani everybody and everything is pure or will be purified--from this world no one goes to Hell and there is no need for Heaven. It's a blithe way to spend three hours.
Elvira is the only significant female role in this opera, and she is on the stage much of the time. Her role is so demanding that the opera is rarely produced for lack of ladies who can sing it. It takes four men to counter-balance Elvira's presence: her father, her uncle, and her two suitors. But these roles have a lot of substance and together provide a satisfying counterweight to the single refulgent presence of Elvira.
This production was a triumph for Anna Netrebko. In addition to being able to sing the part, she actually looks (at age 35) like a young bride. And surely it's not fair, but still must be said, that she is also movie-star beautiful. Finally, she is an athlete. I had a hunch. Yes indeed, her official web-site states that one of her early successes was in gymnastics! This you can see in her stage movements. I count at least 5 actions by her on the stage that, I suspect, would likely not have been attempted by many (or any) of the past Elviras and will not be attempted by those of the future.
According to critic Anthony Tommasini in The New York Times, both Relyea (Giorgio) and Cutler (Arturo) were sick when the Met premiered late in December, 2006. But I think all the men were in good form for the HDTV shoot. And there's plenty of great singing opportunities for them. Relyea was appropriately virile and avuncular. Cutler seemed romantic, although as a man, I'm a poor judge of this.
Vassallo as Riccardo was criticized by Tommasini as dull, but I see it differently. Riccardo is the most difficult male role in this opera because he has to earn redemption. Vassallo handles this well, and he also gets to show his mettle in the famous patriot duet with Giorgio. (H'm ...a purification ritual! If you get dumped by your girl, you can always join the Army.)
According to several reviews I saw, the sets, costumes (except for Netrebko), and lighting used by the Met were taken out of moth balls. Some viewed this as dated. The video made in 2008 is a tad soft compared to what we would see later. But I would suggest that these minor factors might even add something to Bellini's rosy concoction of beautiful song.
If you could take only 4 or 5 opera HDVDs with you into solitary confinement, you would include this "A+" title in your kit.
(I also saw this in a movie theater (in let's-pretend high-definition), on US Public Television (in real high-definition), and in DVD before Deutsche Grammophon published their HDVD version. If you are interested in the details of these other versions of the Met I Puritani, see my background article on I Puritani.)
Here's the famous clip of the acrobatic Netrebko: