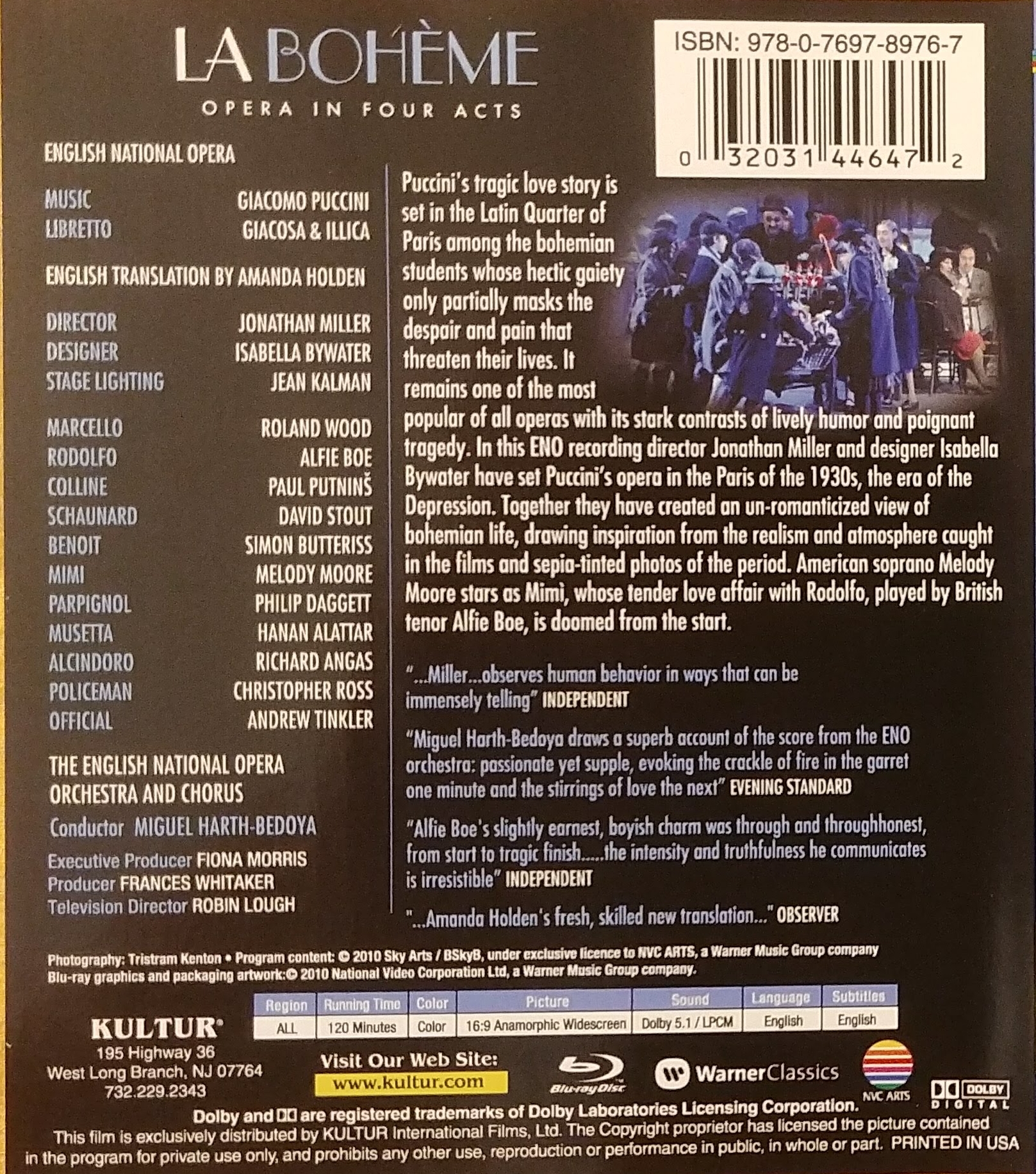 Puccini La Bohème opera to libretto by Giuseppe Giacosa and Luigi Illica. English libretto by Amanda Holden based on the Italian version. Directed 2009 by Jonathan Miller at the English National Opera. Stars Roland Wood (Marcello), Alfie Boe (Rodolfo), Pauls Putinš (Colline), David Stout (Schaunard), Simon Butteriss (Benoit), Melody Moore (Mimì), Philip Daggett (Parpignol), Hanan Alattar (Musetta), Richard Angas (Alcindoro), Christoper Ross (Policeman), and Andrew Tinkler (Official). Miguel Harth-Bedoya conducts the chorus & orchestra of the English National Opera. Set designs by Isabella Bywater; lighting by Jean Kalman; directed for TV by Robin Lough. Released 2010, disc has 5.1 Dolby Digital surround sound. Grade: C+
This new Jonathan Miller English language production of La Bohème was first staged in 2009 at the English National Opera Coliseum.
We love Amanda Holden's fresh new English transliteration. To make the words easy to follow she comes up with tons of new thoughts and images that sound natural to contemporary English speakers while remaining faithful to the spirit of Giacosa and Illica. If you are a native English speaker and just getting into opera, you might prefer the ENO version for this reason alone. Kultur kindly provided English language subtitles. With the subtitles on we could follow almost all the singing perfectly.
The Coliseum is a large hall. The ability to sing loud is essential---the appearance of the singers is not so important with the long sight-lines. All the singers in this production sang well enough, we think, to give the live audience good value.
We also liked the clever sets and decision to updated to 1930. But the design is too unrelentingly drab. Puccini expressed little social consciousness, and one should not try with this opera to make a statement in the vein of Orwell's Down and Out in Paris and London (1933). The Bohemians had a culture of abject poverty, but their lives and the women who loved them glinted of glamour and the promise of greatness---that's why people find them interesting. This opera is about two of those beautiful women: one who dies young and another who will probably get rich outliving several husbands. So the director has to at least give them some beautiful clothes and decent wigs. After all, Mimi is a seamstress who can make her own clothes, and a girl like Musette always dresses well.
Miller does a good job of directing the fast-moving scenes of high jinks among the 4 roommates and the feast at Cafe Momus. But his love scenes between Rodolfo and Mimi and the death scene are not convincing. Contrast this to Del Monaco's directing of Inva Mula and Aquiles Machado (Teatro Real) where the lovers seem to actually care for each other.
Now we get to the sad part: the appearance of the female leads in HDVD. In high-definition video, Melody Moore is too tall and heavy to pair with Alfie Boe. Dressed in frumpy costumes and a hideous bathing-cap style wig, Melody often looks like she might be his mom rather than his girl friend. With a taller swain and some pretty clothes, she might be able to pull it off, especially if the director would let her die in the dark where she wouldn't look like such a healthy corn-feed farm girl. Also, it would be nice if they could find somewhere to put her recording mike other than sticking out from her wig right in the top-middle of her forehead.
Hanan Alattar as Musetta is a more extreme case. Alattar isn't a dirigible---yet; but even a blimp can't do Musetta in HDVD. Musseta sings a song about how the men salivate when they meet her on the street. Well for this Musetta, before drooling, a prudent man would first gangway by stepping off into the gutter. To make Alattar look a bit exotic in the Coliseum, the makeup folks slathered her, and maybe this worked live. But in HDVD poor Alattar looks like a female professional wrestler. Finally, the costume folks put Alattar in the ugliest dress conceivable: a tight nasty-cream-colored solid overlaid with a geometric grid pattern that demonstrates (with mathematical precision) the dimensions of every bulge threatening to burst every seam.
In summary, the Del Monaco Teatro Real La Bohème is the first pick. Still, you might go for this ENO version if you want to try an English libretto. Otherwise, for the drab design and weakness in the female leads, we give this a C+.
Alas, there are lots of YouTube clips of this with other casts, but we had no luck finding a clip with this Blu-ray ensemble.